November 2023
Best Texas Hold'em Poker Sites for 2023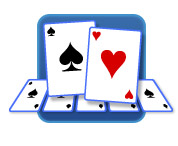 For poker sites, Texas Hold'em is by far the most popular variant out there. Popularized by the World Series of Poker, the game drives a lot of new players to play poker online. All of the best online casinos and poker sites will offer a good variety of real money Texas Hold'em tournaments, sit n go's and cash games.
Here you'll find a shortlist of the top 5 poker sites for Texas Hold'em games, all offering an incredible gaming experience. These online poker sites have also been ranked on the following criteria:
The most lucrative welcome bonuses for real cash games
The easiest sites for poker, with the most fish at the tables
The highest traffic and the best tournament offerings
Still unsure which site is best for you?
Try our site finder below
Blacklisted Sites
The internet is full of great poker sites, but not all casinos are trustworthy. Our review team has blacklisted the following sites as a result of rigged games, unfair payment times and other dishonorable business practices. These are the sites you'll want to stay away from.

1.4/10
Players have reported waiting huge amounts of time for their winnings from this casino. Some players have had to wait over a year to receive their money!

0.6/10
The owners of this casino have been indicted in the United States for money laundering and bank fraud. The site itself has been at the center of cheating scandals.

0.6/10
This rogue casino is at the heart of cheating scandals, and games have been confirmed to be rigged at this scam online casino. The site's founders have faced legal action in the US.

1.1/10
Customer support is completely lacking, and many customers have faced years of waiting for funds they've withdrawn. This site has never offered sufficient player protection.
The Rise and Rise of Texas Hold'em
Texas Hold'em poker is a poker variant that deals two hole cards to every player and five cards to the community. Betting rounds take place before the two hole cards are dealt, and then every round dealt thereafter. The aim is to make the best five-card hand possible, using your two cards in conjunction with three from the community.
A huge reason for the popularity of online Texas Hold'em today is the exposure it's gained from being the go-to poker game in lucrative televised poker tournaments, which have made superstars of the world's best players. The success of Texas Hold'em in this arena has made it an essential component for online poker sites.
Bonuses at Texas Hold'em Sites
Welcome bonuses can vary hugely from one poker site to another, so be sure to study what's on offer carefully before choosing your online casino for Texas Hold'em poker. Some offers might sound too good be true, but be aware they might require huge deposit amounts to trigger the sums advertised. The best advice is stick with the sites we've recommended on this page
History of Texas Hold'em Poker
Texas Hold'em is said to have originated in Texas, sometime at the beginning of the 1900s. We know Hold'em made its bow in Las Vegas in 1967, and was part of the original World Series of Poker when it launched in 1970. It was taken across the Atlantic to Europe in the 1980s and has grown at a rapid rate ever since.
Texas Hold'em Poker Sites FAQ
How popular is Texas Hold'em?
Extremely. Thanks to its exposure on TV, in the movies and in popular culture generally, Texas Hold'em has become the poker variant most people think of if you mention the game these days. Huge numbers are drawn to live tournaments and the vast online pool of Texas Hold'em players grows by the day.
Can I find online tournaments?
Of course. You can enter Texas Hold'em tournaments for real money, with some of these tournaments even serving as satellite events for land-based tournaments on major tours. Check out our full tournament page for more details on these events.
Will I find weak players when playing Texas Hold'em?
Because of the huge popularity enjoyed by Texas Hold'em, and its relative ease compared to some other poker variants, you're going to find plenty of fish at the online tables – especially at the low-money tables.
What stake levels are available?
The lowest stakes you're going to find are $0.01/$0.02 tables. High stakes could mean anything up to $100/$200 tables, with everything in between available and a price point to meet every budget. We'd recommend you start small if you're new to Texas Hold'em, and then work your way up.
Can I get a bonus playing Texas Hold'em?
You can, and you should. All the best Texas Hold'em sites offer bonuses to new players and some offer special bonuses that continue to drop as you play at their site. You should research bonuses thoroughly before depositing your money online.
Can I play for free?
Yes you can. Most poker sites offer two options - play money poker and real money poker. There is nearly always the option to play for free if you want to, though you're not going to experience the heady rush of poker if you haven't got some money on the virtual table.
Can I play Texas Hold'em on mobile or tablet?
Definitely! Mobile poker play lets you take your Texas Hold'em with you on the go, or play at home, all from your smartphone or tablet.
Our Top Recommended Sites
Site information

PokerSites.com is the only dedicated review site selected as a member of the Interactive Gaming Council.