June 2023
PayPal Online Poker Sites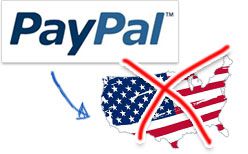 Why no Paypal in the US?
PayPal poker sites are perfect for real-cash players who want to deposit using multiple cards and bank accounts and who also want to keep their personal details secret.
With a top e-wallet like PayPal, online poker for real money just became simpler and safer. Simply register a digital wallet on the web, then use it to load funds from multiple sources.
Most poker sites that accept PayPal in 2023 have great traffic and games too, so you know that you can open an e-Wallet and play at the best places in the world.
Check out our leading reviews today and start your PayPal betting off the best way possible.
Benefits of PayPal
Safe, secure, and totally anonymous
Widely accepted at big poker rooms
Low fees and fast transactions
Still unsure which site is best for you?
Try our site finder below
Blacklisted Sites
While there are plenty of great poker websites to play at, there are also a handful of untrustworthy operators that are best avoided, even if you pay via PayPal. The following sites have made their way onto our blacklist due to unfair games, inadequate customer service or insufficient player protection.

1.4/10
Players have reported waiting huge amounts of time for their winnings from this casino. Some players have had to wait over a year to receive their money!

0.6/10
The owners of this casino have been indicted in the United States for money laundering and bank fraud. The site itself has been at the center of cheating scandals.

0.6/10
With rigged games and inadequate payment processes drawing attention to this online casino, it's no wonder that players are now being advised to avoid the site.

1.1/10
Card Spike's players report waiting years for money they've withdrawn, with absolutely no assistance from the site's customer support team, who are unresponsive and unhelpful.
How to Use PayPal
It's simple to use PayPal. Just head to the website and register for an account. Once set up you just load your account via bank transfers, credit cards or debit cards with ready funds.
Then, visit the Cashier at your favorite poker room and hit the 'Deposit' button after selecting PayPal from the drop-down menu.
Once you've entered the amount you want (there's usually a minimum deposit of around $10) you'll be directed to the PayPal site where you have to log in and complete the transaction. Your funds should appear instantly and fees are free.
Setting Up A PayPal Account
First, visit the homepage at www.paypal.com. You'll need to come up with a username and password when you register your account. However, once set up you can log in and load up your account via a credit card, debit card, prepaid card or even a straight bank transfer.
When you select PayPal from the Cashier deposit options you'll be prompted to enter your deposit amount, then click the 'Make Deposit' or 'Submit' button. You will then be directed to the PayPal website so you can log in and complete the payment.
Your funds should appear instantly and most poker sites will not apply a fee. However, always check with PayPal to make sure they don't charge when you deposit as cash-outs will usually be subject to a fee.
Benefits and Drawbacks of PayPal Online Poker
"PayPal is perfect for players wanting to use multiple cards"
Making withdrawals using PayPal is also easy. You have to cash-out to the same PayPal account you deposited with, but charges are waived by the poker site in most cases.
You'll see your funds within 24-48 hours, but always check with PayPal first to see if you are going to be charged. PayPal makes its money from transaction fees and a withdrawal from an overseas poker site could see you lose a couple of dollars.
That's one of the drawbacks to using PayPal, but there are many pluses. Firstly, you never have to store credit card details on a poker room. While all leading poker websites are properly regulated in 2023', some players prefer to keep their private card details off a poker room. Besides, PayPal offers some of the best security in the world, so you know your transactions are always safe.
We Find the Best PayPal Poker Sites Online
Whatever your game, we have PayPal online poker rooms for you. Our great gambling reviews are packed with top-rated features like tournaments, 24/7 cash games and reliable customer support.
We only list the very best poker rooms accepting PayPal in 2023, like Paddy Power, PokerStars, Full Tilt, Eurogrand and 888. And though the method isn't accepted in the US right now, you can still play at dozens of worldwide websites that let you load up with PayPal.
Find a great site today and use your PayPal account. You can even use it to earn a top welcome bonus and make your poker dollars go even further.
PayPal Online Poker FAQ
How popular is PayPal?
After it was forced to pull out of the US poker market in the mid 2000s, PayPal has remained the preserve of top overseas sites. However, that doesn't mean it's a bad deposit method. It's easily the leading e-Wallet in 2015 and virtually all the good poker rooms accepting PayPal are featured here.
Can I use PayPal with my mobile phone?
Yes. You can download the special app for iPhone or Android devices and load up your wallet on mobile in seconds.
How quickly can I get my money in to the site with PayPal?
Deposits at PayPal poker sites are processed instantly. What's better is that minimum deposits using PayPal are often low - around $5 at major rooms. If you load up with a credit card you will definitely be charged, so PayPal can often be better for players using debit cards.
How quickly can I withdraw my money with PayPal?
Cash-outs are processed a little slower. You can usually see you funds back in your PayPal e-Wallet within 24-48 hours. There's also a minimum cash-out of $10 typically. Be careful of charges as PayPal may apply a fee when cashing out, especially if you are converting currency or making a cross-border payment.
Is it safe to use PayPal online?
Totally safe. PayPal uses similar encryption on payments that applies to international credit card payments. There's also an excellent Resolution Centre at PayPal which can handle disputes or claims if you feel your account has been hacked.
How many people use PayPal?
PayPal is used by more online e-wallet users than any other digital payment method. It was also bought by eBay in 2002, bringing in millions more users from the popular auction site.
Our Top Recommended Sites
Site information

PokerSites.com is the only dedicated review site selected as a member of the Interactive Gaming Council.