December 2023
Guide to iPad Online Poker Sites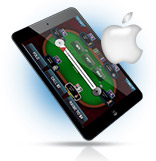 iPad online poker sites continue to grow in popularity. But before you use your Apple device to play just any real money iPad poker site apps, read our guide to where the best iPad games are and find out:
Which US iPad poker sites have the most traffic
How to take advantage of iPad-specific poker bonuses
Where to go for the biggest weekly tournaments and richest games
With high percentage bonuses, is one of the best sites out there for iPad poker. Visit our site for more top rated casinos. Discover the best sites below or if interested, read our guide to mobile poker play.
Still unsure which site is best for you?
Try our site finder below
Blacklisted Sites
Our team of reviewers has scoured the internet in search of the very best iPad apps and mobile casinos. However, in doing so we've uncovered a few sites which you'll definitely want to avoid. These sites have been added to our iPad mobile casino blacklist, and we recommend the players steer clear of them.

1.4/10
Lock Poker has attracted criticism due to its lengthy payment processes. The casino has left some players waiting over a year for their winnings.

0.6/10
The owners of this casino have been indicted in the United States for money laundering and bank fraud. The site itself has been at the center of cheating scandals.

0.6/10
With rigged games and inadequate payment processes drawing attention to this online casino, it's no wonder that players are now being advised to avoid the site.

1.1/10
Card Spike's players report waiting years for money they've withdrawn, with absolutely no assistance from the site's customer support team, who are unresponsive and unhelpful.
Advantages of the iPad Online Poker Experience
People definitely want to play at real money online poker sites on their iPad tablet, especially if they're already a fan of mobile poker. That demand, however, has yet to generate a wide selection of iPad poker apps. We've collected the best choices for playing real money iPad online poker, with ratings such as security, performance and stability. Along with those core characteristics, we look for three specific qualities in a poker app for the iPad:
App Built for iPad:

While some apps built for the iPhone transition well enough to the iPad, a poker app designed specifically for the iPad is going to make full use of all the advantages the device has to offer.

Low Restrictions:

Some apps only let you play certain games or limits for real money; we prefer apps that give you the most options for your play.

Best Rewards:

Since you play fewer hands on an iPad app, it's even more important that you're maximizing your rewards from the room for each hand.
Once you play through one of the dedicated iPad online poker apps, you'll immediately see how tailor-made the device is for the game. The screen is the perfect size to allow either singular table focus or multiple tables at once, and the added room ensures you won't make any real-money mis-clicks should your fingers be a bit larger or clumsier than average. The display quality of the iPad allows for a richer graphical games experience than you'd have on a phone, and responsive touch controls allow for a poker experience that is separate from the desktop but no less intuitive or user-friendly.
Of course, the trump advantage to playing USA online poker on your iPad is the most obvious one: You can take your real money poker game anywhere there's an Internet connection. For poker players who get sick of staring at the same wall session after session, the value of variety in scenery that iPad poker apps makes possible cannot be overstated.
Native Apps Are an Option
There are major real money rooms that offer native iPad poker sites that you can download in the App Store. Before you install any iPad app, confirm with poker room support that the app is genuine. This is less of a problem for iPad users than Android users, but a smart step regardless. If there's no native iPad app to player poker games on but there is an iPhone option for the room, give it a try and see how it translates.
Run Android Within the iPad
A few apps - many of which require you to jailbreak your iPad - will allow you to install the Android operating system on your iOS tablet. That means any available Android poker sites are now iPad poker sites - at least for your purposes - but the level of effort involved in this solution may discourage the casual games player.
Desktop / Laptop Remote Control
One easier way to make any real money poker site an iPad one is to simply use a remote access program like TeamViewer. Such programs let you take control of another computer, giving you access to all of the programs and capabilities of that computer. So, by setting up a poker site on your main computer and then accessing that site via your iPad, you can have your pick of iPad poker games without waiting for the room to develop an app.
US iPad online poker sites continue to develop at a rapid pace, but it's clear that player interest in such apps is simply outpacing supply. Thankfully, through a combination of native apps and simple workarounds, anyone who wants to play online poker games on their iPad can easily do so. Read more about our top-rated iPad poker casinos to break the tether of your desktop and take your real money game to wherever you want it to be.
For more information about the Apple iPad, we recommend visiting the Apple iPad website
Frequently Asked Questions About iPad Poker
How do I play poker on the iPad?
You know your iPad is faster, bigger and definitely stronger than the iPhone. You're obviously itching to use its great responsive touchscreen and rich graphics to enjoy your real money poker games. It's quite simple. You can play through native apps meant specifically for the iPad. These are tailored to improve your gambling experience on the iPad. Alternately, you could run Android within your iPad after jailbreaking it. Finally, there is always the option to let your iPad be a Desktop/Laptop Remote Control. You'll always find an option to take your poker game with you, anywhere.
Where can I find the best sites?
At pokersites.com, we love to help. Visit us and begin finding the best sites for iPad poker according to your interests. We've covered all the basics, like a thorough and complete website rating, welcome bonuses for iPad owners, great variety of games and even the biggest weekly poker tournaments. We do the work, so all you need to do is start getting lucky!
What models are supported?
The option to play online poker on your iPad is available on the complete range of iPad models. While certain native applications have different requirements which may only work on certain models, you'll find that a number of apps will work on just about any iPad, whether you own an iPad, iPad Air, iPad Air 2, iPad Mini or Mini 2.
What should I look for in a good iPad site?
To get the best of real money mobile poker, you should be on the hunt for three things specifically. Your favoured site should provide an app that has been designed for iPad users. This helps you make the most of the advantages your iPad has over any other device.
Next, look for something with absolutely minimal restrictions. Why get bogged down by limits on real money or game titles? Find an operator that provides the most options for your benefit.
Finally, you should not overlook the importance of better rewards. You'll be playing fewer hands when you're on your iPad. You should consider which casino will let you maximise the reward for every hand you play.
Am I required to download software?
If you want to play via native apps you will have to download software. You will find that playing poker on your iPad is best through apps, as it helps maximise the performance of your iPad and ensures you make the most of the screen size, display quality and rich graphics.
Should I play using a site or app?
Choosing between a poker site or an app is all about your personal preference. Most online casino sites have been formatted specially for your iPad. However, a native app does offer additional features. You will enjoy an enhanced gameplay experience alongside easier bankroll and account management. The only thing that can put you off of an app is how much space it takes up on your iPad.
Are apps available via the App Store?
Yes! There is a large variety of both free and paid poker apps available for your gambling pleasure via the App Store. Just search for poker on your search bar, browse through the results and then simply download, just like you would any other app.
Does poker use much data?
Life is full of many mysteries. Thankfully, finding out the data usage of poker on your iPad isn't that difficult. Basic poker apps and even some poker sites do not require too much data. However, depending on the level of graphics, some apps might use more than the average level of data required for poker.
You should also remember that the iPad has quite a few processes running in the background. These include your app and some other apps' background data usage, which can become a sizable total.
Are mobile games rigged?
No, established mobile games are not rigged. In fact, good online casinos will take extreme care to protect you and your privacy. Only access trusted casinos that are secured by encryption software. Access ones that don't have any security protocols in place and you may find yourself robbed of your hard earned money. Browse around and take your pick from one of the finest and most secure online poker operators available at pokersites.com.
It is important to note that, while some shady casinos might not rig games, they can still harm you by installing malicious content on your device, or by stealing your personal and private information like payment details or billing address.
Can I try it for free?
Absolutely! You'll find plenty of free, no-obligation poker apps for your iPad available on the App Store. There are no credit card requirements, zero upfront costs and no need for a deposit. You can play away to your heart's content or till you're itching for some real money action.
Our Top Recommended Sites
Site information

PokerSites.com is the only dedicated review site selected as a member of the Interactive Gaming Council.