September 2023
Skrill Online Poker Sites
Skrill (formerly Moneybookers) is a leading digital e-Wallet that lets poker players fund their account with multiple cards and just one handy username.
Poker rooms that accept Skrill are great if you want to keep your card details secure or want to use many sources of income without registering anything with a poker site.
On top of that, the security with Skrill is top-drawer, and everything is totally anonymous. What could be better for fraud-wary poker players?
We have a list of the top Skrill poker sites in 2023, so choose a room today that's right for you.
Benefits of Skrill

Safe and secure e-Wallet payments on the web
Accepted at dozens of great poker rooms
Fast cash-outs and low fees wherever you play
How to Use Skrill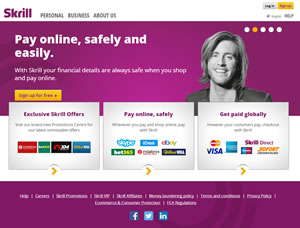 Although the name has changed, the service remains the same: a top-drawer e-Wallet solution for millions of online buyers and sellers.
Of course, more recently Skrill has become THE choice for discerning real-money poker players too. It's fast, safe and anonymous, and you can rely on the payment method when credit cards get declined.
A Skrill account only takes a few minutes to set up. Just head to the Skrill website and register for an e-Wallet. Pick and password and use your email address to log in.
When depositing at a poker room, you'll just need your Skrill email and password to make the transaction.
Setting Up A Skrill Account
To open a Skrill account, head to the Skrill website (www.skrill.com) and register for a username and password. You'll also need to enter your date of birth for security measures.
Depositing funds is easy. Just hit the 'Upload' button and choose from a range of methods, like an Instant Bank Transfer, paysafecard or a credit/debit card.
You'll then be directed to the Skrill Direct page where you can log in with your bank account details or card number. Your funds will appear instantly.
Two small deposits will be taken from your bank account you give when signing up, but they are just to verify that the account is yours. Once verified you can start to use your account to move any winnings from online Skrill poker sites to your own bank account.
You can even sign up for a Skrill Prepaid MasterCard, which is easy to load up with funds and free to use. You can buy with it anywhere in the world where MasterCard is accepted.
Making Skrill Online Poker Deposits
To send cash, head to the Cashier tab at one of our great sites accepting Skrill and enter your username, poker site password and the amount you want to deposit. From there you'll be directed to the Skrill page to complete the transaction.
With some rooms, you can even use Skrill 1-Tap which lets you make quick and secure real-money deposits in 'one tap' on a desktop PC or mobile phone. This saves you time, rather than you having to go through the hassle of re-entering your account details from scratch each time.
Plus Points of Skrill
Moneybookers have always had a strong reputation for reliability, great customer service and security and the rebranded Skrill name offers the same great benefits to users. The poker sites Skrill can be used on include many well-known big gambling names, making it an ideal payment choice.
The beauty of a payment option like Skrill is its convenience. Poker sites accepting Skrill are available online round the clock so you can play anytime. And the method is totally secure too.
Setting up an account with Skrill is free and only takes a matter of minutes, and when you upload funds into your account the money appears instantly. This means you can use Skrill poker websites as soon as you add money to your account.
It's worth noting, however, that you may incur fees when cashing out or depositing, depending on where you live and your currency. Converted currencies or credit card deposits nearly always incur some sort of charge by Skrill, so always check before you load up.
Discover Top Skrill Poker Sites Today
For anyone wanting top poker rooms that accept Skrill payments, you need look no further than PokerSites.com. We hunt out the best rooms that let you deposit using this leading e-Wallet.
But that's just the start; we also hunt high and low for top rooms that offer traffic around the clock, guarantees that are worth their salt, and customer support that can help 24/7.
We keep our list of sites accepting Skrill payments regularly updated so you can be sure that the best rooms are always here. If a poker website falls out of favour, we'll take it off the list.
Sign up to one of our leading rooms today earn yourself a superb welcome bonus on sign-up. All of our picks run regular promotions for loyal customers, so load up that e-Wallet and put the cash to good use today.
Skrill FAQ
Can I trust Skrill?
Yes! Skrill's practices and procedures are in accordance with the Payments Card Industry Data Security Standards (PCI DSS), the same standards that all companies handling major credit cards must comply with. These standards exist to increase transaction encryption and reduce credit card fraud.
Skrill was actually the first emoney issuer to be licensed in the UK, where they operate under the authorization of the Financial Conduct Authority (FCA) and the operating license of the European Union.
Will I incur any charges using Skrill?
Receiving money into your Skrill wallet is always free, as is uploading money through a bank transfer or automated clearinghouse (ACH), and paying at an online store.
Some small charges do occur when withdrawing from Skrill, and they vary widely by currency. For USD, sending money incurs a fee of 1% of the amount being sent (with a cap of $10), and credit card deposits also carry a small charge (1.90%). Again, charges vary, and Skrill has a handy calculator on their site that reveals what these specific charges will be by country and currency.
How quickly will my deposit be shown in a poker site?
Pay and play! Transactions and withdrawals with Skrill are instant, meaning you can start playing poker nearly instantly as opposed to waiting a business day or several before having access to your funds.  
Do I have to provide any ID when transferring?
Yes. This verification process during sign up and withdrawals protects the security of all Skrill users' funds. When making a withdrawal, you may be asked to re-confirm your identity before you can receive your funds. This is done by requiring both a scan of a photo ID and some sort of proof of address from the past three months, such as a utility bill or bank statement.
How long does it take to create a Skrill account?
Creating an account takes only about a minute and requires only an email address. Once you click the confirmation link in your inbox and verify your email, you are ready to start uploading funds to your account and begin playing at your favorite online poker site.
Can I use Skrill for other things beyond poker?
Yes! Skrill is accepted at over 150,000 business worldwide and just about anywhere that accepts other major ewallets. Signing up for Skrill's pre-paid credit card only increases this number, as you can shop with it just about anywhere other major credit cards are accepted.
Our Top Recommended Sites
Site information

PokerSites.com is the only dedicated review site selected as a member of the Interactive Gaming Council.