December 2023
Best Omaha Poker Sites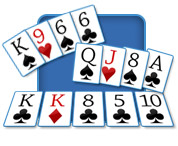 Omaha is a very popular card game that's attracting more and more traditional Hold'em players. Because there are several variations and the addition of two more hole cards, this is one poker game that's full of action. Players that want to see bigger pots and more activity per hand will truly enjoy playing Omaha poker. To make sure you land at the best card room, try reviewing our list of top ranked Omaha poker sites below.
We have selected the featured Omaha poker sites based on many areas of excellence. Our team of experts joins and plays at each casino to find the ones that have the best software, highest payouts and best odds, as well as outstanding customer support, security and safety features. You can be sure when you choose one of our best Omaha poker sites, that you will have everything available to you for a great poker playing experience.
Play Omaha Poker Online
Omaha is a derivative of the regular Texas Hold'em card game. The betting rounds are the same with the exception being that each player is dealt four hole cards. At the showdown, a player must make the best five-card hand using two of his or her hole cards. On Omaha poker sites, unlike Hold'em, where you can play the board or only use one of your hole cards, this variation of the game requires you to use two regardless.
It isn't hard to choose the variation of Omaha poker you want to play. Each site we recommend has only two variations of the game: Hi/Lo and Pot limit. Both Hi/Low and Pot limit have similar rules, and frequently it is the best high or best low hand that wins, so Omaha poker is often called a game of "nuts." This game is played with a standard deck of 52 cards, and the same hierarchy of hands as other poker games. The above are the best Omaha poker sites online, where you can win big and have fun.
The biggest difference between Hold'em and Omaha is that because of the hole cards, the latter is a game of math and probability where Hold'em is a game of strategy. Instead of reading other player's hands, you have to read your own hand in Omaha and determine the odds and statistics, somewhat like counting cards in Blackjack. While there is no strategy involved at the Omaha poker sites, there are 3 ways to win a pot. You can out bet, of course, but you can also have a showdown if you have the best high hand, and no one else has a qualifying low hand. You can also hold the best high and low hand simultaneously and win a showdown for the entire pot.
Because of the intense popularity of Omaha poker, it is available at a large number of online casinos. It is wise to choose from our sites above since we have done all of the hard work for you in determining the best sites. There are hundreds of new sites for Omaha poker online each year. It would be nearly impossible for one person to try them all, test them and know if they are safe. We update our selections for you constantly, so make sure you check back to find more of the best Omaha poker sites to play at.
FAQ
Jumping onto an Omaha online poker site can be tempting as this poker variant is a great deal of fun. But before you dive right in take a look at some of the most frequently asked questions we receive about this popular version of the game.
How popular is Omaha?
While Omaha is not as popular as Texas Hold'em, it's definitely gaining popularity - so much so that many of the top real money Internet poker sites have a dedicated Omaha tab to help players access the tables faster. And the popularity of Omaha isn't restricted to just online play. The world's largest poker tournament features about a dozen Omaha poker tournaments. In 2013, event #22 of the WSOP was a Pot Limit Omaha tournament with a $1,500 buy-in. Over 1,000 players entered the tournament, pumping the prize pool up to $1.37 million.
Can I find online tournaments for Omaha?
Definitely. While the big weekend guarantees are usually reserved for Texas Hold'em, you'll find all sorts of online poker Omaha sites offering good size tournies. Many of the best offer Omaha Sit 'n Go tournaments, too. Haven't played one? You'll love them. Instead of running on a set schedule, a Sit 'n Go begins when a table fills up. Because there aren't as many real money Omaha players fueling big guaranteed tournaments, the Sit 'n Go community tends to be stronger, so there's always a Sit 'n Go running.
Will I find weak players when playing Omaha?
Oh yeah. Omaha is similar to Texas Hold'em, but there are big differences that seasoned Hold'em players forget. While Hold'em is more about strategy, Omaha is more about mathematics. Too many Hold'em Internet gambling players forget this and approach the variant like any other online card game. That's a big mistake and it's usually fairly easy to spot the weak players.
What stake levels are available?
Omaha Internet players like to compete for big money, so it's not uncommon to find Internet poker rooms offering high stakes cash games for these players. But even if you're a newbie, you'll find some great Omaha online poker games with low stakes. No matter what type of bankroll you have, there are several real money poker rooms worth checking out. Make sure you compare the stake levels available for you commit to one.
Can I get a bonus?
For sure. Contrary to popular belief, online poker bonuses don't just apply to Texas Hold'em. Omaha players can benefit from the big deposit bonuses offered by the big names too. In fact, some of the top real money bonuses don't discriminate based on the poker game variation you prefer. Most Omaha poker rooms are only concerned with how much rake you generate or how many tournament fees you pay. They don't care which game you played when you generated revenue.
Can I play it for free?
Definitely. The top sites let you test the waters for free before you ante up for real money. Remember, not all real money Omaha poker rooms are the same, so some that offer cash games might not necessarily offer free Omaha games. We strongly suggest that you compare the various options before committing to just any one site - especially if your goal is to play free Omaha poker.
Can I play on a mobile or tablet?
We've found that while Omaha poker rooms on a tablet are playable, the same can't be said about mobile poker games. The small screen real estate doesn't allow the greatest experience, especially with so many hole and community cards on the table. That said, lots of Omaha players are interested in on-the-go games, so many providers do offer a touch-friendly experience. Before you jump at just any site, make sure you compare your options to separate the good from the great.
Our Top Recommended Sites
Site information

PokerSites.com is the only dedicated review site selected as a member of the Interactive Gaming Council.