September 2023
Online Poker Sites South Africa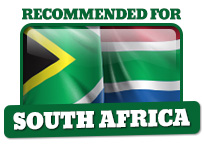 Online poker is one of the fastest online gaming sectors in South Africa for good reason. South Africans love playing poker wherever they can. In the early days it was not that easy to find great online poker sites. However, that is a thing of the past as South African poker sites are now on par with top drawer international online poker sites.
The reviews team has shortlisted the best online poker sites, exclusively for South African players. We've ensured that all poker sites in South Africa deliver word class online poker tournaments, offer competitive bonuses and promotions and give you the widest range of popular online poker formats possible.
The online poker rooms we rated the best specifically for South African players are excellent because they:
Allow you to make Rand deposits to play your favourite poker games
Make winning easier with plenty of weak players sat at their tables
Boost your bankroll with generous welcome bonuses.
Our top rated South African site this month is Tiger Poker.
Still unsure which site is best for you?
Try our site finder below
Blacklisted Sites
Our team of expert reviewers has searched far and wide for the top poker sites in South Africa. However, we've also found a fair few sites available to players in the country which we recommend you stay away from. Take note of the following blacklisted websites, which we suggest you avoid.

1.4/10
Players have reported waiting huge amounts of time for their winnings from this casino. Some players have had to wait over a year to receive their money!

0.6/10
The owners of this casino have been indicted in the United States for money laundering and bank fraud. The site itself has been at the center of cheating scandals.

0.6/10
This rogue casino is at the heart of cheating scandals, and games have been confirmed to be rigged at this scam online casino. The site's founders have faced legal action in the US.

1.1/10
Customer support is completely lacking, and many customers have faced years of waiting for funds they've withdrawn. This site has never offered sufficient player protection.
Online Poker South Africa - What You Need To Know
Despite the difficulties faced by South African players due to the government's sweeping legislation, there is still a huge demand for poker. Certainly, there are plenty of online poker rooms that accept South African players and these offer a wide variety of deposit methods that allow players to be at the tables in minutes.
South Africa is certainly no stranger to poker and there are plenty of brick and mortar casinos scattered around the country ? as well as some big live tours that roll through the country. And it is this popularity that drives so many players to search out online poker sites in South Africa. They know that Internet play gives them the ability to develop their skills far faster than regular play.
Developing you poker skills through online play is essential to becoming a good poker player
We have therefore sent out our reviewers to search out the best South African online poker rooms to guide players to some of the best action on the Internet. Our expert review team has carefully examined welcome bonuses, tournament variety, poker game variations, software features and promotions, ranking the sites to ensure we bring you the best ones that accept South African players.
We've taken a careful look at all South African poker sites in order to find the most trustworthy options available. The sites we've chosen offer safe and reliable online poker in South Africa, allowing you to focus on playing your favourite tournaments and cash games without worrying about whether you are being cheated or if the games are rigged.
These sites also offer a number of different deposit methods so that you can start playing as soon as possible. When you are ready to withdraw your winnings, the South African poker sites we have chosen also have plenty of options for receiving your cash in a timely manner.
Finding The Best South African Poker Sites
If you want to play some real money online poker from South Africa in Rand then you are going to be disappointed when looking for online options. South African players can, however, find sites that offer various deposit methods and all allow you to set up an account and play in US dollars.
Developing your poker skills through online play is essential to becoming a good player. If you are going to become the next Raymond Rahme, then you need to polish up your skills at some of the South African poker sites we've mentioned above. Those big money tournaments are waiting for you and you can't win if you don't play.
Frequently Asked Questions
Can South Africans play online poker on mobile devices?
The short answer is yes, absolutely!
Playing great online poker on mobile devices is trending all over the globe at the moment and is set to overtake desktop online poker gaming in the very near future. As mobile device technology expands and evolves, it opens up new possibilities for mobile online poker gaming.
Today's top online poker sites can be enjoyed across all operating systems including Android, Windows Phone and iOS (Apple) devices. You can also enjoy great online poker on tablet devices for a more expanded poker playing experience. Mobile poker offers the same benefits as playing on your desktop, with great bonuses and promotions, mobile poker tournaments, secure sites and top notch customer service.
What specific gambling laws do I need to know about?
The relevant law for you is the National Gambling Act of 2004. This is the piece of legislation, which relates to the playing of ?interactive? gambling games, however no definitive list of games covered by this Act has been published. Some have interpreted this as South African authorities being unsure at this stage as to whether online poker and other games should be definitively included.
Do I have to pay taxes on my winnings?
Fortunately, online poker is not a gambling activity, which has been written into South African law as a profession, so you will not be taxed on any windfall from the game. This even goes for those players for whom the game is their main source of income.
Are South African poker sites reliable?
Many of the best sites are licensed in offshore territories which have been approving online poker rooms for more than a decade, so the licensing processes are as comprehensive as they come. Still, it is very much worth your while to check our recommended sites list to find out not only which are the most reliable, but also which are the best.
Is it safe to deposit money with a credit card?
Depositing with credit cards at South African poker sites is certainly safe, however you should be aware that occasionally your transfer will not go through, due to some banks in the country being extra-careful in such situations. Consequently, if your credit card is bank-issued then you may need to seek out alternative deposit options, but safety shouldn?t be a concern.
Can I use other deposit methods?
The two most popular other deposit methods popular with South African poker players online are e-wallets and prepaid cards. These options mean you are not required to give your credit card details to the site, however they will require you to set up an account with a third party. This is harmless, but can be time-consuming. PayPal is a particularly popular deposit method.
What kinds of games are available?
South African players can enjoy all the most popular poker variants going, with Texas Hold'em and Pot Limit Omaha among those with the most games available.
You will be able to play cash games and tournaments for real money at almost every South African poker site around, while free games are also available at many places if you want to practice your game without risking any money.
How long does it take to claim my winnings?
It depends on your preferred banking method, as some popular deposit methods (such as Paysafecard prepaid vouchers) are often not accepted for withdrawals. However one of the most widely used deposit methods, e-wallets like Skrill or Neteller, can be used for cashouts and will be processed in a matter of hours.
Our Top Recommended Sites
Site information

PokerSites.com is the only dedicated review site selected as a member of the Interactive Gaming Council.