September 2023
New Zealand Online Poker Sites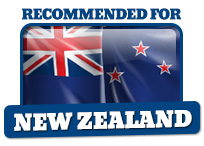 New Zealand poker sites are getting more popular by the day. Given the large number of tournaments that are played throughout Australia and New Zealand, this is hardly surprising. However, the quality of these online poker rooms varies dramatically.
If you are going to play online you want to spend your money at the best NZ online poker sites available. Welcome bonuses might be important, but you also need great action at your chosen Internet poker websites so that you are ready for your next big tournament.
We recommend only the highest quality poker rooms in New Zealand. Our expert's choices offer you:
An excellent choice of game variants, stakes, and tournament formats
Massive welcome bonuses so you get more bang for your buck
Plenty of player traffic so you won't have to wait for a game to start up
Our top rated site this month for New Zealand players is 888 Poker.
Still unsure which site is best for you?
Try our site finder below
Blacklisted Sites
New Zealand is home to some of the most exciting poker websites on the internet. However, there are also a few poker sites which you'll want to avoid. The following sites have been blacklisted by our team as a result of unfair payment procedures, rigged games and unsatisfactory customer service, amongst other reasons.

1.4/10
Players have reported waiting huge amounts of time for their winnings from this casino. Some players have had to wait over a year to receive their money!

0.6/10
The owners of this casino have been indicted in the United States for money laundering and bank fraud. The site itself has been at the center of cheating scandals.

0.6/10
This rogue casino is at the heart of cheating scandals, and games have been confirmed to be rigged at this scam online casino. The site's founders have faced legal action in the US.

1.1/10
Customer support is completely lacking, and many customers have faced years of waiting for funds they've withdrawn. This site has never offered sufficient player protection.
Online Poker In New Zealand - How We Review
Poker in New Zealand has a strong following, which is unsurprising given the number of big live tournaments that move through the country. However, it is no secret that the best way to polish up your skills is to play online poker in New Zealand. So we have drawn up a list of the best NZ-friendly rooms that will help you take your game to the next level.
To rank these online poker sites effectively, our reviewers have carefully considered the many options offered to New Zealand players. We understand that welcome bonuses are important, but we have gone much deeper to examine tournament variety, software features, game variations, stake levels and promotions to ensure you are playing at the best poker websites in New Zealand.
Online poker in New Zealand is alive and well, and players can easily access all of the sites we've recommended above
We've also made sure that the New Zealand poker rooms we recommend are safe and secure for you to use. The casinos we've featured here all use state of the art security protocols to ensure that the games they offer are safe from hackers, cheaters and others that would threaten the integrity of them. In addition, the best NZ online poker sites are also careful to ensure all of your deposits and withdrawals from them are encrypted for your protection.
While most New Zealanders can't legally operate a NZ online poker room, anyone in the country is allowed to play online. In fact, while some laws may have made this unclear, it has been stated by the Department of Internal Affairs that New Zealanders are allowed to gamble overseas via internet sites, including playing poker. This means that online poker in New Zealand is alive and well, and players can easily access all of the options we've recommended.
Find The Best New Zealand Poker Sites
You could be New Zealand's next online pro. But you are not going to find out unless you start playing some NZ Internet poker. Casinos accepting New Zealand players dramatically vary in what they offer, and you should only spend your money at the best. After all, if you want to improve your game play, then you need to find a good place to do it.
And even if you don't feel like conquering the online scene, the New Zealand poker sites we have rated above offer you some great online gaming for the casual player. There are huge pots out there to be won. So even if you don't become New Zealand's next poker king, you can still carve out your very own kingdom on the virtual felt online.
Frequently Asked Questions From NZ Players
Is it legal to play in New Zealand?
Yes it is! New Zealand has to be one of the friendliest environments for online players, and you can play real money games against players from all over the world on international poker sites. While other countries seem to be introducing new and restrictive measures for online poker players, New Zealand really is a breath of fresh air.
What specific gambling laws do I need to know about?
The important law to keep on top of is the 2003 Gambling Act which outlines that it's fine for NZ online poker players (and Internet casino gamblers, sports bettors, etc.) to play real money games on sites located outside of New Zealand's borders. Seeing as this definition covers all the biggest online poker sites in the world, it's great news for players.
Do I have to pay taxes on my winnings?
No! New Zealand is one of those great countries where online poker earnings, even for professional players, are untaxed. This is because winnings are considered a lucky windfall, and means there is one less thing to worry about when you play at one of our trusted and reviewed NZ-friendly sites.
Are New Zealand poker sites reliable?
Yes - the vast majority are entirely reliable, and many of the best ones around have serviced players from across the globe for more than a decade. However if you want to make absolutely sure you can trust a casino, check out our reviews where we provide the combined wisdom of a group of experienced, expert players who have spent years playing online.
Is it safe to deposit money with a credit card?
The freedom offered to New Zealand players extends to banking options, meaning it is easy to deposit using a credit card (or debit card) at the vast majority of NZ poker sites. The best casinos will list all available deposit methods, so it is easy to find out whether they allow credit card deposits before deciding to sign up for an account there.
What about other deposit methods?
In addition to card deposits, you can fund your account using e-wallets like Skrill or POLi, and in the process claim great welcome bonuses at a selection of New Zealand online poker sites. Many sites will allow you to withdraw your winnings using a variety of banking methods, as well, while a growing number (though not all) will allow you to deposit and withdraw in New Zealand Dollars.

What kinds of games are available?
New Zealand poker sites offer a wide range of real money tournaments and cash games at all hours of the day, including NZ-friendly times. These include all the most popular variants of the game, especially Texas Hold'em and Pot Limit Omaha but also games like Omaha Hi-Lo and Seven Card Stud.
How long does it take to claim my winnings?
Not long at all! Unlike players in some other countries, New Zealanders can use a variety of electronic withdrawal methods to claim their winnings rather than waiting on a paper cheque, meaning you will often be able to spend the money from that big tournament win within 24 hours of making your cashout request, if not sooner.
Our Top Recommended Sites
Site information

PokerSites.com is the only dedicated review site selected as a member of the Interactive Gaming Council.