September 2023
Online Poker Sites in India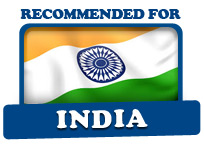 Our expert team has scoured the web for the very best Indian online poker sites to suit you, and we've compared them on this page. We've looked at everything from welcome bonuses, poker games available, tournament traffic, customer support options, security features, banking options and more.
After reviewing and rating dozens of online poker sites in India, our top choice made the cut because they offer:
Easy, safe, and secure transactions in the Indian Rupee
Excellent customer service for online Indian players
Generous welcome bonuses and other promos
Still unsure which site is best for you?
Try our site finder below
Blacklisted Sites
When it comes to finding the best online poker sites in India, we're here to bring you the pick of the bunch. However, we're also on hand to let you know which ones you'll want to stay away from. The following Indian poker sites have made their way onto our blacklist. Protect yourself and steer clear of these.

1.4/10
Players have reported waiting huge amounts of time for their winnings from this casino. Some players have had to wait over a year to receive their money!

0.6/10
The owners of this casino have been indicted in the United States for money laundering and bank fraud. The site itself has been at the center of cheating scandals.

0.6/10
This rogue casino is at the heart of cheating scandals, and games have been confirmed to be rigged at this scam online casino. The site's founders have faced legal action in the US.

1.1/10
Customer support is completely lacking, and many customers have faced years of waiting for funds they've withdrawn. This site has never offered sufficient player protection.
Legal Online Poker in India
There is no law explicitly making online poker in India illegal. You should feel safe signing up to our list of Indian Internet poker sites, because our list contains only the best online poker websites for Indians that allow legal play from customers in India.
As the government grows friendlier to online poker sites for Indians, expect more and more gaming options to become available
You can sign up to these poker sites in India and play to your heart's content. The trickiest part of playing online poker in India is finding a funds transfer method that you have access to and that your chosen poker site accepts - another reason to sign up with one of our trusted sites, since we picked only those online poker sites in India which allow for a wide range of deposit and withdrawal methods. Because no Indian law exists that prohibits online poker, there is no penalty for playing poker at one of our Indian online poker gambling websites.
The History of Online Indian Poker
Because the government of India has not yet specifically addressed the legality of online poker, Indian poker rooms have existed as long as online gambling, since the mid-1990s. Indian online poker websites have long done business with Indian customers, providing legal loopholes to get around financial restrictions in India that can make withdrawals and deposits frustrating.
As the government grows friendlier to online poker sites for Indians, expect more and more gaming options to become available. Should the government decide to tax and regulate online Indian poker play, even more sites will be at your fingertips. We'll update the list as more and more top-notch Indian poker online sites become available.
Why Play Indian Online Poker?
If you've never played poker online, you're missing out. The top Indian poker rooms let you play the poker games you love head-to-head against real people or in tournament format for real money. Playing at legal Indian poker websites improves your game and gives you access to bonuses for deposits and other promotions.
Sign up with one of the Indian online poker sites from our list today and get access to the best poker in all of India. If you're looking for the most poker variants, the biggest bonuses, and the best Indian poker customer support, download and register an account with one of the poker sites on our list today.
India Online Poker FAQs
Understanding the Indian online poker laws, how to deposit, and tax regulations can be a bit confusing. Our FAQ section is designed to put your mind at ease, so read on.
Is it legal to play online poker in India?
While there are many outstanding online poker sites that offer real money opportunities for players in India, the legality of such is still somewhat blurred. Much of the online casino gambling is controlled at the state level. For example one area where it is explicitly illegal is Mahashtra. Other states such as Daman and Sikkim allow casinos leaving legal options available to players. Currently the government has been quite slack in pursuing illegal actions. Fortunately for online poker players, poker is considered a game of skill in India. This begins to open the door to more and more opportunities in the near future.
Do I have to pay taxes on my winnings?
The answer is a resounding yes. Online poker players must pay taxes on their winnings. An Indian online poker player can expect to pay about 30% of their winnings over 10,000 rupees.
Can I play on my mobile / tablet?
Absolutely. Current technology is available and meets the individual user's preference. The best online poker sites want you to be engaged, whenever and wherever you happen to be. It is important to verify which type of mobile device is compatible with your preferred online experience.
Can I play for free?
Absolutely- playing online for free is one of the best ways to fine tune your skills and get ready for some real money action. Even some of the best players will take a break from the real money play so as to get acclimated to new environments and to explore new techniques.
Do I have to download software?
It is not always necessary to download software in order to play online poker. Many sites do not require it, while there are some that do. If you do not like download options, then there are plenty that provide play without that requirement. We have recommended sites that meet a wide variety of tastes.
Are all online poker sites safe in India?
Not really, just as in many places around the world, there are rogue sites, and there are highly reputable sites. Our team of experts has taken great care in screening only the best for your safe online poker experience.
Which deposit methods can I use?
One of the most troubling aspects with playing online poker in India is the issue with deposits. Don't be discouraged because there are ways. Utilizing an e-wallet might be your best bet. Some other preferred methods are namely Neteller, Skrill, and of course, Visa and MasterCard.
What poker variations will I find?
It is good to know that all of the classic varietals of poker will be found at online poker sites. However keeping with the preference of Indian players, you can indulge in Rummy, as well as other leading games such as Texas Hold'em and Omaha.
Will I find many tournaments?
Where there are poker enthusiasts, are tournaments. Tournament action is the lifeblood of poker players around the world. You will find a wide array of options available to you.
How do I unlock my welcome bonus?
Sites offering a welcome bonus will usually require users to launch an account to qualify. Welcome bonuses are a great incentive to get involved and take advantage of some free cash. The more games you play (and the higher the stake) the quicker you will clear the bonus.
Our Top Recommended Sites
Site information

PokerSites.com is the only dedicated review site selected as a member of the Interactive Gaming Council.