Online Poker Site Video Reviews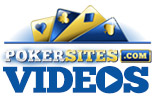 Are you looking for an online poker room to play in, but finding that it's hard to pick between the dozens of different sites out there? Our new poker site video reviews might be just what you're looking for to help you make a decision. Unlike standard Internet poker site reviews, these video reviews won't just give you the same stale information that you've seen 100 times before: they'll let you experience the look and feel of each site personally. It's just like having your own private tour of every major online poker site!
What our poker site reviews cover:
See the site's graphics before you download it
Check out whether you can find the poker games you are looking for
Discover how to filter cash games and tournaments
Find out what features the software has
Video Reviews
Head to Head Comparisons
All the Information You Need
Our videos are designed to give you a quick look at each site you're interested in. Each video poker site review is about 5-6 minutes long – enough time for us to show you everything you'll need to know about a site, and not a second longer. This allows us to give you an interactive view of the site rather than just telling you about it, but still won't take you much longer to watch than it would take you to read a typical written review.
During our poker site review videos, you'll see everything you need in order to decide how you feel about a poker site. First, you'll get a good look at how the lobby of each room looks, as well as the ways in which you can navigate around the room. We'll go through the filters and other options so that you can see how easy it is to find the games you're looking for – as well as exactly what games are offered on each site.
But that's not all you'll see. We also cover the deposit and withdrawal options at each site, as well as other aspects, like tournament play, the graphical interfaces used at the tables, and the kinds of promotional opportunities built into the site. In fact, every video poker site review is unique: since each site has different features that should be highlighted, there are different points of emphasis in each video. It's the kind of detail that you can only get by visually exploring a poker room – something you can't do in a text review.
Watch Our Video Reviews Today
You can find all of our video reviews available here on pokersites.com. In addition, you can follow our YouTube channel to search through all of our videos, as well as receive updates when new videos are posted to the channel. We hope that you'll find these videos to be a unique and helpful way to learn more about the online poker rooms that you're considering.
Once you've watched a few reviews, be sure to come back here if you've found any poker rooms you'd like to play in. Sign up through our site to receive exclusive bonuses that are only available to our readers!

Site information

PokerSites.com is the only dedicated review site selected as a member of the Interactive Gaming Council.