How To Play Online Poker On Your Mobile
Whether you prefer a site that offers adrenaline pumping, quick draw rounds or one that allows you to grind away at the table for longer: there's an app out there that matches your poker style. Mobile sites and tablet sites offer the potential to make a lot of easy money. For one thing, handheld devices are often used in environments that favour distractibility. Turn this to your advantage by learning how to use your smartphone or iPad to play poker online!
What Do I Need Before I Sign Up?
Before you think of signing up to a new poker site on your handheld device, you should ensure that you are as informed as possible about the pros and cons of each. First, read through our expert reviews of the top places to play poker on your mobile to help you make your decision. You want a site that will consistently deliver high quality matches, excellent customer service when things go wrong and an enticing welcoming bonus to top it off. It's important that you make the right choice.
What Is The Process Of Signing Up?
First visit your chosen site or download the app from your native app store.
Click the "register now" button.
Here you will be redirected to an online form for you to fill in your personal details. Ensure that your email address is correct, as this will be the main form of communication between you and the site. You will need it initially to confirm your account. Later on you will also need it to access your winnings, to communicate with customer service to be informed if anything goes wrong.
Create a memorable username and a strong password that is a mix of lower case and upper case letters and numbers.
Follow the rest of the instructions, entering in your card details and billing address where necessary.
Once completed, you'll just need to confirm your email address by following the link that will appear in your inbox.
Congratulations, you are now officially registered to your favourite mobile poker site!
How Can I Make A Deposit?
If you want to play for real money and get your hands on the welcoming bonus you'll need to deposit some cash. Once registered, you will have access to the main menu of the site or app. Here you will see an option for online cashier where you can make the transfer from your credit card. When making any financial transactions online please always be aware of the integrity of your security. Always use private, password protected Wi-Fi connections. You can also use the same online cashier in order to withdraw your winnings when the time comes.
How Do I Make Use Of A Welcome Bonus?
Enjoy full access to your welcome bonus by starting your desired poker game with your handheld device. Usually, there is a time limit on how long you can make use of your welcome bonus for. Make sure that you check the terms and conditions so that you don't lose out! If you think you won't be able to turn the welcome bonus into winnings in the time allotted due to other obligations, then consider holding off until you are less busy. While some people might be tempted into making larger bets, it doesn't always pay to be so reckless. Remember, it is also your hard earned cash in the pot as well.
How Do I Enter A Game?
After you have logged into your chosen site, you will have a menu in front of you that will display the different types of games they have available. They may be grouped into two sections: 'real money' and 'play money'. Click through, then make your choice between Texas Hold'em, Omaha, or other tournament games. Once you have selected your favoured game you will then get to decide the stakes. Finally, you will be able to buy chips and bring money to the table. The cashier will sell you the desired amount you will be entered into the game and seated at a table. You are now completely ready to play mobile poker! Good luck.
Playing Poker On Your iPhone Or iPad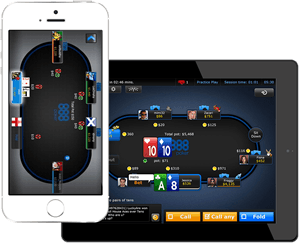 What Is The Best iPhone Poker App?
You'll need to check the iTunes store and pick out one that is compatible with your phone or tablet's specs. Go for one with a high rating and lots of reviews, as this means that is has a successful and pleased community behind it. The best poker apps are free to download, so you can always try it out before you decide on your favourite.
What Is The Best iPhone Poker Site?
If don't want to download an app onto your phone, try the mobile site instead. This way you can instead play through your browser. You'll need to find a site that doesn't operate on Flash however, as iProducts aren't compatible with Adobe. Not to fear, however, as less and less sites are using it for their interactive games for fear of alienating their Apple consumers.
For The iPad?
The same generally applies to the iPad as it does to the iPhone, however you will have a bit more space thanks to the larger screen size. Resolution will play an important factor in your decision making process here, there's no point paying out all that cash for a high end gadget if the programmes you are using look terrible!
Can I Play Offline?
If you have already downloaded the app, then you can play offline as single player and for play money. You need an Internet connection to play online for the sites.
Poker Games On Your Android Device
What Android Phones Are Supported?
If you have an Android phone with software above 2.3 Gingerbread, and a screen resolution of 800 x 480 then you are ready to start playing mobile poker!
What Sites/Apps Are Best On Android?
Choose apps that have a strong following on the Android market place with decent reviews. Android users are fortunate enough to have the pick of the bunch when it comes to apps, so make the most of it. You'll also be able to access your favourite sites, without issue.
Can I Play With Friends?
Of course! As long as your friends are members of the site or app you can send over an invite and start enjoying the game together. Poker is a social game, and the developers haven't forgotten this. The best apps will have an option to invite your buddies to the table.
See our guide to the best Android sites
Windows Phones
Can I Play On A Windows Phone?
Absolutely. Browse our list of sites and apps and read the reviews to help you decide on the right app, with the best perks, for your device and your gaming lifestyle.
What Apps Or Sites Are Supported?
All of the most popular apps and sites are supported on your Windows Phone.  It's easy and simple to use, just follow our guide to get started.
See our guide to the best mobile sites
Blackberry
Can I Play On A Blackberry?
This is an ideal handset for poker players considering the associations with privacy and business that Blackberry models have. However, oddly enough, poker sites haven't adapted their sites and apps for the Blackberry consumer. Mobile users are able to play the free play poker games, but playing poker for cash is a niche in the market that is yet to be cornered.
What Apps Or Sites Are Supported/Recommended?
If you have one of the latest models of the device then you'll be able to get a taste of online gaming with World Series of Poker free play. However, users will be disappointed if they try to find real money games. Hopefully, this will be rectified soon.
See our guide to the best mobile sites
Mobile Poker FAQ
How To Play Mobile Poker?
If you have previously played poker on your desktop PC then you are already half way to being an expert mobile poker player. The basic concepts are the same. You can either go to the poker mobile site, register and start playing, or you can download an app from your native app store and play from there. While the screen size is smaller, the game you know and love remains the same.
What Are The Differences Compared To Non-Mobile Play?
You use touch screen instead of a mouse or track pad.
The screen is smaller
Mobile poker games are optimised for gamers on the go, so there is a greater majority of quick win games.
Can I Play For Real Money?
You most certainly can. All of your favourite poker games are available on your handheld device, and you don't have to give up the thrill of betting with real money just because you are using a portable platform. If you'd rather not risk it however, you can also use play money to bet for fun and practice.  
What Is The Best Mobile Poker Site?
There is no such thing as the definitive "best" mobile poker site, as each one offers different benefits. Decide what is a priority for you and choose one that tailor fits your needs. The ideal site would include:
High traffic volume, for a healthy sized pot and a continuous supply of players of all levels
An ample welcoming bonus, at least 100% to make the most of your deposit
A rewards scheme for regular players
Easy access to funds, so that you can quickly cash out if you need to, with minimum delay or fuss
What Is The Best Mobile Poker App?
The best apps will vary from device to device so it's best to follow the same formula as the best mobile site. Ensure the app is one that is compatible with your mobile and is popular enough to maintain a consistent flow of players and offers generous rewards for new and regular players. And of course, make sure you can play your favourite game on it!
Site Vs App - Which Is Recommended For Mobile?
It is recommended that you use apps or your mobile gaming wherever possible. The technology that supports interactive gaming via apps is far more compatible with your handheld devices than mobile websites.
Are The Apps Free To Download?
Mostly, yes. Always check in your native app store whether there are any charges, but most respectable poker sites won't charge you to download their app.
Can I Play Without The Internet?
You can play single player, free games without the Internet: perfect for practising. However, it is not possible to play for money against strangers or friends without a stable Internet connection.
Can I Play With Friends?
Yes! If you already have a group of people that you enjoy playing poker with, you can choose to make your own table with your poker buddies. They just need to be online at the same time as you and have registered with the same poker app. There will be different ways of inviting your friends, depending on what app or website you are using. From a simple invite button on the empty spot at the table to the creation of a whole table specifically for your friends, the app will make it easy for you to get your friends involved!
Can I Play With Free Money?
Yes, the best sites and apps offer generous welcome bonuses and free money offers when you sign up and even more when make your first deposit. You can play with thousands of pounds worth of free money! If you don't want to spend any money just yet because you'd like to get the feel of the mobile experience, there are of course free games for you to play on your preferred device. The welcome bonuses will still be there when you are ready to take the plunge into more exciting waters.
Is It Safe To Play On A Mobile?
It is completely safe to play on a mobile, if you follow the correct procedures. Only make monetary transactions over secure Wi-Fi zones, not through open Wi-Fi accessible by anyone. Always ensure that the site you are playing on is trustworthy. Only proceed if the browser bar shows HTTPS rather than HTTP any time you are entering personal details, especially credit card details or passwords. This tells you that the website is secure and you can trust it. You can proceed with your transaction worry free.
Site information

PokerSites.com is the only dedicated review site selected as a member of the Interactive Gaming Council.