February 2018
Open Your Mind to Open Face Poker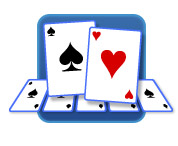 Open Face Poker has become a bit of a cult classic in the gambling world over the last few years. Those in the know often cite it as their favourite poker variant - yep, OFCP has gained ground even over Texas Hold'Em.
The Open-Face Chinese Poker version of poker first popped up in Finland in the middle of the 2000s and then 'spread like a virus', according to poker pro Alex Kravchenko, to Russia. It was an instant hit amongst the super-rich, high-stakes players in Russia and OFP's popularity has grown continuously ever since.
Sure, but what is it?
Ok, it's time to concentrate. While Open Face Poker isn't really all that complex to play, reading about how it works can seem confusing for a newbie. It's a simple premise based around a lot of clauses and rules. Think of it as the offside rule of poker - it'll all make sense once you've read this breakdown below:
The Basics
Just like in every poker game, in Open-Face Chinese Poker players all draw cards from one deck of cards and try to make up the best hand they can.
Money bets are NOT placed when the rounds are being played. Everyone plays using points instead.
Once everyone has their cards, players will all have 13 cards.
These 13 cards are divided into three hands known as the Top, Middle and Bottom.
A player's Top hand competes against their opponents' Top hand, while the Middle competes with their Middle and the Bottom with their Bottom.
A player obtains or losses points depending on whether each of their 3 hands is better than the other players'.
The 3 hands each player has (Top, Middle and Bottom) are divided 3-5-5; so the Bottom and the Middle are scored and ranked based on normal Texas Hold'Em 5 card rules. The Top Hand is judged as a 3 card hand in the same way, so realistically the best Top hand a player can get is 3-of-a-kind.
The cards are dealt out as follows:
Each player takes turns to be dealt 5 cards at the beginning then they must arrange them, face-up on the table. When one player has done this, the next player does the same with their cards.
In the subsequent rounds each player is dealt one card at a time and has to play them face up.
The Aim of The Game
To even be in with a chance of winning your OFCP hand must be a 'qualifying' one. Here's what makes for a qualifying hand.
Your Bottom hand has to be as high as or higher than your Middle hand.
Your Middle hand must also be equal to or higher than your Top hand.
Once you've placed a card in your Top, Middle or Bottom hand you CAN'T move it, so pick wisely.
Remember; because you're getting cards one by one, you'll have to make a judgment about which hand to put each card in.
If you can't get your 3 hands to balance out for you, all 3 hands will be fouled and you'll get a big fat 0.
What's The Score?
Open Face Chinese Poker is scored on points and each hand (Top, Middle and Bottom) is worth 1 point to whoever wins it but if your cards are lower than your opponents', you'll incur a minus 1 point.
Big Bonuses
To spice things up even more, there's a load of bonuses available. Bonuses vary from game to game but here are the most widely used ones:
Scoop Bonus - you'll win an extra 3 points if you beat another player's Top, Middle and Bottom hand.
You can also pick up bonus points whether you win or lose a hand. For example, if your Bottom hand is a 6-10 straight but another player has a 10-A straight and beats you, you get +2 points anyway. The amount of bonus points you'll win depends on the hand you've got but it goes all the way up to +50 for a royal flush!
Fantasy Land - If you get QQ or higher in your Top hand than your next hand will be in what's called Fantasy Land. In Fantasy Land you'll be dealt all your 13 cards at once, face down and your opponents will have to carry on playing as normal. This gives you a great edge because you know what cards make up your 3 hands instantly and you can position them perfectly to compete with what other players have put down.
Like most things, the best way to learn Open Face Poker is to give it a go. With all this info and the game in front of you, you'll have some context and a chance to get familiar with the way things work!
1

Tonybet Poker is the best choice for player looking to play Open Face Chinese Poker. You can play in a variety of free and buy in tournaments with 4 different Open Face Chinese Poker variation. Tonybet uses impressive download software and also offers mobile and tablet versions for those without a desktop.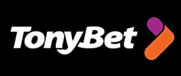 Play Open Face Poker at Tonybet Now!
Tonybet Poker
Site information

PokerSites.com is the only dedicated review site selected as a member of the Interactive Gaming Council.