Online Poker Variations: Types of Poker Games
Poker used to be so easy: just rock up to your local cardroom and sit down at a straight $50 No Limit Hold'em tournament or a spot of $1/2 NLHE cash or – if you were lucky – some low stakes Omaha cash games.
With the online poker revolution, however, the game landscape offers a veritable smorgasbord of poker variants. Whether it's No Limit Hold'em Sit 'n' Gos, Omaha cash, 4-handed Badugi or Limit Hold'em Blood River Deuces Wild (OK, maybe we made up that last one) the world is literally your oyster.
So, let's take a look at some of the more popular – and slightly less popular – variants of the beautiful game you can find at today's poker sites.
A Brief Guide To Limits
No Limit – Most commonly associated with Texas Hold'em No Limit games let the player bet any amount they like up to their entire stack, regardless of what is already in the pot.
Pot Limit – Commonly used in Omaha, PL games allow players to bet up to what is already in the pot (eg $50 into a $50 pot).
Limit / Fixed Limit – In Limit games – like Stud – a betting limit is applied on each round of betting.
Texas Hold'em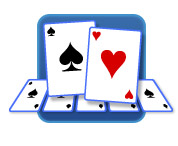 Limits Played: Limit, Pot Limit, No Limit, Fixed Limit
Lowdown: 'The Cadillac of Poker' is still the most popular form of the game and every poker room online will feature multiple variations of the game, both in cash and tournament format.
Every player is dealt two cards face down (hole cards) with players having to make the best five-card hand from their own two plus any of the five community cards in the middle of the board. Hands rank from high card up to a Royal Flush (10-J-Q-K-A of the same suit).
Texas Hold'em is played with blinds (enforced bets) which must be put into the pot at the start of every hand. Betting varies but even in No Limit Hold'em a raise must be at least double the preceding bet.
Though Hold'em is played 9 or 10-handed in tournaments and cash games, 6-max and even 4-max tournaments are proving popular, with the short-hand format creeping into major live series.
Omaha Hi
Limits Played: Pot Limit, Limit
Lowdown: A close cousin of Texas Hold'em, Omaha or Omaha Hold'em, sees each player dealt FOUR hole cards instead of the usual two. Five community cards are dealt face up in the middle of the board for all players to share, but in Omaha players MUST use two of their hole cards with three board cards to make the best five-card poker hand. Some sites offer 5-Card Omaha which sees players being dealt five hole cards instead of four (but who are still required to use two to make their hand).
Omaha Hi-Lo
Limits Played: Pot Limit, Limit
Lowdown: Also known as Omaha 8, or Omaha 8-or-Better, this version of Omaha splits the pot between the highest and lowest poker hands. A 'qualifying' low hand will contain five cards of 8 or lower.
Stud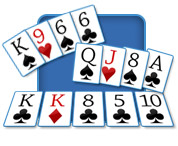 Limits Played: Fixed Limit, Limit
Lowdown: Played in both 5-card and 7-card varieties, Stud is that old-school variant – a throwback to Vegas road gamblers and early WSOP tournaments – that everyone seems to proclaim as 'next year's big thing' before going back to being that weird old-time game no-one can be bothered to learn.
It's a shame, because if you put in the effort you'll find a rewarding and exciting game that's still lacking – for the most part - in decent online players. If you find a few fish trying it out you could cash in.
Both 5-card and 7-card Stud don't have blinds but rather antes which are enforced bets for ALL players to put in before a hand starts. The player with the highest up card is the 'bring-in' and kicks off the betting.
A Limit betting structure is normally employed in Stud, so for a game of $3/6 cash, for example, the bets would be in increments of $3 for the first two rounds and increments of $6 for the remaining rounds.
In 5-card Stud, players are dealt one card each face down, and one face up (there are no community cards in Stud). After a round of betting a further card is dealt to each player face up, then another after a further round of betting. A final card is dealt face down to each player, more betting, then a showdown, with the best 5-card hand winning.
In 7-card Stud, two hidden hole cards and one up-card are dealt out first, with the final seventh card dealt face down.
Some poker sites offer 'Triple Stud' which is a rotation of three 7-card Stud games: Stud High, Razz, and Stud Hi-Lo. Eight hands of each game are played, in rotation.
Eight-or-Better
Limits Played: Limit
Lowdown: Stud Eight-or-Better, otherwise known as Stud Hi/Lo, forms the 'E' in mixed game discipline, HORSE, and works a little like Omaha Hi/Lo. The pot is 'split' into the best hand and the 'worst', or lowest, hand where a player's five-card hand must be eight or lower. The best hand in Eight-or-Better is still 'the wheel' – 5,4,3,2,A – but 8, 7, 6, 5, 4 is the minimum qualifying low hand.
Razz

Limits Played: Limit
Lowdown: Also known as Seven-Card Stud Low, Razz forms the 'R' of the mixed game, HORSE, (see below) and works like regular 7 Stud except that the best hand is the lowest possible, i.e. 5-4-3-2-A, or the wheel. For example, 6, 4, 3, 2, A beats 6, 5, 4, 3, 2 and so on.
Razz tourneys are on the rise at the bigger poker sites, but Limit cash games are still the most popular form of the game.
Badugi
Limits Played: Pot Limit
Lowdown: Played a little like Razz (but with fewer cards) Badugi has every player dealt four cards face down. Players still left in after a round of betting have the chance to draw for new cards. The aim of the game is to make a 'Badugi' – a four-card low hand made up of four different suits. The best hand in Badugi, therefore, is 4-3-2-A of different suits.
5-Card Draw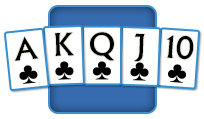 Limits Played: Fixed Limit, Pot Limit, No Limit
Lowdown: Once the preserve of cowboys in Wild West saloons and backroom dives, 5-card Draw is experiencing something of a revival online due to its exciting draw format – especially in No Limit.
Players are dealt five cards and get to change their cards once between rounds of betting. The aim, of course, is to get the best five-card poker hand after all betting has finished.
2-7 Triple Draw
Limits Played: Fixed Limit, No Limit, Pot Limit
Lowdown: Another low-card format, and one gaining popularity – especially on the live circuit – is 2-7 Triple Draw. A drawing game like Badugi and 5-card Draw, 2-7 sees all players dealt five cards face down. After an initial round of betting all players can make a change of cards (by clicking on the cards they want to change). There is a further round of betting, players make a second change of cards, then a third round of betting takes place. After a third and final 'draw' a last round of betting takes place before showdown. The idea – as the name suggests – is to get the best poker hand 2-7 as possible. The beauty of the game is in deciding whether to make draws or not – do you bluff your opponents by feigning strength by choosing not to draw?
2-7 Single Draw
Limits Played: No Limit
Lowdown: 2-7 Single Draw is played exactly the same way as its 'Triple Draw' bigger brother, but with one difference – players only get to change cards once. The No Limit format makes for a full-on gambling experience as aggressive play can often force more timid players off pots who'd rather not risk drawing to a potentially beaten hand.
HORSE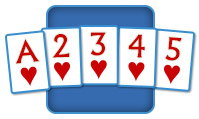 Limits Played: Fixed Limit
Lowdown: HORSE entered the public consciousness when it was included in the World Series of Poker schedules. Rather than travel across the world to find a live cardroom that actually offers it, you can easily play HORSE games for cash or in tournaments at many major poker rooms on the web.
HORSE is made up of Limit Hold'em (H), Limit Omaha (O), Razz (R), 7-Card Stud (S) and Stud Eight-or-Better (E). Generally speaking, all disciplines are played Fixed Limit, but most sites will offer free-to-play HORSE tables so you can practise all the disciplines before trying them out for real cash.
8-Game Mix
Limits Played: Limit, No Limit, Pot Limit
Lowdown: 8-Game Mix is for the real hardcore online poker players and expands on the classic HORSE format to include 2-7 Triple Draw, No Limit Hold'em and Pot Limit Omaha. What's good about 8-Game Mix is that players who started their poker lives with the tried-and-trusted NLHE aren't excluded, while most online players will know a thing or two about the equally familiar PL Omaha.
'Fast Fold' Poker
Limits Played: Pot Limit, No Limit
Lowdown: The buzzword of the past couple of years online has been 'fast-fold' and virtually every poker site has its own version of the new crack of online poker cash games.
Fast Fold Poker is different to conventional cash games online in that once you fold your hand you will be whisked off to a new table – and new opponents – to be dealt a new hand. This means that you're always playing against new opponents, and more importantly – you're not wasting any time waiting for another hand to come around.
Fast-fold poker has many names – Zoom Poker, Rush Poker, Speed Poker – but what they have in common is that they cater to multi-tabling monsters trying to get their hand volumes in.
The 'fast fold' format had a new shot in 2014 with Full Tilt launching 'Adrenaline Rush' poker. As if Rush Poker wasn't fast enough, Adrenaline Rush features four-handed tables with a max. buy-in of just 10 big blinds. Not only that - players don't have the option to call, just fold or raise. Like Rush Poker, if you fold you'll immediately be transported to a new table to continue the action.
Site information

PokerSites.com is the only dedicated review site selected as a member of the Interactive Gaming Council.