Americas Cardroom Bonus Code
Guide to the Americas Cardroom Bonus Code
If you live in the U.S. and haven't had much luck finding a reputable online poker room that would take your action, we have the best news for you that you may have heard in a long time
Americas Cardroom, just like the name says, not only accepts American players, but caters to them. Here's why you'll love them:
On day 1, as soon as you register and make your opening deposit, the site will match it 100% up to $1,000!
You also receive tickets to participate in up to four weekly New Depositor Freerolls, where at no risk to your own bankroll at all, you have a chance to win your way in to more tournaments and possibly walk away with one of the top prizes.
They're one of the fastest US online poker communities, making their bonus even more appealing.
Compared to the meager pickings otherwise for U.S. poker players who prefer to play online, we think you will find the Americas Cardroom (ACR) Welcome Bonus package one of the best new poker player offers available.
Online poker players, unlike online slot players, have a long history of not being the beneficiaries of much player recognition. Typically, if any Welcome Bonus would be offered at all, it would be very meager. Americas Cardroom offers the rare combination of being a place where you can play your favorite game legally with no hassle plus providing a big enough Welcome Bonus to show you that it means what it says about being a U.S. player friendly poker room.
A US Poker Site You Can Trust
If you have never heard of Americas Cardroom, maybe you are still skeptical, especially if you have had a disappointing experience playing elsewhere. Before telling you more about the bonus and bonus code Americas Cardroom is offering new players, first we would like to assure you that ACR is a safe and secure place to play and all of the games are carefully scrutinized for fairness.
As part of the highly regarded and fast growing Win Poker Network, ACR offers its players exciting 24/7 action on a full complement of ring games and tournaments. You will also find special innovative features like "The Beast," a progressive rake race leaderboard competition; "On Demand Freerolls;" and, as an intriguing alternative to the usual player elimination format, time-based and hand-based tournaments, unique to WPN sites. We encourage you to read our separate detailed review to learn all about what ACR has to offer American poker players. Then if you would like to make Americas Cardroom your cardroom, sign up today using the special 2023 bonus code listed here exclusively for PokerSites.com readers, so you can get every penny of the generous 100% Welcome Bonus.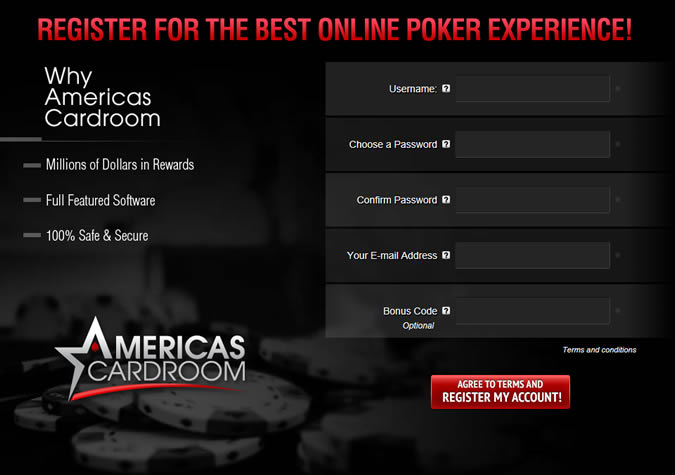 Why You Need a Bonus Code for Americas Cardroom
Poker is partly a game of skill, which is the reason, even if you have an adequate bankroll to play high stakes poker, you should not do so unless you have top skills to match and can hold your own against a high level of competition. But poker is also a game of luck, meaning that no matter how well you play the game, you will not always win. Poker luck often runs in spurts, which cannot be predicted ahead of time. However, the ability to double your bankroll from the outset makes you a lot better prepared to deal with any situation, including not only weathering a bad run of cards, but having sufficient chips to raise appropriately and capitalize on good runs to maximize your winnings. No matter what kind of player you are, and no matter how small your first deposit might be, the Americas Cardroom bonus code can make your first days online even better:
If you are a high roller, having the extra ammunition to jump start your bankroll early on can make a big difference.
If you are a low stakes player, you can still get the same 100% bonus, but you can make a smaller deposit geared to your bankroll and level of play.
The minimum deposit for ACR players is only $50. The ACR Welcome Bonus will stretch your bankroll and keep you in the game with less risk of overextending yourself.
As with most special offers, the ACR poker bonus will not be given to you unless you request it. So, make a note of the Bonus Code PS2015. The last thing you want is through some fluke or misunderstanding to miss out on this golden opportunity to double the value of your initial deposit.
How the Americas Cardroom Welcome Bonus Works
The 2023 Americas Cardroom Bonus Code for PokerSites.com readers is PS2015.
When you complete the registration form to sign up as a new Americas Cardroom poker player, be sure to enter this Bonus Code exactly as shown in the designated place on the form. It will only take a few seconds to enter this necessary piece of information, but if you forget or enter it incorrectly, you could miss out not only on the Welcome Bonus, but also on some of the other major benefits you are entitled to as a new ACR player. That is what makes using poker room bonus codes, such as the bonus code Americas Cardroom provides, so important.
The ACR Welcome Bonus works like most poker bonuses. The money is available for betting right away, but withdrawal is contingent on meeting the stipulated play requirements.
The bonus code Americas Cardroom offers works on an incremental release system. That means the bonus is released in increments of $1 for every 27.5 award points earned playing either in cash games or real money tournaments. Every $1 in weighted contribution to the rake in cash games or spent on tournament fees earns you 5.5 award points. A total of 60 days are allotted to release the bonus in full. Meanwhile, checking where you stand is easy using the Bonus section of the Rewards tab.
Americas Cardroom Bonus Code Extras
Entering the Americas Cardroom Bonus Code properly will ensure your eligibility for both the 100% Welcome Bonus and another great new player incentive, the opportunity to participate in 4 weekly $250 freerolls. The freerolls, which are held every Saturday, are exclusively for new players during their first calendar month with the site. Therefore, the field won't be as large (or as tough) as you might encounter in other freerolls. Here is another helpful tip: Sign up to play Sunday-Thursday rather than Friday or Saturday so you can play in your first freeroll the same week you join. Players who register with the site on Friday or Saturday will have to wait until the following week and thus are short one freeroll.
Making the Most of Your Americas Cardroom Bonus
If you are worried that you won't be able to meet all of the ACR play requirements in time to clear the full value of the bonus code Americas Cardroom brings you before the expiration date, the best advice from our top experts is to simply take it one day at a time. You will be surprised how quickly your play mounts up, and with the tremendous variety of both cash games and tournaments taking place 24/7, clearing the bonus might be accomplished sooner than you think. If you can manage simultaneous play in multiple games, take advantage of that option to accumulate more reward points and clear the poker bonus faster.
Meanwhile, by playing often you are giving yourself many opportunities to improve your skills and challenge yourself in tournaments and leaderboard competitions, and thereby acquire the necessary confidence and bankroll to move up to higher stakes. In addition, with the help of the extra funds placed in your account with the generous 100% Welcome Bonus and bimonthly reload bonus, hopefully, you can win a lot, too. At the very least, you should have a lot of fun playing using the ACR bonus code.
Knowing that there are only a few online poker rooms that accept American players to begin with, you will have a hard time finding among those any others with new player offers that can top ACR's current offers for new players. Also, we can't guarantee that the great promotions available to you now on this site will last forever. Therefore, your best bet is to grab them while you can and sign up today with Americas Cardroom using your 2023 Bonus Code from PokerSites.com, PS2015.
Site information

PokerSites.com is the only dedicated review site selected as a member of the Interactive Gaming Council.