Compare Online Poker Sites
With such a large number of poker sites available online from all over the world, it can be a tiresome business trawling through them all to find the ones offering all the features you want. Maybe it's being able to play multi-tables, or maybe you want a poker site that offers a certain types of poker games like stud or Draw? Whatever it is you need you will find the information on our poker site comparison charts.
Also see our customized poker site search tool where you can get personalized recommendations for where to play poker online.
Poker Comparison Charts
Online Poker Site Comparison - Compare Online Poker Sites - We have provided Poker site comparison charts so you can see at a glance the features of various poker rooms we recommend. Using the charts will save you endless hours of internet browsing meaning you can concentrate on actually playing poker and winning money rather than trying to find a poker site that's suitable. In our comparison tables below we have tried to point out some key features we believe are important in making a decision about which poker site you should sign up with.
We hope you find our Poker site comparison charts of use and that you will use them to find the site that best suits your requirements. It pays to visit us on a regular basis as all the data in our comparison tables are kept as up to date as possible with any new additions or changes to current tables made as soon as we receive the information.
Head To Head Comparisons & Videos

Exclusively at Pokersites.com we have comparisons of all the leading poker sites, such as PokerStars vs Full Tilt Poker, and PokerStars vs Party Poker. Each page features side by side comparisons by feature, e.g. which has the best ring games, which has the better bonus.
Also available to watch are our special comparison videos, where we will walk you through both sites and point out the pros and cons of playing on each. This will be invaluable to you if you can't decide which of two great sites to play on.
Below is a list of our head to head comparisons (and videos):
Poker Site Deposit Methods
Being able to deposit and withdraw easily at a poker site is vital and knowing which sites readily accepts your chosen banking method. The poker site deposit method chart below will help you quickly work out which sites accept the different banking options.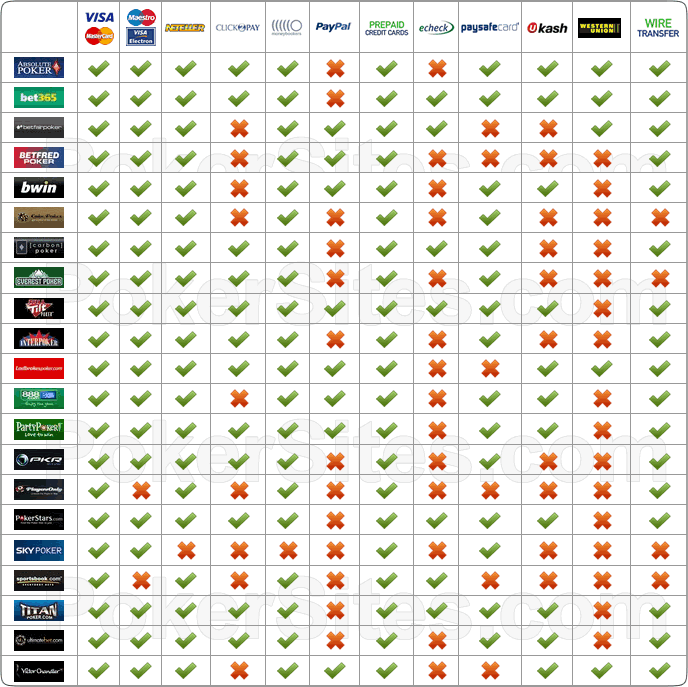 Poker Site General Comparison
We know that not every poker site permits players from the US, so we have included in our general information poker comparison charts a number of US Poker Sites. We have exclusive bonuses with some sites which are listed below, to take advantage of these visit our poker site reviews page and select your chosen site. We also list which network the sites belong to as well as the average peak time traffic.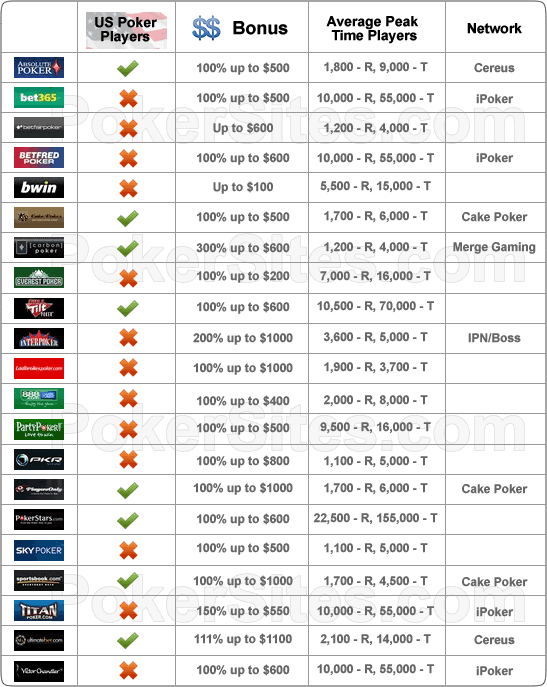 Poker Site Games
Some poker sites only offer Texas Hold'em while others, such as Full Tilt Poker, have several different game varieties available. Below you can quickly check which sites offer Hold'em, Omaha Poker, Razz, Stud, Draw, HORSE and HOSE games. To find out which sites we recommend for each, check the Poker Games page.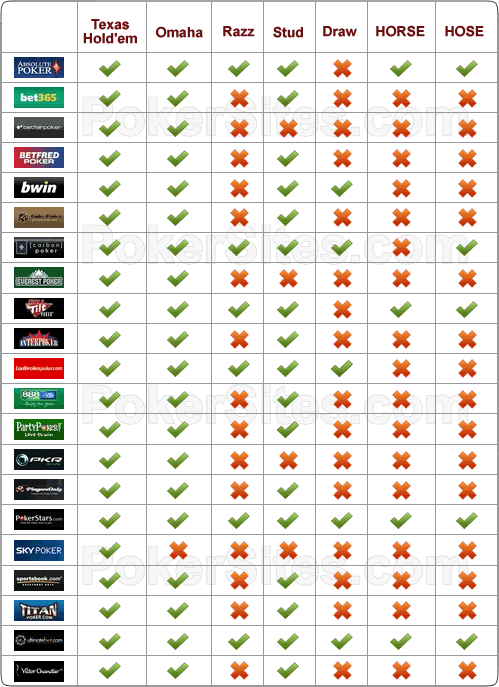 Poker Site Languages
Since UIGEA many poker sites stopped accepting US players and transferred their focus to European countries. This means they have had to translate their sites and software into several different languages. The chart below gives you a quick guide to which sites are translated into French, German, Dutch, Italian, Portuguese, Spanish, Swedish, Norwegian and Finnish.
Site information

PokerSites.com is the only dedicated review site selected as a member of the Interactive Gaming Council.