February 2018
Best Badbeat Jackpot Poker Sites
Bad beat jackpot poker is designed to reward a sensational poker hand that still ends up losing. There are many interpretations of what constitutes such a hand, and also many ways that online real money poker sites can fund and distribute these jackpots.
Players love Bad Beat Jackpot online poker as it's a nice twist on the game and can bring a surprise windfall to a beaten player with a great hand (as well as the other players at his or her table). The format relies on real money poker websites deploying special software to set equations to pay out prize money to the players at the table.
If losing a pot to win a jackpot sounds like you're kind of thing, we have several sites we'd recommend you play at. Our expert reviewers picked these sites because:
They offer great customer service
They are easy to make deposits and withdrawals at
They are safe and trusted sites
Biggest Badbeat Jackpot Poker Sites Online
Unlike in normal poker hands, the winner does not receive the entire jackpot. Instead, the jackpot is distributed as percentages to every player at the table. 30% of the jackpot never reaches the players as 20% is used to fund the next jackpot while 10% is returned to the house. The remaining 70% is split among the players with the player suffering the bad beat receiving half. The person that had the highest hand receives a quarter of the remaining jackpot while the final 25% is divided evenly among every player that was dealt cards during the hand. While some bad beat jackpot poker sites have varied rules on the distribution of the jackpot, this is typically standard among poker sites. The remainder have small percentage differences or have a flat fee that they pay out in the event that a bad beat jackpot is necessary.
Bad beat poker sites also vary in the quality of the hand that qualifies. At most bad beat jackpot poker sites, the losing hand must be at least four of a kind. However, some of these poker sites offering a bad beat jackpot also require that the four of a kind be at least 8s. Some sites require at least tens to qualify.
When you are looking for Badbeat jackpot poker sites you can search on search engines, and you will likely find plenty to choose from. However, it can be very difficult to know which to pick. There are the things you want as a player, and they are often easy to see when you sign up on the site and begin playing for a little while, however first you have to sign up. Doing that means going through a detailed process, and hoping everything is secure and safe. It also means downloading software, installing it on your computer, hoping it will work well with your system, and be safe as well. At the same time you need to hope and pray that should you run into problems the Bad beat poker sites you choose have an easy to contact customer service department that is ready to answer your questions and walk you through any problems or answer questions. That's a lot of things to hope for with no proof of quality.
We do all that work for you. The Bad beat poker sites we offer are the best quality you can find online in terms of platforms, customer service and all the things poker players like yourself want in games such as graphics, variety, and bonuses. Choose from the above Bad beat poker sites and spend your time doing what you really want to do-play.
Badbeat Jackpot Poker FAQ
How Is A Bad Beat Jackpot Funded?
This will vary depending on the site you play at. Some real cash poker sites build a Bad Beat Jackpot by paying in a small amount from their rake for every real cash game played. The rake is the fee charged to players by the poker websites, so the website is effectively giving back to the players.
How Is A Bad Beat Jackpot Paid Out?
Again, you're going to see different formulas here based on the real cash poker site you play at, but as a general rule the jackpot will be paid out using a percentage equation to the table where it's awarded.
Let's imagine the jackpot stands at $100,000. The losing player, who qualifies the table for the Bad Beat Jackpot by having an incredible losing hand, might take home a 50% share, which would equate to $50,000. The player with the winning hand might be awarded 25%, being $25,000, with the rest of the pot shared between the other players at the table.
Carbon Poker splits the pot on the following basis:
38% to the player with the losing hand
20.5% to the winner of the hand
20.5% shared to the rest of the table
21% used to reseed the Bad Beat Jackpot pool
What Criteria Must a Poker Game Meet to Qualify for a Bad Beat Jackpot?
Some poker sites set criteria for games to qualify for a Bad Beat Jackpot. This might mean a game has to include a set number of players, or be played at a minimum stake level to qualify.
Taking Carbon Poker as an example, here is a list of the requirements for a hand to qualify for a Bad Beat Jackpot:
At least three players dealt
Hand must go to a heads up showdown
Both hole cards must be used by the winner and loser of the hand
Split pots are not eligible
Players must have online poker accounts set up
What Counts As A Bad Beat Poker Hand?
This is area of huge contention and one of the big criticisms of Bad Beat Poker. Every real poker site is entitled to its own take on what constitutes a qualifying hand and interpretations therefore vary.
If we use Carbon Poker as our example, a Bad Beat jackpot hand is defined as, "four of a kind eights or better." This rule applies to all their "six-max and full ring no limit Texas Hold'em real money tables," which opens up a huge player pool to the Bad Beat online poker bonus and promises to make some losers big winners.
What are the Arguments Against Jackpots?
The biggest argument comes from players who doubt the integrity of the software used to deal hands and dish out bonuses. It's long been a conspiracy theory in online poker chat rooms that some sites manipulate the game.
We understand that viewpoint, but the argument here has no basis. Trustworthy sites use random number generator software to deal hands and are transparent in their awarding of Bad Beat jackpots.
Is it Safe to Play Online Bad Beat Jackpot Poker?
Providing you stick to the site we've recommended, it couldn't be safer. Our expert reviewers have thoroughly vetted the sites we recommend for security software, and have absolute confidence your banking and personal details are in the safest of hands.
How Much Can I Win From an Online Bad Beat Poker Jackpot?
This will vary hugely depending on the poker site you play at and the level of the pot at the time the bonus is awarded. There are some reports of a bonus going as high as $1.5 million, with over $500,000 paid out to the player who had the losing hand. That's not a bad consolation prize.
1

Ignition Poker is a great choice for US online poker players with plenty of poker games running around the clock. Sign up and receive a 100% deposit match bonus up to a maximum of $2000. New players joining can also get a bonus up to $1000 in the Ignition Casino!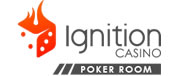 Get a 100% up to $2000 bonus at Ignition Poker!
Ignition Poker
Site information

PokerSites.com is the only dedicated review site selected as a member of the Interactive Gaming Council.