Guide To The Full Flush Bonus Code:
If you're a US poker player and want to give your bankroll a boost in 2019 then make sure you take note of our exclusive Full Flush bonus code. Offering in excess of $1200 in free gifts on one of the Equity Poker Network's top rooms, the Full Flush Poker welcome bonus is your ticket to a profitable year at the felt. Full Flush is a relatively new site, but it's getting a good reputation from players and we gave it thorough testing in our Full Flush Poker Review.
Why You Need a Bonus Code for Full Flush Poker
When someone hands you lemons you're supposed to make lemonade and when someone hands you a poker bonus code you should use it to make more money. Becoming a profitable grinder takes a variety of skills and one of those is raking in as much free cash as possible. Fortunately, this is exactly what the bonus code for Full Flush Poker allows you to do.
Just like a gift at Christmas, the Full Flush Poker welcome bonus is a neatly packaged present that's given to all new players when they make their first deposit. On top of giving you access to free cash, Full Flush Poker is open to all US players and thanks to a generous disposition players can take part in a slew of big money games for a mere pittance.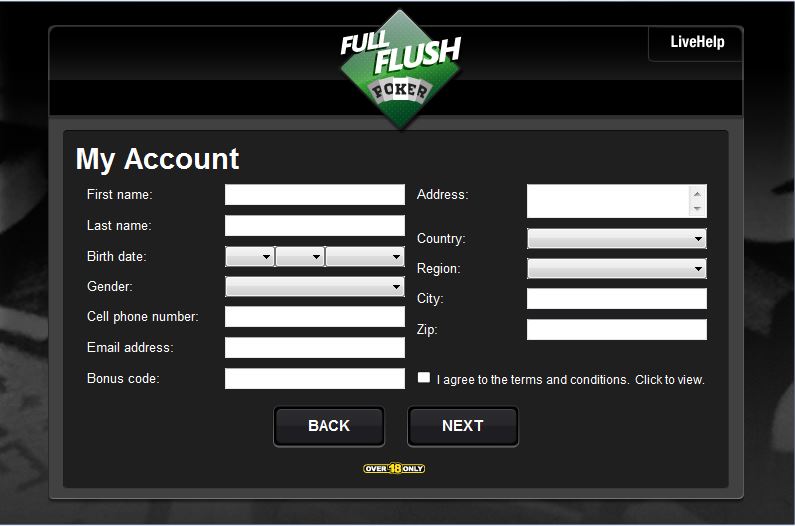 How the Full Flush Poker Welcome Bonus Works
The poker world is an ever-evolving beast and the Full Flush Poker bonuses have certainly embraced this need for change. Unlike other rewards that deposit a bonus payment into your account but keep it from you until certain requirements are met, the Full Flush Poker welcome bonus isn't released until you prove your worth.
It used to be commonplace that online sites would dangle a carrot in front of its new players by showing them their full bonus then drip feeding it to them. However, Full Flush Poker bonuses are different because the site withholds the money until you met the necessary requirements.
At this point the full cash bonus is paid into your account and you're free to do what you like with it. Whether you want to invest it in Full Flush's MTTs or withdraw the money and count your profit, this unique system gives you the option to do both.
For example, if you use our exclusive Full Flush bonus code to get a 150% extra when you make your first deposit and you release the $1200 reward within one week, you'll be able to take all of that cash and put it in your bank whilst you grind with your original deposit.
Full Flush Bonus Code Extras:
Aside from giving you access to $1200 in free cash, the Full Flush Poker welcome bonus also has a slew of additional benefits, including a 20% instant bonus for deposits over $50 and a 10% instant cash back for players funding their account with $200 using Skrill, MoneyGram, Western Union, ecoPayz and Neteller.
Additionally, all new players will receive ten copper coins which can be used to enter the $1,000 First Depositor Freeroll tournaments which take place on the last Saturday of every month.
Making the Most of Your Full Flush Poker Bonus
When you use the bonus code for Full Flush Poker you'll be given access to a welcome reward worth 150% up to the value of $1200. In contrast, at the lower end of the spectrum you need to fund your account with at least $25 to be eligible for an additional cash payment.
However, regardless of the amount of cash you receive, you must make sure you use our exclusive Full Flush bonus code.
Once you've done this you will need to earn 20 Player Option Points (POP) for every dollar you deposit. Points are awarded at a rate of 10 POPs per $1 wagered, which means if your Full Flush welcome bonus is worth $200 you'd need to rack-up 4,000 POPs to release your cash.
However you slice it, our exclusive Full Flush bonus code is a great way to pad your bankroll and experience one of the best US online poker sites on the market.
Site information

PokerSites.com is the only dedicated review site selected as a member of the Interactive Gaming Council.