All About The World's Best Poker Pros
We've all seen the world's best players grinding in the live arena during some of the largest poker festivals in the world, but for many of them it's the online game that provides a steady income.
Indeed, while it's nice to win a live tournament every once in a while, the main way to make money in the modern day is to grind online and in the following article we've outlined some of the top virtual grinders in the world.
Covering cash games players and tournament pros, we've put a face to some of the most famous screen names in the world and outlined exactly how they make their money as well as how much they've won or lost.
The Top 10 Online Poker Pros: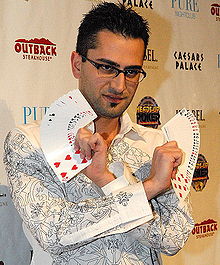 Aliases: Antonio Esfandiari (Ultimate Poker)
Favourite game: NLHE tournaments
Winnings: Currently untracked
Antonio 'The Magician' Esfandiari is primarily known as a live tournament player, but thanks to a number of high profile wins - including an $18 million score in the WSOP's One Drop event - he's been a face for numerous online sites. Most recently the charismatic pro signed to represent Ultimate Poker and currently plays on this US-based site under the alias 'Antonio Esfandiari'.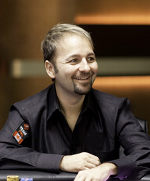 Aliases: KidPoker (PokerStars)
Favourite game: Mainly large buy-in online majors such as WCOOP and SCOOP events
Winnings: $497,556 (minus $381,886 in cash game losses)
Daniel Negreanu is known as the face of PokerStars and has been one of the most visible pro players for a number of years. Indeed, thanks to his contractual ties with the online poker giant, Daniel has worked hard on his virtual game over the last five years. Although he's still known as a live tournament specialist, Daniel has recorded some impressive wins at the virtual felt in both tournaments and cash games.
Daniel's MTT highlight at the virtual felt came during the 2013 SCOOP series when he banked $216,000 for winning the $5,200 PLO 6-max event. Away from online tournaments Daniel has struggled to compete with some of the top young cash game players and under the screen name 'KidPoker' he's lost $381,886 according to one tracking site.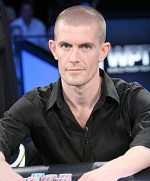 Aliases: Gus Hansen (Full Tilt), broksi (PokerStars)
Favourite game: Any variant of cash game where the stakes are $200/$400+
Winnings: -$17,813,062
If there's a player who has provided more entertainment in the online poker world than Gus Hansen then we're yet to hear of him. Gus is quite simply the most exciting online pro in the world for one very good reason: his swings.
Unlike virtually any other player, Gus is capable of winning $1 million in a single day and losing it the next. Playing much like his does in the live arena, Gus has become a fan favourite over the past few years by playing in the biggest games on Full Tilt. Unfortunately, as entertaining as he's been, his bankroll has suffered and thanks to some huge losses he's earned himself the moniker of the largest online loser.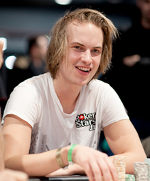 Aliases: Isildur1 (Full Tilt and PokerStars)
Favourite game: Heads-up NLHE and PLO $500/$1,000 CAP games
Winnings: -$1,582,763
If there was a vote for which player should be known as the biggest online poker legend of all time the majority of people would probably favour Viktor 'Isildur1' Blom. Enjoying a high stakes run that's basically entered into poker folklore, this young Swede has since tussled with and beat every top player in the world.
Blom's online career started back on the iPoker Network when he took a $2,000 bankroll under the alias 'Blom90' and turned it into $1.4 million within 3 weeks. After dominating the European games he eventually created an account at Full Tilt and started to beat the top Americans as 'Isildur1'. A succession of legendary matches followed, including a $4 million downswing in a single day, and Blom is now regarded as one of the top heads-up players in the world.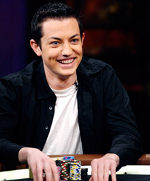 Aliases: durrrr (Full Tilt), Holdem_NL (PokerStars)
Favourite game: Nosebleed ($300/$600+) NLHE cash games
Winnings: $2,165,475
Back when the highest limit games on Full Tilt ran like clockwork, Tom 'durrrr' Dwan was one of the most dominant players. Taking on all-comers and virtually retiring a number of former high stakes pros, including Brian Townsend, Tom earned a fearsome reputation for creativity and aggressiveness. Although he's now synonymous with his Full Tilt alias, 'durrrr', Tom can also be found playing as 'Holdem_NL' on PokerStars and under his real name in Macau's live games. Although Tom was once the dominant force in the online poker world, he's recent poor run of form has seen him concentrate more on private cash games with rich businessmen.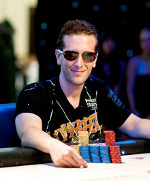 5
Bertrand 'ElkY' Grospellier
Aliases: ElkY (PokerStars)
Favourite game: WCOOP and SCOOP events
Winnings: $1,461,120
Thanks to many years as a professional gamer, France's Bertrand Grospellier quickly became one of the most feared online tournament players in the world. Not afraid to play aggressively pre-flop and bluff the river with air, 'ElkY' was able to dominate PokerStars' high stakes heads-up SNGS and win a number of MTTs, including two WCOOP titles and a SCOOP trophy.
Alongside his online accomplishments, 'ElkY' has also thrived in the live arena with multiple victories and more than $10 million in prize money. Thanks to his standing in the community, 'ElkY' has been a longstanding member of Team PokerStars and currently plies his trade there.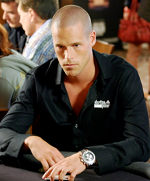 Aliases: FinddaGrind (previous Full Tilt aliases have included Patrik Antonius, Fake Love888 and Luigi66369)
Favourite game: $500/$1,000 PLO cash games
Winnings: $13,500,000 (approx)
Back when people barely knew how to 3-bet, Patrik Antonius was dominating the online world with his aggressive brand of poker. Not afraid to risk his entire bankroll on a single session, the Finnish pro gradually climbed the ranks to become a permanent fixture in Full Tilt's biggest cash games.
Mixing it up with every emerging talent on the block (including Brian Townsend, Tom Dwan, Phil Galfond and Brian Hastings), Patrik basically beat everyone he came across and established himself as one of the biggest online cash game winners of all time. Over the years Patrik has played under a number of aliases on Full Tilt so tracking his profit is somewhat tricky; however, according to most railbirds, his profits exceed $13 million.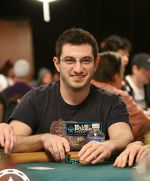 Aliases: OMGClayAiken (Full Tilt), MrSweets28 (PokerStars)
Favourite game: High stakes heads-up NLHE and PLO cash games
Winnings: $9,474,106
One of the original online prodigies to make a name for himself during the poker boom, Phil Galfond is widely regarded by many as one of the game's top modern players. Able to rival the likes of Phil Ivey, Doyle Brunson and any live pros who came before him in terms of skill and financial might, Phil is also a great strategist. Known for his insightful blogs and salient strategy advice, he's managed to coach many players over the years in the art of high stakes NLHE and PLO. On top of his online success, Phil has also thrived in the live arena and managed to pick up a WSOP bracelet in 2008.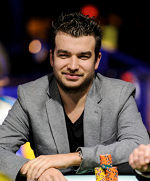 Online Aliases: Moorman1 (PokerStars and PartyPoker), Moormanl (Full Tilt), 1moortime (iPoker), Bonjour12340 (PokerStars.FR)
Favourite Game: NLHE six-max tournaments
Winnings: $10,924,986
Chris first started playing freerolls and small stakes SNGs whilst at university before becoming a full time poker player. Since that time he's emerged as the best online tournament player in the world with earnings that far eclipse any of his MTT peers. Indeed, such is Chris's influence in the game that he's now in charge of a major staking operation which sees him financially back many of the game's best young players.
Aside from his unparalleled profits, Chris is the holder of numerous records, including the most ever online Triple Crowns (20). In order to stay amongst the top online tournament players in the world Chris will play at a number of different sites, including PokerStars, Full Tilt and PartyPoker, and grind virtually every major tournament with buy-ins of $30+.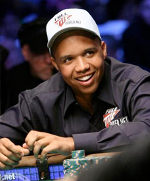 Online Aliases: Polarizing (Full Tilt), RaiseOnce (PokerStars)
Favourite Game: NLHE and PLO heads-up cash
Winnings: $19,242,744
Known universally as the best poker player in the world, Phil Ivey is primarily known as a live pro. However, being the master of cards that he is, Phil has found a way to triumph at the virtual felt against some of the top young players in the world. Although not the best natural online poker player, Phil can often be seen on Full Tilt under the handle 'Polarizing' (he was formerly known as 'Phil Ivey') and on PokerStars as 'RaiseOnce'. Competing at stakes from $200/$400 to $500/$1,000, Phil has managed to become one of the biggest online earners in the world.
Conclusion
Although we've outlined exactly where some of the best players in the world play and the games they can often be found playing, it doesn't mean you should rush to join them. The reason we've profiled these pros is because they are the best at what they do and to challenge them without a suitable bankroll would be foolish.
However, if you're able to grind your way up through the ranks and develop the necessary skills along the way then there's no reason you couldn't find yourself tussling with one of the top picks in the near future.
Site information

PokerSites.com is the only dedicated review site selected as a member of the Interactive Gaming Council.