Imagine that you had a time machine and you could travel back to bet on an athlete or sports team that won big. What athlete or team would you choose? And what could you buy with your winnings? We examined the odds surrounding some of the greatest underdogs in this century, ranked the potential payouts, and compared the most exciting odds with real-life circumstances. Intrigued? We bet you'll be surprised by the results …
Sports Underdogs and Upsets

It takes a lot to be remembered in the world of sports – but defying incredible odds is certainly one way to be remembered. As you can see, athletes and teams from numerous sports – from golf to tennis, horse racing to wrestling –– have accomplished this feat in just this century.



Topping our chart of Cinderella stories is the Leicester City F.C.: a small-town English soccer team that overcame 5,000-to-1 odds to clinch the league championship. Want some perspective? Others facing 5,000-to-1 odds weren't so successful: Cal State Bakersfield was cut from the 2016 NCAA tournament in the first round, Masters competitor Paul Chaplet finished last in the 2016 Masters, and the Minnesota Timberwolves missed the NBA playoffs by 14 games.

The second-most-impressive win occurred in the 2000 Olympics, when American wrestler Rulon Gardner thwarted 2,000-to-1 odds to claim the gold medal. His feat? Beating three-time Olympic champion Aleksandr Karelin, a Russian competitor who had won every international match in the previous 13 years.

The Biggest Potential Payouts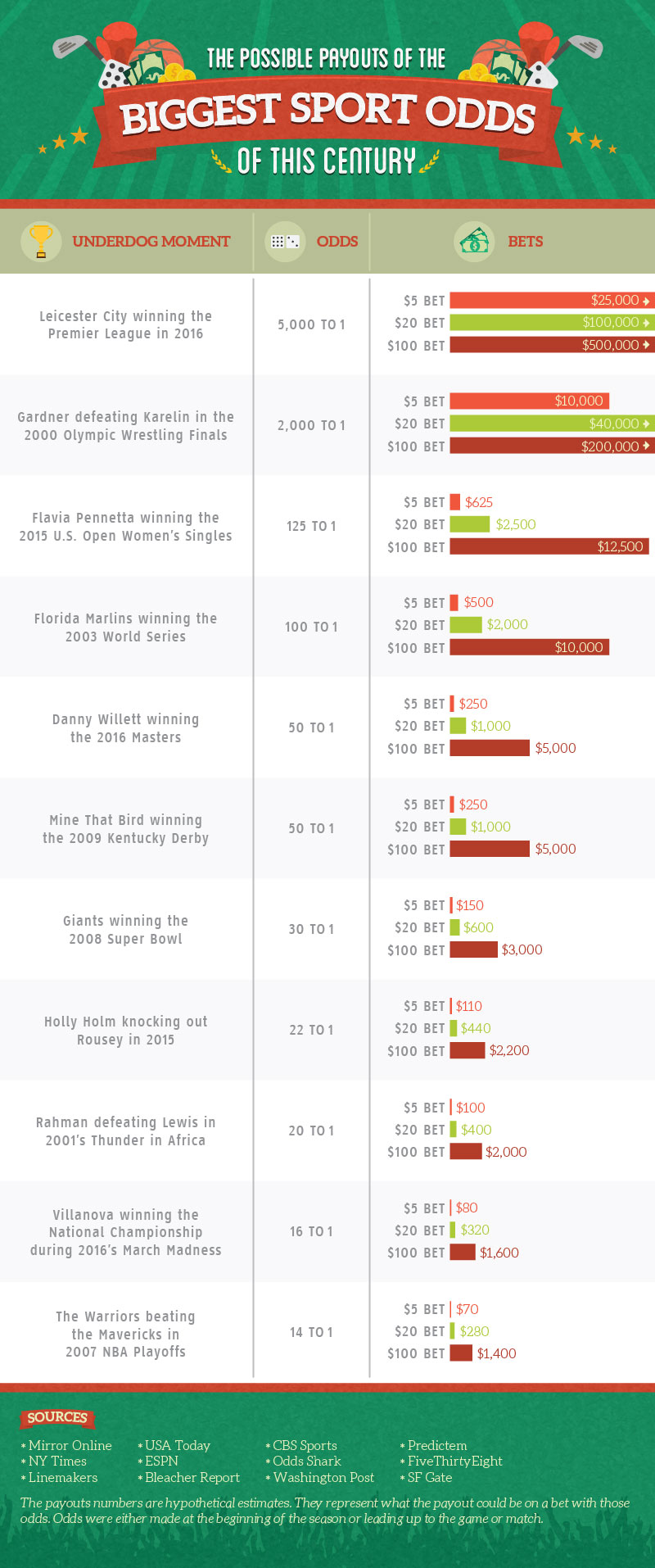 What kinds of payouts are possible in light of these types of odds-defying wins? We crunched the numbers to produce some estimates. Based on universal odds calculations, the 5,000-to-1 Leicester City F.C.'s win could have netted gamblers who put down $100 a cool half a mil, while wrestler Rulon Gardner's 2,000-to-1 victory could have paid out around $200,000 for a $100 bet.



Even the less extreme odds would have paid out big: Tennis player Flavia Pennetta's 2015 win could have provided fans who bet $100 with a payout of over $12,000. For fans of team sports, the Florida Marlins' 2003 win could have netted bettors around $10,000.

Sports Odds and Real Life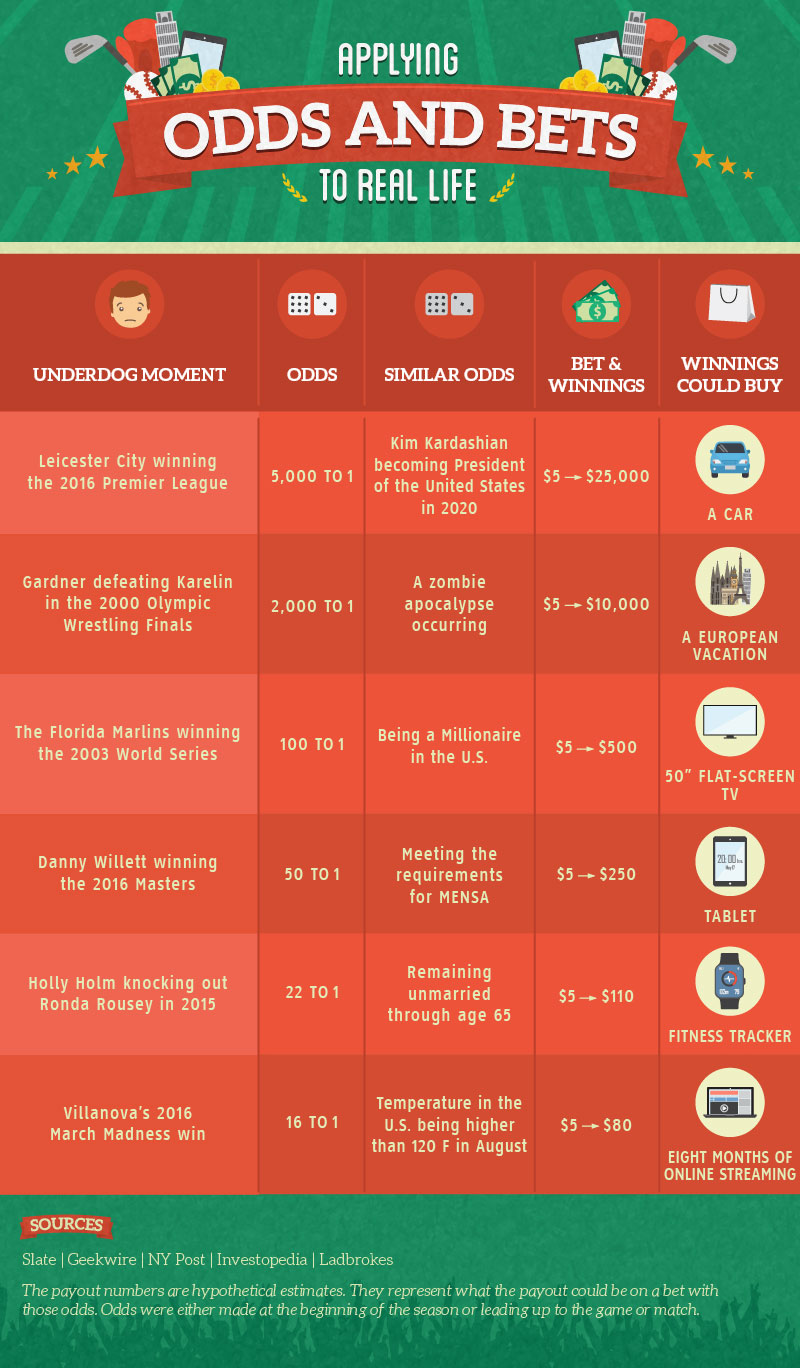 When it comes to these Cinderella stories, how do the odds compare with your likelihood of encountering unlikely situations? And what could you purchase with your winnings?



Leicester City's long-shot victory was as likely as Kim Kardashian becoming the President of the United States in 2020 – and the payout would have been enough to purchase a car. Dreaming of space? Wrestler Rulon Gardner's Olympic victory matched your odds of becoming an astronaut – and the cash you would have netted could fund a trip to Europe.

A 2003 Florida Marlins World Series win offers the same odds as you earning over $1 million per year; Danny Willett's Masters win is as likely as receiving an invitation to join IQ society Mensa; and Holly Holm's 2015 UFC knockout holds the same likelihood of remaining unmarried past age 65.

Beating the Odds
As our study reveals, even the most daunting of odds can be overcome with skill, circumstance, or good old-fashioned luck. Both in sports and in life, the unlikeliest underdogs may rise above and triumph – as is the case with the teams and players we examined above.

If a small-town soccer team can beat 5,000-to-1 odds and a wrestler can overcome 2,000-to-1 odds, then surely anything is possible. While it's prudent to exercise caution, remember that the biggest risks can reap the heftiest rewards. The odds only represent a story's beginning – and we all know that some of the best stories have surprise endings.

SOURCES

TEXTUAL Sources
Fair Use
Feel free to share the images found on this page freely. When doing so, please attribute the authors by providing a link back to this page, so your readers can learn more about this project and the related research.