October 2017
PayNearMe Poker Sites
PayNearMe is the latest great deposit method for online poker players living in New Jersey.
You don't need a credit or debit card to deposit at NJ poker sites; PayNearMe simplifies the process. Just make a deposit 'pledge' online with PayNearMe, take a printout voucher to your nearest 7-Eleven or ACE store, have your receipt scanned, and pay for the deposit in cash.
In minutes you will see the funds in your NJ real cash poker account and you can be off and away playing Omaha or Texas Hold'em with thousands of other New Jersey residents at regulated poker sites. PayNearMe really is that quick and easy.
At PokerSites.com we hunt out the best NJ rooms accepting PayNearMe to find the greatest gaming deals on the planet. Here's why you'll love PayNearMe:
Benefits of PayNearMe

An exciting new real money deposit method for NJ players
Pay by cash at thousands of 7-Eleven stores
Find great Texas Hold'em games at a range of stakes
PayNearMe Online Poker Rooms
If you live near a 7-Eleven, ACE Cash Express of Family Dollar store in NJ, you are already one step closer to enjoying real money poker sites with PayNearMe.
For fans of real cash poker sites, PayNearMe is a great way of loading up your poker funds without a credit or debit card.
First, just head to the Cashier tab at a top NJ online poker room, click on the PayNearMe option and print out a cash payment receipt.
Then, visit the 7-Eleven store and show the clerk the receipt. They will scan it, ask you how much you want to deposit, and your online poker account will be loaded in minutes once you hand over the cash.
NJ gambling rooms usually require a minimum deposit of $10, so this is a good method if you are looking to deposit a sizeable amount.
Benefits of Using PayNearMe in New Jersey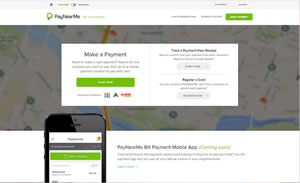 When playing for real cash at NJ poker sites, PayNearMe is such a good option as there are no cards involved and deposit times are super fast. Best of all, in 2017 you can avoid the familiar problems with transactions being rejected that many New Jersey Internet poker players have been experiencing.
Many banks and credit card firms have been slow to get up to speed with NJ's new online gaming regulation. Where banks would once have rejected gambling deposits made in the US, they can now process many real cash transactions in the newly regulated states like New Jersey.
However, quite a few are still playing catch-up so using a no-nonsense method like this makes it easy to get going at NJ poker sites. PayNearMe really is the next best option.
Top Poker Sites' PayNearMe Alternatives
"You don't need a credit or debit card; PayNearMe simplifies the process."
Regulated New Jersey PayNearMe poker sites are still in their infancy, and there have certainly been some teething problems with getting the banks to play ball.
If PayNearMe doesn't sound like something you want to make use of (perhaps you live miles from a 7-Eleven, ACE or Family Dollar store) you can sometimes use straight Wire Transfers from your bank account. Meanwhile, NETELLER is making a return to the NJ market in force.
And what if you live somewhere else in the United States where PayNearMe poker sites just aren't an option?
Well, unregulated poker sites may let you deposit and withdraw real US cash using credit and deposit cards (depending on where you live and which banks you are a customer of) while loading up funds at your local Western Union outlet is a good viable option with some big deposit limits.
Try Us For the Best Online Poker PayNearMe Sites
If you're looking for the best NJ poker sites, PayNearMe can be used at the leading regulated rooms in 2017 and we have the latest reviews.
Our team of experts test and compare many poker sites open to real cash players in New Jersey so you know exactly where the great deals are.
Sign up with one of our recommended NJ Hold'em sites today and you can earn yourself a great welcome bonus worth hundreds of dollars when you make a PayNearMe poker site deposit. What could be better than earning free cash, just for playing your favorite Texas Hold'em and Omaha games?
Diners Club Online Poker FAQ
How popular is PayNearMe?
PayNearMe is used for paying bills and sending cash at outlets right across the Garden State. That makes PayNearMe poker online, for US players at least, one of the fastest-growing payment methods in 2017.
Can I use PayNearMe with my mobile phone?
You can also use your New Jersey smartphone for PayNearMe, whether it's an Android, iPhone, BlackBerry, or Windows Phone. Select the 'Use Mobile' option at your NJ poker site's Cashier and a barcode will be sent by email straight to your phone. Now you can log in to a site from the store itself and get your money online even quicker.
How quickly can I get my money into my PayNearMe account?
Once your receipt has been scanned, your poker funds will appear in your account within minutes.
How quickly can I withdraw my money with a PayNearMe?
Funds aren't always available to withdraw using PayNearMe. Therefore, you will have to find an alternative method of cash-out. If you want to avoid the problems associated with credit card approvals in NJ, consider withdrawing to a NETELLER e-Wallet account. The transactions are anonymous and totally safe.
Is it safe to use PayNearMe online?
Yes. Because you're using a real-life third-party clerk for a PayNearMe transaction, you never have to reveal vital card details on the net. It makes PayNearMe online poker even safer than other payment methods.
How many people use PayNearMe?
PayNearMe is utilized by thousands and thousands of users across New Jersey. And because you can load up via your local 7-Eleven store, it makes PayNearMe a method that will grow in popularity over time.
Our Top Recommended Sites
Site information

PokerSites.com is the only dedicated review site selected as a member of the Interactive Gaming Council.