Beliebte Seiten
Beliebte Seiten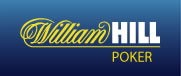 William Hill Poker
8.8 / 10

Besuchen Sie

William Hill Poker
History and Background
If you love to gamble, the name William Hill might need no introduction at all. This operator has been in the gambling business since probably before you were born. William Hill was started by the man it was named for in 1934 as a small bookmaking operation. At the time, the gambling industry in the UK was not yet regulated, but William Hill established a reputation for fairness, honesty, and reliability.
After its founder died in 1971, the company went through several ownership changes, but the name was retained. William Hill launched its online sportsbook in 1998, at a time when online gambling was still in its infancy. The first version of its online casino debuted in 2000, followed by online poker in 2003. Today the company operates a huge, multifaceted online business incorporating sports betting, casino gambling, poker, bingo, and financials. The online gambling is in addition to taking phone bets on a wide range of sporting events and operating approximately 2,300 betting shops in the UK and Ireland. This William Hill Poker review is strictly about what William Hill has to offer online poker players.
The William Hill online poker offering is now an international site, accepting players not only from the UK, but also from many other European countries, as well as from certain Asian countries, and Australia, New Zealand, and Canada. However, William Hill poker, which has always been based in the UK, still caters especially to UK players. The site is not available to residents of the U.S.
Security and Fairness
One of the best indicators a player can have of the security and fairness of a site is longevity, and our review of William Hill found they pass this test with flying colours. It is a company that has been involved in sports betting and other forms of gambling for a very long time and its wealth of experience carries over into all of its operations and gambling platforms. Thus, poker players are assured of a safe online environment and fairly run games.
Furthermore, William Hill Poker employs proven safety and security measures to ensure that every player's account and financial transactions are completely protected. Players can choose from a wide range of deposit methods, and fast, hassle free withdrawals (24 hour average processing time) are the norm. The option to play for free is also offered for those who would like to test the waters before risking real money.
The site is fully licensed and regulated and carries dual licences from the Government of Gibraltar and the UK Gaming Commission. So instead of having to worry about any safety issues when playing for real money, you can concentrate on playing your best game.
Vorteile

One of the most well-known and trusted names in the gambling industry, in business\n since 1934
Part of the highly regarded iPoker Network using the latest state-of-the-art software\n from Playtech
Also available in instant play flash mode, with no downloading necessary
User-friendly, well organised lobby, making game selection quick and easy
Wide variety of cash games, sit & go and multi-table tournaments suitable for players\n with different skill levels and bankrolls
High traffic site, with popular games continuously running
Onsite Poker School, especially helpful for beginners
Fast and secure banking
Generous Welcome Bonus, tiered loyalty programme, and lots of special\n promotions for everyone
Convenient onsite casino, sportsbook, poker room, and bingo room, which also\n contributes to very soft competition at lower stakes
24\/7 Customer Support
Nachteile

No U.S. players allowed
No mobile platform for poker
Welcome Bonus takes time to clear
Rewards for top players could be more exciting.
William Hill Poker Software
Initially, the William Hill poker room operated on the now defunct Cryptologic Poker Network. However, in 2008, after Cryptologic merged with the Boss Poker Network, William Hill opted instead to partner with Playtech for both its casino and poker divisions. Playtech is one of the leading software providers for online casinos and poker rooms worldwide. Playtech also runs the highly regarded iPoker Network, collectively the third largest poker network in the world. The switch was seen as a good business move that would allow for more games and better quality and lead to increased traffic on the site. William Hill Poker continues to run its games exclusively through the iPoker Network.
Our review of William Hill poker found that players can access the site either by downloading the software onto their computer or in the instant play flash mode. The software is free to download and will work on any currently supported Windows PC. The software is continually being updated and improved upon by both Playtech and William Hill's own team of experts in order to take advantage of the latest developments in online gaming technology.
Mobile
To get started with the William Hill poker mobile app, scan the QR code on the website which will redirect you to a page where you can download the app. There, you'll have to make sure you've signed up or logged in. You'll also find an informative instructional video about how to download and install betting apps for Android devices.
This new addition to your smartphone or tablet is a must have for fans of sports betting. With the iOS and Android app you can take a look at poker, as well as some of the most popular sports with quick links to horse racing, football, tennis and cricket. The William Hill app isn't just for sports and poker fans either. You'll also be able to play other exciting casino games including roulette and blackjack.
One of the best things about mobile apps is that you'll always be treated to new betting features being added every so often. This keeps things exciting and fun, and will give you a nice surprise the next time you log on to the William Hill casino app. Betting is fast and easy too, plus you'll be able to live stream sports events. The application gives you the choice of a number of deposit and withdrawal methods, is easy to use, and allows for a fun gambling experience using your mobile device.
Special Features
New features have been added to make the William Hill online poker playing experience faster, more enjoyable, and more exciting. Some of the new enhanced features are as follows:
A header section containing all of the important information pertaining to a player's account (i.e., club status progress and available bonuses and tournament tickets)
A large main area displaying all of the available games

A more user-friendly games lobby. Instead of overwhelming you by simply presenting all the different games available, enhanced game filters on drop down menus directly above the list of games make it easy to find the games you want to play much faster.

In addition, a "Quick Start" button allows you to take a seat on the game of your choice with just a few clicks of the mouse.

More game variety, including the addition of games like Speed Poker and Six Plus Hold 'Em where the play is much faster than in traditional poker.
Many other special features that are popular with poker players, including choosing one's own personal avatar, note taking, hand history checking, and multi-tabling.
William Hill Poker offers a special online poker school, which is the source for lots of useful information like a glossary of terms and tips for both cash games and tournaments to help you improve your play. If you are a beginner this information can help you learn the basics. If you are an experienced player, it might help you to sharpen your skills.
Poker Formats
William Hill Poker doesn't offer every variation of poker in existence, but it does offer all of the most popular forms of poker, including all of the following
Fixed Limit, Pot Limit, and No Limit Texas Hold \u2018Em
Omaha
Seven Card Stud
Other games that might also be available are Omaha High-Low and Razz, although probably not in non-peak hours. In addition, as mentioned above, several non-traditional games that are faster than regular poker are also offered.
Cash Games
William Hill Poker offers a wide selection of cash games, including the above-mentioned Texas Hold 'em, Omaha, and Stud games. The range of stakes is sufficient to accommodate most people regardless of skill level and bankroll. Settling in on your game of you choice should not take long since the cash games lobby provides you with a choice of two convenient ways to view the available games. The Group View allows you to view all of the games that are the same type and same stakes together. The Classic List view lets you click on the right side bar for any given game to get more information and double click to take a seat.
Permitted buy-ins for most no limit and pot limit games are anywhere from 20 big blinds to 100 big blinds. Thus, for example, if you wish to play €1/€2 No Limit, the minimum buy-in is €40 and the maximum is €200. The minimum buy-in for fixed limit and high no limit games is 10x the small bet.
The number of players at a table can range from a heads-up game to a 10-handed game. Table limits can range from micro-stakes to high stakes. However, most of the games are towards the lower end of the betting spectrum. For example, no limit hold 'em games typically fall in the €0.01/.02 to €5/€10 range, with the vast majority of the tables being €1/€2 or below, while most of the fixed limit hold 'em games range between €0.02/.04 and €20/€40.
Like in most poker rooms these days, Texas Hold 'Em is by far the most popular game. William Hill is a high traffic site, so if that is what you want to play,no matter what the hour, there are plenty of open tables.
Alternatively, you can check which Omaha or Stud games are available, or if you would like to try something different from standard poker, one of these poker variations might fit the bill.
Speed Poker

This fast-fold game is available at William Hill for both hold 'em and Omaha. Every time you fold a hand, you are immediately taken to a new table. The action is much faster paced than regular poker.

Six Plus Hold 'Em

This exciting variation of hold 'em is offered at William Hill Poker in your choice of either a cash game, Sit & Go, or multi-table format. It is very similar to regular Texas Hold 'Em in the way it is played, except that it uses only 36 cards instead of the full 52 card deck (all cards with a value of less than 6 are removed). The hierarchy of hand strength is the same as in standard hold 'em except that 3 of a kind beats a straight and a flush beats a Full House. Six Plus Hold 'Em is a much faster paced game than regular hold 'em with a lot more action.
As if all of these games don't provide enough action, William Hill poker players also have access to the sportsbook and over 100 casino games. In fact, casino play counts towards earning additional rewards. Another big plus is that the frequent migration of sports bettors and casino players to the poker room helps make the level of competition for the lower limit cash games and some of the tournaments very soft.
Freerolls and Satellites
Ordinarily it's rare that anybody receives something for nothing, but freerolls, tournaments that cost absolutely nothing to enter, but where you might possibly walk away with a valuable prize, are the exception. All first-time depositors receive an invitation to a special new depositor's freeroll as part of their generous welcome package. But, at William Hill Poker, the freerolls don't' stop there.
Every week William Hill Poker has a "Free Bets Freeroll" with a chance to win a free bet up to €25 in the sport of your choice. In order to participate, players need to deposit €10 or more into their poker account and earn at least 5 William Hill Poker Points in the qualifying week. There are many additional freerolls open only to those with a higher loyalty club status.
Satellites, which are also a frequent offering at William Hill Poker, offer a possible way to enter high-priced tournaments cheaply. These include not only onsite tournaments, but also major events offsite.
Sit & Gos (SNGs)
Some of these single table tournaments have 10 players, while others (called six-packs) only have six players. Buy-ins for the William Hill SNGs start at €1 but go all the way up to €500. The tournaments start as soon as all of the available seats at a table are filled and continue until there is only one person remaining. Usually only the first through third place finishers win a prize.
Twister Sit &Gos are a special type of SNG offered at William Hill and other sites on the iPoker Network. In these three-handed winner take all super-turbo tournaments, players start with 500 chips, the blinds increase every two minutes, and the entire game is over in about 10 minutes. Another distinguishing feature is that for a very small buy-in (€1, €2, or €10), the payoff can be huge. Prior to the start of the game a wheel is spun to determine if the prize will be 2x, 10x, 20x, 100x, or 1,000x the buy-in.
Another interesting SNG variation is the Ladder Tournament. All you need to get started at the first step of the ladder is €1, and then try to work your way up to the top to win more than €£500. But the catch is that you have to keep winning the tournament at the preceding step of the ladder to gain a ticket to the tournament at the next step. Another option is to buy in at a higher level at a higher cost. Each SNG Ladder Tournament has 3, 6, or 12 players, with only the winner advancing.
Multi-table Tournaments (MTTs)
William Hill Poker also offers a full schedule of guaranteed tournaments, including more than €5M in prizes every month. Given the tremendous number of options, seeing all of the scheduled tournaments listed together might be overwhelming, particularly to a new player, so it is to this site's credit that the presentation in the lobby is quite user-friendly. The tournament lobby provides a quick overview about everything you need to know in order to make the right choice, like the prize pool, payout schedule, number of starting chips, blind structure, buy-in options ,and starting time and number of players already registered.
The biggest weekly tournaments are the €30,000 Sunday Masters, which costs €150 to enter and the the €125,000 Grand Monday, which costs €250 to enter. However, if those prices are too steep, there are many other MTTs that are less expensive, including the €75 Big €5,000 GTD, which runs every day but Sunday. But don't worry if you want to play on Sunday. That day and evening is packed with action with its own special lineup. Throughout the week, low stakes recreational players who are looking for a really cheap tournament will also find MTTs to suit their needs, with buy-ins of €20 or less.
Besides the many regularly scheduled tournaments, be sure to check the website frequently to see what special events might be coming up. One highlight on the poker calendar is the annual iPoker Network IPOP series of tournaments. The wide range of prices to enter different events makes the IPOP tournaments an attractive proposition for both low stakes and moderate to high stakes poker players.
Most of the MTTs attract big fields. Therefore, since the prize pool is guaranteed, overlays are unlikely. Sunday tournaments, which are among the most popular, typically have between 200 and 1,500 players. Micro-stakes tournaments are also very popular and often get 500 participants or more. During the week, as the buy-in increases, the fields become smaller, but may still be close to 100. On the other hand, the individual events in the IPOP series might attract anywhere from 300 to 3,000 players.
Welcome Bonus
Online poker rooms used to be notorious for their lack of generosity in special offers and incentives for new depositors. If a Welcome Bonus was given at all, it was minimal. However, that practice is less likely these days, particularly on the part of better, more competitive poker sites, which are making their sign-up offers very attractive indeed. William Hill Poker is a good example of this tendency. In fact, its offer is one of the most generous you are likely to find.
All new depositors receive a Gift Bag consisting of the following:
First deposit match bonus of 200% up to €1,500 (up to £1,200 for UK players)
The minimum deposit is €10 or £10, while the amount that needs to be deposited to receive the maximum bonus depends on which currency is used and would be either €750 or £600. The bonus is cleared by earning William Hill Points (WHPs) playing in ring games and tournaments for real money. The number of WHPs earned in cash games depends on the amount contributed to the rake, while for tournaments, the entry fee determines how many points you earn.
Rather than the entire bonus being cleared all at once, it is cleared in a rather complicated manner spread out over three stages, as shown below.
| Bonus Stage | Deposit Multiplier | Maximum Bonus Given |
| --- | --- | --- |
| A | 1 | €5 or £5 in 50 cent increments |
| B | 1 | €25 in €1 increments or £25 in £1 increments |
| C | 2 | Remainder of bonus in €5 or £5 |
What makes the timetable for clearing the bonus even more complicated is that the rate at which the bonus is cleared is twice as slow in the second stage as in the first stage and 10x as slow in the third stage. Therefore, more WHPs are needed proportionally for clearing the applicable portion of the bonus in Stages B and C than in Stage A. (See the website for a more detailed discussion.) Eventually, if you keep playing, you should be able to clear the full bonus, but it could take a while. The bonus is valid for 45 days from sign-up, after which any part of the bonus that is still uncleared will be forfeited.
€10 or £10 Casino Bonus
You can use the casino bonus to play in your choice of over 100 casino games included as part of the William Hill Poker software. To access these games, simply click on the Casino Games tab on the top left-hand side menu.
The Casino Bonus is valid for 14 days and comes with a steep playthrough requirement of 30x the bonus + deposit (presumably just the part of the deposit equal to the bonus). Slots and parlour games count 100%; all other games count substantially less.
Gifts Palooza Freeroll Entry
All new depositors receive a free entry ticket for the exclusive "New Depositors Gift Palooza" freeroll. These freerolls take place on the first of the month. Winners have their pick from a variety of great electronic gadgets or, if they prefer, they can get €150 in cash. Players who finish in places 2-100 win tickets to SNG Ladder Events and have up to 21 days to use them.
100 Club Points Bonus
These bonus points can be used to buy into Club Bankroll Builder events with €2,500 in guaranteed prizes each month, or any other points buy-in tournaments being offered. Players have 12 months to use their bonus Club Points.
Loyalty Program
While a good Welcome Bonus gets players in the door, a good loyalty rewards program is also needed for frequent players to want to keep coming back. Online poker rooms that care about their customers and don't want to risk losing them to other sites don't take their valued players for granted, but continue to reward them generously for their participation.
Players at William Hill Poker earn two types of points for their play, both of which are important in determining what kinds of rewards they are eligible for in return. William Hill Points (WHPs) are used to clear the Welcome Bonus. They are also used to determine your Club Status in the 7-tiered Player's Club. Club Points (CPs) are additional points you earn when you play for real money at William Hill Poker based on your Club Status.
Every €1 raked on cash games or paid in tournament fees earns you 10 WHPs. You also earn at least 10 CPs, but more than that as your Club Status level increases. The higher your status, the higher the rate at which your earn CPs from your play.
CPs can be used to buy in to exclusive Points Tournaments and SNGs, including the Bankroll Builder, in which players can win a share of €750 each month. Poker players can also visit the William Hill Poker Shop where they can exchange their accumulated CPs for cash, tournament tickets, or live event packages. Rewards range from €2 tournament tickets up to €2,500 cash. CPs expire after 12 months.
There are seven different Club Status levels. A player's Club Status level is based on the number of WHPs earned in the current month and in the previous month. The minimum number of WHPs for each Club Status level and the multiplier used to calculate the player's CPs are shown below.
| Club Status | WHPs Required | Multiplier |
| --- | --- | --- |
| 1 | 0 | 1 |
| 2 | 25 | 1 |
| 3 | 200 | 1.1 |
| 4 | 400 | 1.2 |
| 5 | 1,000 | 1.5 |
| 6 | 5,000 | 1.7 |
| 7 | 12,000 | 2 |
Players at Club Status 2 receive €26 in SNG Ladder tickets. Players at Club Status 3 and higher receive €50 in SNG Ladder tickets, and players at Club Status 4 and higher get to play in a special tournament on the last Sunday of the month. Another perk of having a higher Club Status is access to a greater number of exclusive tournaments limited to players of at least that level.
Special Offers and Promotions
While the enhanced rewards for top players at William Hill Poker could be more exciting, one area where this site excels is in its many special offers and promotions, and you don't have to be a high roller to participate. Some promotions are for specific periods of time only, so keep checking the website so you don't miss out on those. Others, like the following, are ongoing.
MTT Missions

As if the opportunity to possibly win a slice of €1,000,000 in guaranteed tournament prizes every day isn't enough incentive to play in the William Hill MTTs, the MTT Missions give you another reason for participating. They are a way for you to gain access to weekly freerolls awarding €3,000 in guaranteed tickets to more tournaments! Terms and conditions apply. See the website for details.

Club Bankroll Builders

One way to use your accumulated CPs before they expire and to possibly increase your bankroll, too, is to enter the special Club Points Buy-in Tournaments called Club Bankroll Builders. These tournaments are offered daily. See the website for more information.

Monday Top Up

Every Monday William Hill Poker pays out €0.50 in cash for every 50 WHPs earned in the preceding week, up to a maximum of €5.

Special Facebook Offers

Become a fan of the William Hill Poker Facebook page to be eligible for exclusive daily offers.

Game Predictor Freerolls

Football (soccer) fans can make predictions on which teams they pick to win designated games. For each correct prediction, they win a ticket to the weekly "Game Predictor Freeroll" with a guaranteed prize pool of €200. See the website for additional information.

Side Games Club

Lastly, poker may be your game of choice, but if you like casino games, too, you don't have to switch to another site because at William Hill, you can play both! Furthermore, as a poker player, every time you play the William Hill Casino side games, you earn Side Game Points. Every €10 wagered is worth 1 SGP and every 100 SGPs can be turned into €1 cash.
Customer Support
Since William Hill Poker is a site that is always hopping with activity, it is only fitting that if you are in need of Customer Support, their help is available 24/7, too. Many questions can be answered in the FAQ of the Player Support Centre, but if you need additional assistance, a support team is available around the clock via live chat, phone, or email to address your concerns.
Summary
Assuming you are looking for a convenient and safe place to play online poker, William Hill is a standout. What we like most about this site and think you will, too, is not only the generous sign-up offer, but also the wide variety of both cash games and tournaments at stakes to suit most players plus lots of outstanding promotions. Unlike some sites which also have a packed game schedule, William Hill Poker is user-friendly enough even for beginners. If you are relatively new to poker, you won't be intimidated playing on this site, and if you stick to the low stakes games, you don't have to worry about your bankroll being gobbled up by sharks.
The manner in which the Welcome Bonus is cleared seems unnecessarily complicated, but that is a minor criticism. The main area that this site needs to work on is creating a viable mobile platform.
You won't find many online poker rooms with anywhere near as much experience in the gambling industry as William Hill bring to the table, and that fact alone speaks volumes about the integrity and trustworthiness of this site.
Reviewed By: Pokersites.com
William Hill Poker Bonus
William Hill Poker

Bonus Code:

N/A

Bonus:

100% bis zu €1,500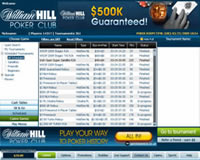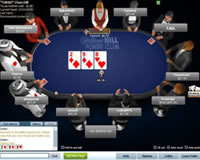 Bewertung
8.8 /10
| | |
| --- | --- |
| Freerolls | 9 |
| Tournaments | 9 |
| Rake | 8.5 |
| Sit & Go | 9 |
| Ring/Cash Games | 8.5 |
| Traffic | 9 |
| Bonus | 9 |
| Software & Graphics | 8.5 |
| VIP Program | 8.5 |
| Support | 9 |
Bankingoptionen