May 2015
Best UK Poker Sites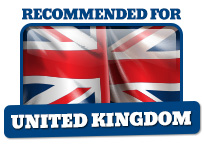 UK online poker players have many choices when it comes to selecting the best UK poker site. But which do you choose? How do you know the great UK online poker sites from the poor ones? Should you choose a top online poker site such as Titan Poker, or a TV provider turned UK poker site such as Sky Poker?
Our UK based reviewers have dug through the huge amount of rooms that accept British players to find you the best UK poker sites that:
Ensure solid UK online poker traffic 24/7/365.
Accept a wide variety of safe and simple UK deposit and withdrawal methods.
Offer you giant bonuses to boost your bankroll.
Check out our recommended UK poker sites and never guess where to play again. Lady Luck is waving a Union Jack, but is she waving it for you? Sign up, start playing and find out!
United Kingdom Poker Sites
Many of the best UK poker sites online will offer satellites to major land-based events such as the Ladbrokes Poker Festival. Others will have better banking options to deposit and withdraw as opposed to one of the US poker sites. It's important to realize the differences and make your next decision using fresh, researched information. You can leverage our English-focused rankings and compare accordingly and play at any of these online UK poker sites with confidence. You can play at Pounds-denominated sites as a UK poker player.
The United Kingdom enjoys one of the most beneficial relationships with internet poker rooms as they not only completely legalize real money poker play at web sites but actively regulate it to protect both the websites themselves and the players through the Gambling Commission. So, the best UK poker sites online are some of the most secure and popular on the Internet. United Kingdom poker sites feature plenty of games and tournaments with satellite qualifies to major World Poker Tour events. Many of the best UK online poker sites also offer new player freerolls open only to player residing in the United Kingdom. One of the most popular English live events, the Ladbrokes Poker Festival, is fueled by qualifying tournaments on one of the of the big websites, Ladbrokes.
UK players don't have to worry about paying taxes on their online gambling winnings
UK online poker first became fully legalized with the passage of the 2005 Gambling Act, which made remote gambling full legal and regulated in Great Britain. This made all online gambling legal, including UK poker sites. Both sites hosted from within the United Kingdom and foreign sites are safe for UK residents to play on.
In addition, UK players don't have to worry about paying taxes on their online gambling winnings. It doesn't matter if you make this money playing poker, slots or blackjack - all money you win is yours to keep. Even professional gamblers are exempt from paying taxes on winnings from playing Texas Hold'em, Omaha and other gambling games online.
There are two major currencies used by the best poker sites in the United Kingdom, which should accepted without currency exchanges or fees - the British Pound and the Euro. The British Pound is a far more common currency for playing online poker games. The highest rated and most popular UK poker sites almost always feature English as their primary language and offer a toll free customer service telephone number just for poker players from the United Kingdom and employ English speaking service representatives. Specialized, private tournaments and cash games for UK players only are very common at the best online UK poker sites and offer players exclusive games with other players living in their country.
Start playing at our recommended UK poker sites today and enjoy great gaming.
Frequently Asked Questions
If you are just learning about online poker sites in the UK, all of the information and options out there can be a bit overwhelming. And if you have looked at poker sites outside of the UK and all their limitations, playing on one here might seem too good to be true. Players new to UK online poker understandably might have some questions first, and we have answered the most common ones to ensure that you'll feel safe playing in the online gaming haven that is the United Kingdom.
Is it legal to play online poker in the UK?
In 2005, Parliament passed the Gambling Act that explicitly made online poker (and other forms of 'remote' gambling) legal in the UK for the first time. The act also created the Gambling Commission, the body that would do the actual regulation and enforcement of online casinos and poker rooms.
Among many things, the Commission makes sure all gambling operators are not associated with crime, are fair and open, and do not exploit children or other vulnerable people. The Act has been considered an overwhelming success, and many argue that the UK's online gambling laws are the most straightforward and easy-to-understand in the world. Essentially, this means that you can deposit, play, and collect winnings from both UK and non-UK gambling sites without fear of legal ramification!
Do I have to pay taxes on my winnings?
Whether you are playing in land casinos or online, UK poker players (and all gamblers) do not have to pay taxes on their profits. Even players that make their living off of poker and online gaming do not have to pay a tax. According to Her Majesty's Revenue & Customs, even though a taxpayer might have "a system by which they place their bets, or that they are sufficiently successful to earn a living by gambling, this does not make their activities a trade." Operators that provide internet gambling services, including poker, do have to pay taxes, however.
Do I have to play for real money?
Many UK poker sites offer play-money tables that allow gamblers to take part in the action without risking any real currency. These tables are perfect for newer players just learning the rules of poker without having to worry about losing any money in the process. Another great option are the freeroll tournaments that many sites offer. Freerolls don't cost anything to enter, but allow players to win real cash, entries to other tournaments, and other fun prizes such as trips or merchandise.
Can I play on my tablet/mobile?
Mobile poker's popularity has exploded in recent years, especially given online gambling's legal status in the UK. Every site will vary slightly, but the majority of top UK poker sites will allow you to deposit, play, and withdraw right from your smartphone or tablet. As long as you have the available data from your mobile carrier, you can play mobile online poker that functions the same and looks just as good as if you were playing on your PC or Mac.
Are UK poker sites reliable?
Any online poker site that allows UK players to play (whether they are based here or not) has to receive a licence from the Gambling Commission. These licences are issued only after a long list of both technical and security standards are met. Even after sites are given the ok to conduct online poker, they are subject to third party audits every year to make sure they are still safe and secure for online gamers.
Another thing to look for when choosing an online UK poker site is if they are eCOGRA certified or not. eCOGRA is an internationally-accredited agency that tests and regulates online gaming sites to see if they meet high standards of quality. Any site with an eCOGRA seal at the bottom of their home page can be considered an extremely trustworthy place to play online poker at.
Is it safe to deposit money at online poker websites?
Any poker site that has their licence from the Gambling Commission and/or an eCOGRA certification can be considered completely safe to entrust your gambling money to. Almost all reputable sites are going to allow deposits (and withdrawals) via major credit cards like Visa and MasterCard. Also commonly accepted are eWallets (like Neteller) and the ability to make deposits straight from your bank account. Some even accept personal checks!
With so many options that are legitimately reputable, it's fair to say any site that is significantly popular is going to have a safe and secure transaction system. Any site that didn't would not be in business long, as players would all jump to one of the many other sites they know they can trust their money with.
What kind of games will I find at UK poker sites?
Every site is unique, however virtually all of them will offer Texas Hold 'Em, Omaha, 5 and 7-card stud, and variations on Hi and Hi/Lo games. Beyond that, many also offer lesser known games like Razz, Lowball, and HORSE.
Some sites offer fun variations on many of these game types in special tournament and promotional settings. These include turbo (where the blinds increase every 5 minutes as opposed to every 15 or 20), knockout tournaments (where you win a cash prize every time you knock another player out), and heads-up (players face each one-on-one in a bracket-style showdown until one player is left).
Different sites are constantly coming up with new and exciting game types, so just shop around until you find a poker site that has a particular set of games and tournaments that interests you most!
Site information
PokerSites.com is the only dedicated review site selected as a memeber of the Interactive Gaming Council.
Write to Us at:
1930 Village Center Circle, # 3 - 97, Las Vegas, NV, 8913, USA