September 2016
United States Poker Room Finder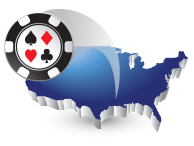 In some circles, winning at offline card games is becoming something of a lost art. Online poker revolutionized the game with never before seen levels convenience and international appeal but, sadly, offline poker has taken a back seat in the past few years. That's all starting to change, though, as players remember just how much fun live poker rooms can be and why they absolutely deserve a spot in even the most modern player's repertoire.
We are going to help you out by giving you:
An interactive map that makes it easy for you to find your closest poker room
Contact details so you can book your seat at the table
The number of poker tables at the venue, so you know how easy it will be to get a seat.
Check out our offline poker finder and remember the thrill that a live game can offer.