November 2015
Merge Network Poker Sites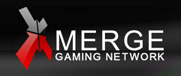 The Merge Poker Network is another heavy-hitter that has joined the ranks of well established poker networks such as iPoker. With a strong team of technically savvy industry players and a true passion for revolutionizing poker networks, the Merge Poker Network has succeeded in making big waves in the industry.
Top quality Merge skins such as Carbon Poker and Lock Poker.
Lots of action, a perfect place for beginners or advanced players.
Great graphics, safe and secure deposits and pay-outs.
The Merge poker network has seen its player traffic boosted by an influx of US players in 2015 and its popularity continues to grow. The genesis for the Merge Gaming Network was the poker site Poker.com (which has since evolved into Carbon Poker). As more and more players look for Merge Network Poker Sites and Skins to choose from, we have provided you with a list of the best to ensure you get the most from your time at the tables.
US Visitors - The Merge Network welcomes US players. If you are looking for the best US poker sites to play at, don't forget to check out our US Poker Sites guide for our top recommendations just for USA players.
Merge Network Online Poker Sites & Skins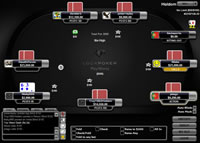 The Merge Gaming Network has developed very powerful software for its players to enjoy and its wealth of features has seen Merge Poker Network Skins that accept US players grow rapidly in number. These features have seen the network receive a number of accolades for both the solid platform it provides, as well as the innovative player tools to make the online poker experience one of the best ever.
One of the most innovative of these – and one which many Merge Poker Network sites & skins find extremely attractive – is the 'Quick Start' feature. Here players can jump straight into the poker action by setting the table size, limit and game type they want to play. This means no more hunting through the lobby for a good game because your chosen Merge Network online poker site will find you the game you want automatically.
US Merge Poker Network for US Players - With the Merge Network skins accepting US players the traffic will continue to grow on these poker sites. In addition, more and more poker sites & skins are expected to join the network to take advantage of its player friendly features and stable, secure platform. We expect to see the USA Merge poker network continue to grow and look forward to seeing more Merge Poker Network skins and sites.
Merge Poker does not accept players from the District of Columbia, the States of Kentucky, Louisiana, Missouri, Maryland, New York & Washington.
FAQ
When was Merge founded and how has it fared?
The Merge online poker network was founded in 2007 under the name Carbon Poker, which remains its flagship Internet card playing website. While Merge poker websites attracted a steady amount of traffic over the years, they tended to live in the shadows of Poker Stars, Full Tilt, and Ultimate Bet / Absolute Poker. But when those sites were forced out of the US market, Merge quickly became the third largest US-facing online poker network.
How popular is Merge?
Very popular. As the third largest US-facing network for Internet card games, Merge attracts in upwards of 800 cash game players per day. With thousands of players online at any given moment, their tournaments offer healthy prize pools, too. And Merge isn't just popular with Internet poker players. It's popular with web-based poker sites that happen to be a part of competing networks. Over the last year or two, several sites have made the move to Merge thanks to its superior software and reputation for treating players and network members right.
What poker sites run on Merge?
Carbon Poker is the big one, but there are several other popular poker online rooms, sharing the Merge poker sites network, including SportsBook.com, PDC Poker, and Aced.com.
Does Merge have sites that accept US players?
Absolutely. If you're in the US looking for poker sites, Merge is one of your best bets. Not only do Merge Internet poker sites make it easy to deposit and withdrawal from the US, but they also feature US-friendly tournament start times. That might not seem like a big deal at first glance, but if you're used to playing Texas Hold'em at websites based in Europe, finding poker rooms that feel American is a big deal.
What kind of poker games can I play at Merge sites?
If you can think it, Merge Internet poker sites have it. In addition to all the regular online poker games like Hold'em and Omaha, Merge poker online websites offer lots of hard-to-find gems, like HORSE, HOSE, RAZZ, Triple Draw Lowball 2-7, Triple Draw Lowball A-5, Badugi, HO, 5 Card Draw, and a number of others.
What makes Merge good for players?
It's not just one thing. When it comes to poker sites, Merge has a lot going for it. Variety. Bigger bonuses. Stake levels for every bankroll. And the fact that it's US-friendly.
What kind of online poker action can I find at Merge Poker Network?
There aren't too many networks that welcome US players, so Merge online poker sites tend to feature a lot of loose players looking to get their Internet card playing fix. That means you'll find a lot of heavy action at the cash tables, no matter which stake levels you're playing. Expect to see higher-than-average pots in low-stakes tables, and fairly consistent pots in medium-to-high stakes tables.
More Poker Networks
1
Best Merge Poker Site

BetOnline Poker has thrown open its doors to US players and ranks as one of the best US poker sites of 2012. Here you will find exclusive software that is simple and easy to use, as well as plenty of cash game and tournament action that features easy-to-beat players. BetOnline also accepts US credit cards, making depositing fast and easy.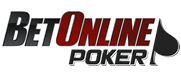 Get your instant cash bonus at BetOnline Poker!
BetOnline Poker
Site information
PokerSites.com is the only dedicated review site selected as a member of the Interactive Gaming Council.