Thinking about playing online poker in the US? Then there's a good chance you're confused. You've probably heard that online poker is illegal. You've probably also heard that online poker is perfectly legal. You've heard that it's OK in some states but not in others. You've heard that it's a crime to operate an online poker site but perfectly legal to play. And you've heard it's illegal to play sometimes, too.
Needless to say, you've heard a lot of things about online poker in the US. And there's a huge reason for that. The US online poker situation is complex, with state, federal, and international laws coming into play.
We've put together an online poker timeline to help you sort everything out. Remember, even though we're talking about US online poker history, tons of international factors come into play. So some of the highlights you'll see actually have nothing to do with the US - at least on the surface. But as you read through the timeline, you'll see that everything is connected.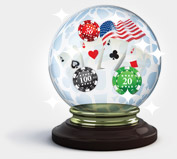 Several online poker sites continue to operate and serve US players. While they aren't licensed by the United States government, they are regulated by respected international gaming authorities, including those out of Antigua and other industry recognized jurisdictions.
While we don't have a crystal ball, we do expect to see US online poker gaining a steady foothold as specific states regulate their position and allow operators to open sites. Once the tax revenues start flowing, there will likely be other states follow suit.
Offline, poker will continue to draw thousands. TV will continue to beam major tournament action into living rooms, and many players will take up poker in the hope that Lady Luck will smile on them and allow them to win life changing money. It has happened before and poker has many, many "rags to riches" stories.
Will poker be formally accepted as a sport? Perhaps not in 2013, but as the industry continues to grow and regulate itself better, recognition cannot be that far away. So who will win the first Olympic Gold for poker and what year will they win it in? Now that's a question for you...
July 31 - The US Department of Justice announces that two of the three indicted online poker sites have settled with the government. They include Full Tilt Poker and Full Tilt Poker. In the settlement, PokerStars purchases Full Tilt Poker and pays the government $547 million. The settlement also means that PokerStars will reimburse non-US online poker players $184 million.
Aug 21 - A federal judge based in New York rules that poker does not violate federal law because poker is not a game of chance. The ruling leads to the dismissal of an indictment against a man accused of operating an illegal underground poker room.
Nov 6 - Full Tilt Poker re-launches around the world, except for in the United States. The site is owned and operated by one-time rival PokerStars. Non-US online poker players who had their money frozen on April 15 have the opportunity to continue to play at the new Full Tilt or withdraw their funds.
Nov 15 - MGM receives its license to operate a poker site from the state of Nevada. MGM announces they intend to use bwin.party as the online poker platform provider when they receive a license to provide gaming services in the state.
Dec 17 - The window for success for a federal Internet poker bill to pass during the lame duck session closes. That means that federal regulation won't happen in 2012, and likely won't happen in 2013. Instead, state-by-state regulation will continue, ultimately meaning that there won't be much of a need for federal oversight.
Dec 21 - Caesars Entertainment receives a license from the state of Nevada to operate an online poker site and casino within the state.
December - New Jersey is expected to finally approve a bill that legalizes Internet poker within state borders. Governor Chris Christie would have a chance to veto the bill, but with a badly bruised economy coupled with a desire to beat Nevada to the punch as the state leaders in online gaming, many believe the Governor will sign the bill.
April 15 - The US Department of Justice indicts three online poker operators for violating the Unlawful Internet Enforcement Gambling Act. The government alleges that the online poker operators disguised online gambling transactions as Internet purchases, and that they essentially controlled a bricks-and-mortar bank within the US.
post April 16 - Several smaller online poker sites continue to operate, having not been charged with violating federal law. Several small sites form together to create larger poker networks. The smaller sites continue to improve their software in an effort to increase market share.
Serious US online poker players consider leaving the United States to continue to play online poker. Several notable poker pros move to Canada, the UK, and Costa Rica in order to continue to play the game they love. Senate Majority Leader Harry Reid tries over and over again to introduce legislation that would ultimately make playing online poker legal on the federal level.
April 21 - The island nation of Antigua and Barbuda publically states that the United States violated international trade law by shutting down poker sites that weren't run out of the United States.
Dec 22 - The Nevada gaming Commission approves regulations that allow online poker within state borders.
Jonathan Duhamel becomes the first Canadian to win the WSOP Main Event. He took home a massive $8,944,138 for his efforts.
Pokerstars WCOOP makes history with its main event paying out the winner a whopping $2,278,097 after 2,443 entrants each pay $5,200 to take part. This is one of the largest online tournament payouts ever, rivalling what Chris Moneymaker received for winning the WSOP Main Event back in 2003.
September - The Washington State Supreme Court upholds a law that makes playing online poker a felony. The judgement stated that, "The statute prohibits internet gambling evenhandedly, regardless of whether the company running the website is located in or outside the state of Washington. The effects imposed on in-state and out-of-state entities engaging or that would engage in internet gambling are the same… The dormant Commerce Clause only prevents a state from discriminating based on whether the business is in-state or out-of-state."
Nov 10 - The New Jersey State Senate passes bill S490. The bill legalizes certain forms of online gambling. The bill permits companies that operate within the state to take bets from New Jersey online poker players.
The United States Department of Justice seizes nearly $35 million that collectively belong to over 27,000 online poker accounts. The seizure of the funds is called unprecedented as the US government has never gone after individual players for playing a game that's loved by so many Americans.
The Poker Hall of Fame changes its requirements to allow nominees from the public in an effort to build more interest and prestige for the award. Online poker rooms immediately begin lobbying for their professionals to be accepted. That year sees Party Poker's Mike Sexton inducted to the Hall of Fame (although Sexton is well qualified having live tournament winnings in excess of $3 million, and having reached 21 final tables during the WSOP. In addition, he has been a commentator on the World Poker Tour since it began).
The International Federation of Poker was created in 2009, having been founded in Lausanne, Switzerland. It promotes poker as a mind sport and is the official governing body of the game.
History was also made in 2009 when Patrik Antonius won an $878,959 pot from the infamous Isildur1 while playing at Full Tilt Poker. It was the largest pot ever won during an online game and showcased the massive stakes that big online players will gamble at.

Jamie Gold wins the Main Event of the World Series of Poker, claiming the $12 million first place prize. It's the largest prize in Main Event history thanks to the largest Main Event field ever seen. A total of 8,773 players participated in the Main Event, many of whom won their seat through US online poker sites
September - The US House of Representatives and US Senate pass the Unlawful Internet Gambling Enforcement Act. The act makes transactions from banks to online gambling companies illegal. The bill does not relate to playing online poker, nor does it relate to running an online poker site. It simple relates to processing financial transactions related to online gambling. The act fails to mention what constitutes an "illegal" online gambling business.
October - US President George W. Bush signs the Unlawful Internet Gambling Enforcement Act into law.
October - Major online poker sites serving US players announce that they're no longer welcoming US players to the poker tables. This includes Party Poker, Bwin, and SportingBet. Other online poker sites continue to service US players, including Full Tilt Poker and PokerStars.
They argue that poker is a game of skill and the Unlawful Internet Gambling Enforcement Act doesn't apply. Another online poker site that serves US players, UltimateBet, sells to smaller online poker site AbsolutePoker. The merged site remains in the US market.
The Poker Players Alliance forms in the United States to speak out for online poker players across the country.
Antigua and Barbuda goes to the World Trade Organization and complains that they're losing $3.4 billion a year to the US, who is prosecuting the operators of online gambling websites. The WTO calculates that the figure is closer to $21 million and rules in favor of the Antigua.
An estimated 55 million Americans now play online poker, with around 25% of those playing for real money. PartyGaming lists on the London Stock Exchange - its value is an astonishing GBP 4.6 billion. The company instantly catapults itself into the FTSE 100.
The WSOP moves to the huge RIO All-suites Casino. Thousands of players flock to the new venue and the prize money increases accordingly. The Main event is won by Joe Hachem who takes home $7,500,000 - 50% more than the 2004 winner. NBC also create and film the National Heads Up Poker Championship. It was filmed at the Golden Nugget in Las Vegas and Phil Hellmuth took the title.
PartyPoker is now making $1 million a day in profits. The huge Internet poker boom has been fuelled in part by Chris Moneymaker's 2003 win at the WSOP. Chris entered the tournament by winning a $40 online satellite, and walked away with a $2.5 million prize. The world goes crazy for poker and the opportunity to "strike it big".
Major search engines, including Google and Yahoo, remove online poker and gambling advertisements from their websites. Regular search results would include online gambling, but advertising would no longer be accepted.
Full Tilt Poker begins is meteoric rise and fall (along with a phoenix-like resurrection from the ashes) and opens its doors in 2004. Backed by some of the biggest names in poker and with a large advertising budget, it rapidly grows to become a huge force in online poker.
The USA is now responsible for around 50% of online gambling $8.5 billion revenue.
The United States Court of Appeals for the Fifth Circuit rules that the Wire Act doesn't prohibit Internet gambling related to games of chance. The Department of Justice disagrees with the ruling, publically announcing that the Wire Act applies to all forms of gambling. And so the first rumblings of problems with Internet gambling in the US begin to be heard.
US Poker TV shows begin using card cameras and showing player hole cards for the first time. This creates a considerable jump in poker's accessibility and popularity. PartyPoker taps into this power through advertisements and immediately becomes the largest poker site.
PokerStars launch the first World Championship of Online Poker. It has over $730,000 in prizes and 565 players signed up to the first event. The tournament will continue to grow and in 2012 had over $55 million in prizes, with 1,825 players in the main event alone.
Two Internet poker giants start up in 2001. PartyPoker and PokerStars begin muscling in on the online poker scene, although Paradise Poker still leads the way. PokerStars launches its beta site on September 11. It's a play-money online site. A real-money poker site launches two months later on December 12.
However, PartyPoker develops a new business model and begins offering tournaments that culminate in live events. The first of these is the PartyPoker Million cruise, where the action ends on a cruise ship. The success of this has many sites develop tournaments of their own.
Ultimate Bet, has also become a player on the Internet scene. They are the first to display average pot size for games in the lobby.
The first Internet poker room scandal strikes as well in 2001. Poker Spot, a popular site, has its two payment processors fail, leaving it with debts of $480,000. Poker spot lies to its players about cash withdrawals, claiming that "the check is in the mail" when pressed for funds. The players at this site never get their money back.
Paradise Poker, which competes directly against Planet Poker, launches. At the same time Paradise Poker launches, Planet Poker suffers a technical fault that results in several days of downtime. By the time Planet Poker is back online, Paradise Poker has become a serious contender and grows exponentially. Paradise Poker also offers Seven Card Stud and Omaha games, in addition to the normal Texas Hold'em.
Paradise Poker's reign would last until 2003. In 2004 the company was sold for $340 million.
Late Night Poker, which pioneered "under the table" cameras, first airs in 1999. While this was a UK show, it paved the way for poker becoming a spectator sport and its technique was mimicked and improved upon by many subsequent shows.
Progressive slot games burst on to the Internet scene this year, with Microgaming launching the first one. Cash Splash, as the slot machine was known, features an ever growing jackpot. And the more the machine is played, the bigger the jackpot grows.
The US Senate makes its first attempt to control Internet gambling with the launch of the Internet Gambling Prohibition Act. However, it does not pass.
Online poker bursts onto the scene with the launch of Planet Poker. This was founded by Randy Blumer and dealt the first ever virtual poker hand on January 1, 1998. The first game played on the site was a $3/$6 hand of Texas Hold'em. It took until February 1998 before traffic to the site became steady, and back then almost all the players were using a dial-up modem to access the game. Technical issues plagued the site and downtime could last days, yet it always maintained a core base of loyal players.
By the end of 1998, online gambling is an industry worth around $834 million.
This year saw some hiccups at the World Series of Poker. The number of players had swollen and poker seemed to fill every available space at the Horseshoe venue. The final table was played on a huge stage built on Fremont Street. Stu Ungar, the legendary player, took the title. It was the last one who would ever win as he died without taking part in another WSOP.
Internet gambling explodes and jumps from about 15 websites the year before, to around 200 sites. These compete for the growing interest that poker and gambling is garnering. However, it won't be until 2003 that Internet gambling goes through the roof.
The online gambling world begins to flex its muscles. The world's first online sportsbook opens up in 1996 and is run by Intertops, having obtained a license from Antigua. Cryptologic, another big gambling software developer, follows close on Microgaming's heels and obtains a license for one of its subsidiaries - Wagerlogic.
The Kahnawake Gaming Commission is established on the Mohawk Territory of Kahnawake. The Kahnawake Mohawk Nation is located just outside of Montreal, Canada. The Gaming Commission starts handing out licenses to the major online gambling sites.
In October of this year, InterCasino launches what they claim to be the first online real money casino. The claim is disputed by Microgaming who state that The Gaming Club, which they opened in 1995, is the first.
The world Series of Poker is won by Russ Hamilton and he scoops a $1 million prize. He went on to become a consultant for Ultimate Bet, and in 2008 the Kahnawake Gaming Commission found him responsible for cheating players out of over $6 million. In 2009, that amount was revised to over $22 million in fraudulent winnings. The scandal was widely considered to be the biggest in the history of online poker.
Back in 1994 online poker began its meteoric rise to fame. The island nation of Antigua and Barbuda passed the Free Trade & Processing act. The act permitted licenses to be granted to companies who wanted to start up an online gambling site. Microgaming, the leading online casino software developer, formed the same year.
Interestingly, Derek Webb invented Three Card Poker in 1994, a game which can also be found at many online casinos today.
This is an interesting year in poker. New Jersey held a referendum for a constitutional amendment that made casino gaming legal. The referendum passed and the Resorts Casino became the first to open its doors in 1978. That made New Jersey the second place in America that you could play poker legally.
Doyle Brunson, poker legend extraordinaire, wins the World Series of Poker with his hand of 10-2. He won $220,000 and the first bracelet awarded for a main event winner (which at that time was valued at just $500). After Doyle won the 1977 WSOP with the same hand, the 10-2 becomes known as the "Doyle Brunson" in his honor.
While poker books, such as David Sklansky's classic The Theory of Poker, became popular, another lesser known event occurred in 1976 that would go on to have a profound impact on the game: Phil Ivey was born on February 1 in Riverside California.
In 1970 history was truly made in the poker world. The very first World Series of Poker (WSOP) was held at Binion's Casino in Las Vegas (which did not even have a poker room - and back then there were only 70 poker tables in the whole state of Nevada).
There were just 30 entrants, who crammed themselves into a space about the size of a hotel room. The winner of the tournament was decided by vote - and Johnny Moss took the inaugural title of what would become the biggest event in poker.
The following year, the tournament was played as a freezeout event, with Johnny Moss keeping his crown. That year the entry fee was set at $5,000 - no small sum in 1970. By 1973 the event was being televised and today it attracts tens of thousands of players from around the globe and has a prize pool of millions of dollars.
Poker has developed considerably over the last 100 years. The full 52 card deck is now utilized, the flush hand is in play, and the American Civil War created stud poker and the straight. Community cards - such as those used in Texas Hold'em today - are a relatively new concept, having come into existence since 1925.
The American game has also spread to the British Court, and by 1920 has taken strong root on that island. Poker has also spread throughout American society and is no longer considered a game of "men", with surveys of the time showing it to be the third most popular card game among women (after rummy and bridge).
Nevada now jumps onto the poker scene, reversing a 1910 decision that outlawed stud poker gambling in casinos. The state soon becomes a popular destination for gamblers looking to make (or break) their fortunes.
Poker is first mentioned in America by Joe Cowell, a touring English actor. It is said that the game was originally played with a deck of just 20 cards (which is strange as full decks of playing cards have been around much longer than that, and the 52 card deck dates back to the fourteenth century).Each player is dealt five cards and betting takes place on who has the best hand.
The name is thought to be derived from the French word "poque", which in turn is descended from the German word "pochen" that means "to bluff". However, the 20 card deck makes this early form of poker identical to the ancient Persian game of "nas", although many think the similarity is purely coincidental.
Like many things in the gambling world, the true origins of poker seem shrouded in mystery.
No matter how the game got its first toehold on the American continent (poker-style games were being played in Europe from the sixteenth century), the game rapidly spreads throughout the country on Mississippi riverboats, on board which gambling was common.
Apart from delving into the history of online poker in the US, we have also looked at every US state to bring you what is happening right now. Our team has examined laws and rulings to bring you a detailed state-by-state guide to playing Internet poker. Check out some of our popular state guides here: California, Florida, Iowa, Kentucky, Louisiana, Missouri, Nevada, New Jersey, New York, Utah, Washington. Don't forget to check back for the latest in US gaming legislation updates.
Also see our Poker History Timeline which gives the history of worldwide poker from Caveman to present.