April 2014
Worst Poker Sites Online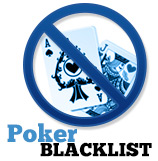 At Pokersites.com, our goal is to make sure you have unbiased reviews of all the best online sites - ones that have shown fairness, safety, reliability and top-notch security for many years. We regularly audit the sites we review so that we're confident that we are making quality recommendations.
Along with making suggestions on where to play, we also have an obligation to report to our readers on where they should definitely NOT be playing. We have therefore prepared a "Poker Site Blacklist" - and we strongly urge you to avoid any site listed on it.
Poker websites can earn a space on our Blacklist for a number of reasons, including:
Failure to pay out player balances
Refusal to pay out on advertised bonuses
Use of malware or rigged software
Selling player's email addresses
Using "bots" instead of real players in rooms
Not taking action against player collusion
Dealing "action flops" designed to increase pot size
Security issues
Inadequate customer support
Implementation of unfair or even illegal terms and conditions
Blacklisted Poker Sites
The sites on our Blacklist are here because of our strict guidelines and evaluations that are based on player complaints, as well as relevant, publicized legal information. Most are based on our research into the site's licensing, payouts and other legal issues.
Whether the sites on this list are guilty of extremely slow payouts, bad customer service, or if they are criminally fraudulent, we feel the same way: that when it comes to your experience of playing poker online, we want to ensure you are not putting yourself at risk. This is why we have focused our business on listing the most trusted and respected poker sites in the world.
At this time, there isn't an official reporting authority for the online poker industry which maintains a comprehensive list of blacklisted sites. We research, verify and present as much of this information as possible to our readers, and we keep our Blacklist regularly updated with the most current information.
If you don't want to take chances, our advice is to play at sites which are considered trustworthy and reliable - all of which you can find reviewed and approved on the pages of Pokersites.com.
Blacklisted Poker Sites April 2014
Cardspike Poker: Currently under an advisory because of non-payments to players, some players still waiting years later, and overall horrible customer support. It was a new poker room with high promises but it has not been run properly from day one!
Oddsmaker.com, OddsPoker.com and BetonUSA.com: Oddsmaker and BetonUSA form part of Futurebet, which also known as IGS, as well as GameTech Solutions. This company has been through a variety of scandals and players claim losses that run into millions as a result of their practices. Other brands associated with Futurebet/IGS/Gametech include AmcoPoker, ApexBets, BigDaddysCasino, BetRice, CasinoPolo, empirecasino, ExtremeBet, FeltStars, MiniLasVegas, OpenTablePoker, Papasino, PaperChasePoker, PokerDealer, PokerEon, PokerOne, PokerSyndicate, PokerFaceEnt, Pokervibes, Prosbet, Prozbet, RioPartyCasino (aka riopokerpalace), RedTiger88, Reefer Poker, Safestbet, ShamrockGaming, URBetting, USStarCasino and Vegas24.
Absolute Poker: Involved in cheating scandals. In addition, the site owners were indicted in the United States on charges that included money laundering and bank fraud.
Ultimate Bet (UB): Involved covering up cheating scandals, as well as having superuser accounts. Another site indicted by the US Department of Justice on money laundering and bank fraud.
World Sports Exchange (WSEX.com): Had its licence revoked by the Antigua and Barbuda Financial Services Regulatory Services Commission posted notice and owes players several hundred thousand in unpaid balances.
ProPoker: Was involved in a scandal where site owners were alleged to be playing against players with full knowledge of all the cards at the table.
Choice Poker: Was involved in a scandal where players were not being paid when they requested withdrawals.
Luck3 Poker: Has not been paying its staff, affiliates or players and does not respond to emails. Accepts funds, but won't let you cash out.
Naked Poker: Has had many complaints of non-payment.
Million Minds Casino and Poker: Many players have complained of non-payment and customer support is unresponsive.
TopSpeedPoker: Does not answer emails or telephones and has not honoured payments.
Joker Club: Has been accused of having software that facilitates cheating.
Each of these sites are among the worst offenders and most likely will be out of business very soon. Unfortunately, by the time most people realize what's going on with these offending sites, they will have already stolen hundreds of thousands of dollars from unsuspecting players. History shows us how often it happens unfortunately. Here's a good read on now defunct poker sites and their (sometimes brief) existence.