Poker Traffic Charts 2018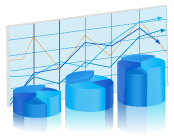 We utilize the latest poker site tracking systems to bring you the most up to date traffic information in the industry. Pokersites.com provides up to date traffic information for the best online poker networks and we provide six month historical data as well so you can watch the trends at your favorite site. Also keep an eye on the growth of online poker as we track the total traffic from all our partner networks.
Monitor the traffic growth for your favorite sites and see when the player base is large and ripe for the taking.
Easily identify the highest traffic sites so you can find the best action and the most games.
Keep an eye on poker traffic trends as they change throughout the year.
During the summer months poker traffic can decrease significantly as people enjoy vacations and the nice weather the season brings. In general, computer usage is greatly reduced during this time period.

This page is updated every hour to bring you the most up to date information.
Total US Poker Sites Traffic
Site information

PokerSites.com is the only dedicated review site selected as a member of the Interactive Gaming Council.