10 Reasons Online Poker Beats Live Heads-Up
Poker is enjoying another mini-boom right now, and it's not just online. Live cardrooms are enjoying more action than ever as new players who cut their teeth on virtual poker sites try out the environment of live casinos and brick 'n' mortar cardrooms.
But if you're thinking of getting into the game, we list 10 reasons why the virtual tables are smacking down their older, more sensible, live cousin right now.
Almost everyone launches their online poker careers by playing No Limit Texas Hold'em – the Cadillac of Poker – but even if you're not au fait with the rules it can prove costly getting a hang of the nuances and strategies of the game. And if you've started your poker interest in a live casino that can prove very costly indeed with wasted buy-ins and a lot of hard lessons learned.
The beauty of online poker is that most good sites in 2018 offer play money tables so you can get used to the game, etiquette and rules before committing real money. Of course, most of the players will be playing fast and loose (they're not risking real bucks, after all) but you will still get a good idea of how a hand plays out, and may even learn a little about online psychology.
Play money tables are particularly good if you want to try out a discipline you've never tried before like Stud or Omaha.
Where online sites are particularly rewarding is in the array of freerolls they offer. These free-to-enter tournaments often have thousands of players, but real dollars will be awarded every day in the way of prizes, meaning you can get your bankroll going from scratch.
#2
Play Anytime, Anywhere
Where's your nearest casino or cardroom? Five minutes down the road, a half-hour drive away or two cross-country flights away? Now compare that journey to the one it takes getting to your laptop. No comparison, right? Especially if you live in a big country where getting your ass to a brick 'n' mortar joint isn't a possibility, online poker provides a convenient way to get your poker fix quick. Just fire up the laptop, load up your favorite poker site, and away you go. In 2018 you can even play on your mobile phone on the go. Online poker has never been so convenient.
And how many casinos do you know that will let you walk in in your dressing gown with a coffee in one hand and your pants in the other? Not many, we'd bet.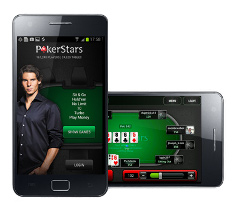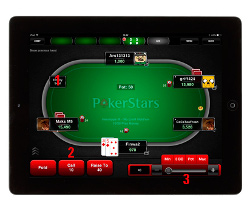 #3
Any Variant You Like...
What does your local cardroom offer? No Limit Hold'em, Limit Hold'em and every other limit of Hold'em you can think of? While most live cardrooms will offer the most popular poker variations to draw in the punters, online cardrooms are not held back in what they can provide. Pot Limit Omaha tournaments at all hours? You got it. 6-max Sit 'n' Gos? No problem. Badugi cash games at $1/2 limits? Yep, that too. And online is allowing new, exciting variants to permeate through, with fast-fold poker the king of the cash game lobby right now. Most poker rooms offer some variation of the fast-fold cash game where you get moved to a new table as soon as your hand is dead – it means tons more action and potentially a much higher ROI.
#4
Bonuses, Bonuses, Bonuses...And More Bonuses
What did your local casino give you recently? A swanky VIP card giving you a free lunch if you played roulette for 52 hours straight, or perhaps a couple of comp tickets to a show? A free steak every once in a while is all well and good, but how about cold, hard, cash straight into your bank account, all from playing poker online?
There's so much competition online right now, most, if not all, poker rooms will offer generous welcome bonuses for first-time real-money depositors. That could mean earning 100% of what you deposit up to several hundred dollars. For players planning on putting in plenty of hours that can really add up to some serious bucks. There will always be playing requirements, of course, so always check with your poker site on how many hands / tournaments you have to play – and over what time period – in order to trigger the bonus.
Good sites will also offer regular promos and bonus offers to loyal customers over time. Furthermore, if you sign up to a poker room via an affiliate site you can earn 'rakeback' – fees payable during poker hands and tourneys; another reason to play online.
And speaking of rake...

More land-based casinos than ever offer poker these days, and many reluctantly. Even though live poker is huge right now they just don't hold a candle to traditional games in terms of profit per square foot. Therefore, you're going to have to pay for the privilege of playing live.
Tournament fees of 15 percent on a buy-in are common, and of course, the re-entry events that populate most casinos and cardrooms in 2018 drive further fees into the casino's coffers. When it comes to cash games, online you'll typically find a rake of 4.5 percent for a full-ring cash game up to $3. Compare that to a live game where a 5, or even 6, percent rake exists in pots up to $10.
#6
When One Table Just Isn't Enough...
While playing a live tournament can be engrossing and enjoyable, you're pretty much restricted to playing one table at a time. You may cash in that live tourney but was it really worth it for all the hours you've put in? Learning to multi-table online is key to making more profit over the long-term.
If MTTs or Sit 'n' Gos are your thing, start by playing two tourneys at once (if you're on a decent site that has lots of tournament offerings) and slowly increase to 3, 4...whatever you feel comfortable with without losing concentration.
And if you're a cash game player, due to the sheer speed of online poker you'll get in many more hands online than you will live. In a live cash game in a casino you may see 15-20 hands per hour, depending on the action and how good the dealer is (and you're only playing one table at a time, remember) whereas in an online cash game you'll typically see well over double that, at least. That means more rake, of course, but also more volume and a quicker route to triggering that bonus.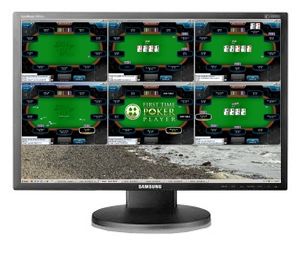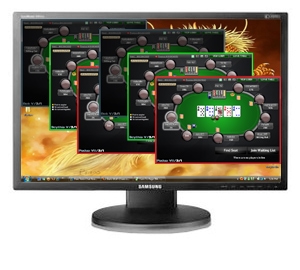 #7
You Want $0.02/$0.04? You Got It...
As well as being able to play virtually any poker variation you can think of you can also play at almost any stake too. Start off at the micro-stakes cash games when your local brick 'n' mortar joint only offers $1/2 and up, or satellite into a big live event with qualifiers starting at just a dollar or two.
#8
Tracking Your Opponents
Live players – if they've played at the same venue long enough – will encounter the same opponents time and time again. Over time live players will suss out these regulars and learn to play against them. But what if you're up against hundreds of different players online?
Online poker is set up for savvy online players to use the latest tracking software to keep tabs on their opponents. A Heads-Up Display (HUD) sits "on top" of your game screen and records stats on your opponents so you can see how they are likely to act in any given situation: make assessments based on VPIP% (Voluntarily Put Into Pot percentage) or PFR% (Pre-Flop Raise percentage) and work out who you should come over the top of or steer clear of.
Some major sites have now banned the use of tracking software but taking notes on players at an online table is now easier than ever with a simple on-screen notebook.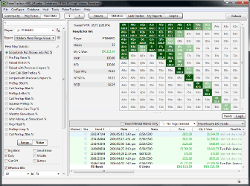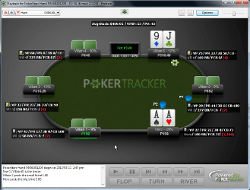 #9
There Are More Fish Online
Professional online grinders will tell you that the game is exponentially harder than it was even a couple of years ago, but those same arguments were being peddled by the young pros back in 2008 - and the fish are still here. With the evolving mobile gaming market, social gaming attracting more newbies into the game, and US legislation opening the game out to players in several states in the union, it's arguably never been better to play poker online.
OK, the lower-level cash games and Sit 'n' Gos aren't the ATMs they may have once been, but it's fair to say that with some basic strategy under your belt and a solid gameplan there are still plenty of easy games out there. "Texas Hold'em takes minutes to learn and a lifetime to master," goes the adage. The fact is that most players just aren't willing to put in the lifetime's worth of learning.
While Las Vegas may boast more drunk tourists just dying to donate their money to you, the pool online is much bigger.
#10
Avoid The Table Abuse
Have you ever played in a live cardroom and made a mistake, taken too long to make a decision or put someone on tilt? Getting abuse from a tablemate can be annoying at best, and pretty upsetting at worst. And if you're playing in a tournament it's not as easy as just getting up and walking away. In an online game you'll have a chatbox where players can let off steam. Simply turn off the chat if you want to avoid any trash talk.
Site information

PokerSites.com is the only dedicated review site selected as a member of the Interactive Gaming Council.