Poker Sites Updates - Latest Poker Promotions April 10, 2014
Online poker sites constantly have new promotions, tournaments and bonuses on offer to their players. At PokerSites.com you will find a wealth of information to help you choose the best poker site to play at. Below is a weekly roundup of the latest news and promotions.
---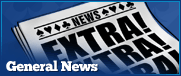 In the wake of the scandal that caused the suspension and eventual cancellation of a major poker tournament in January, the Borgata casino in Atlantic City has introduced a new type of poker chip in order to protect their tournaments against future schemes. The new chips use more colors than previous versions, and have the ability to be authenticated using ultraviolet light. While the move was expensive, said Borgata senior vice president Joe Lupo, it was necessary to ensure the integrity of future events. Meanwhile, Christian Lusardi – the man who used counterfeit chips in the tournament – is still awaiting trial, and no decision has been reached on how to split the unawarded prize money from the tournament.
The overall numbers in worldwide online poker continue to decline slowly this year. That's the news out of PokerScout, which tracks online poker traffic at virtually every site that offers the game. For the eighth straight week (and the 11th time in 12 weeks), traffic declined in the global Internet poker market, though it was down just 0.1 percent this week. Compared to last year, poker traffic is down 12 percent. PokerStars is clearly the industry leader at this point: with an average of 21,500 real money cash game players at any time, the site has nearly ten times as many players as any of its competitors. 888 Poker is currently in second place with about 2,300 players on average, with PartyPoker, the iPoker Network and Full Tilt Poker close behind.
---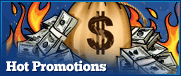 Have you ever dreamed of landing the big one? If so, you'll want to take part in The Whale, 888 Poker's signature $200,000 deep stack tournament. Held every fourth Sunday of the month at 18:00 GMT, this tournament is the biggest regular event on the site, and offers $60,000 in cash to the winner. You can jump right in by paying the $530 buy-in, but you can also take part for as little as ten cents by joining satellite tournaments that are held all day, every day. With four levels of satellites to work your way through, it's easier than even to start your whale hunt!
---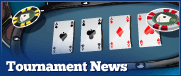 Overlays are a part of online poker tournaments, but rarely do they get this big. A Sunday tournament at PokerStars with a guaranteed prize pool of $500,000 offered lucky players an overlay of $260,000 – or more than double the amount of money actually put up by players who registered for the event. The massive overlay was caused by an error, one that resulted in there being no late registration available once the tournament began. In all, about 1,200 players paid the $200 buy-in and $15 entry fee, with the eventual winner taking a hefty $85,000 prize. PokerStars apologized for the inconvenience to players who wanted to register late but could not.
---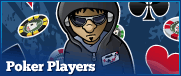 Danny Robison, a poker legend widely considered to be one of the great stud players of all time, has reportedly passed away. Robison was best known as the partner of Chip Reese, as the pair moved to Las Vegas in 1973 and began dominating the Seven Card Stud games at the Stardust casino, running up their bankroll of $800 to $2.5 billion over the next few years. The two were known together as "The Golddust Twins." Robison won his only World Series of Poker bracelet in 1995, winning a $2,500 Seven Card Stud tournament that year. In recent years, he was still a regular in high-stakes stud games in California, most notably at the Commerce Casino.
Sam Holden, who is perhaps best known as the ninth place finisher in the 2011 World Series of Poker Main Event, has announced that he'll be retiring from the world of poker. In reality, it's more of a "semi-retirement," as Holden plans to go back to school and work towards a philosophy degree at the University of Kent. Since his great run at the WSOP, Holden has made several other large cashes (including a 55th place finish in the 2012 WSOP Main Event), and was serving as a representative of 888 Poker. Holden still plans on playing occasionally online and at "the odd live tournament," though he feels it is time to change his focus to education.
---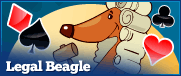 A comedian won big at the Bellagio this week – but it wasn't because he took down a tournament or made a daring bluff in a high-stakes cash game. Instead, George Wallace won over $1.3 million in a civil case against the casino based on an incident that took place back in 2007. At that time, Wallace was giving a performance at the casino when he tripped on some audio cables, causing him to rupture his Achilles tendon. Wallace's attorney argued that the cables should have been secured, and it seems that the court agreed, awarding $1.2 million for loss of income and an additional $100,000 for pain and suffering. He was also awarded $8,500 for medical expenses. Attorneys for the Bellagio are said to be considering their legal options in response to the verdict.
---
Poker Sites Updates - Latest Poker Promotions April 03, 2014
Online poker sites constantly have new promotions, tournaments and bonuses on offer to their players. At PokerSites.com you will find a wealth of information to help you choose the best poker site to play at. Below is a weekly roundup of the latest news and promotions.
---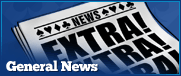 Another round of payments has gone out to Americans who had outstanding account balances on Full Tilt Poker, and while the numbers aren't as big as the first round, it was still a substantial payout. The Garden City Group reported returning an additional $5 million in funds to around 2,200 players this week. That comes in addition to the initial round of $76 million that went out to players earlier this year. This second round was paid to players who had been approved for the first round of payments, but who had not supplied accurate banking information then. Future rounds of remissions are still to come, though it seems certain that the Garden City Group won't exhaust the $159 million set aside to pay American account balances.
PokerStars has fired back at a coalition of California tribes that have vowed not to let the online poker powerhouse enter any state Internet gambling market. According to PokerStars, opponents have misrepresented PokerStars' past in the United States in an effort to keep them out of a fair competition for licenses in California and other states. PokerStars maintains that they followed legal opinions that suggested offering online poker wasn't illegal even after Unlawful Internet Gambling Enforcement Act was passed, suggesting that this should not be considered against them in the future. Though not mentioned in the response, the company has also made a point in the past of reiterating that they did not have to admit any fault in their settlement with the U.S. government.
With the addition of South Point to the world of Nevada online poker, the industry has reached a critical point: there are now three sites running, allowing the state to offer specific numbers for online poker revenues. The first numbers came in for February 2014, when the three operators – South Point, Ultimate Poker and WSOP.com – brought in a total of $824,000 in revenue. That represents less than one tenth of one percent of the overall Nevada casino revenue for the month, which amounted to $926 million. Overall, online poker revenues for the first ten months of play has been about $8.5 million. The low numbers did not come as a surprise to analysts, as Nevada's small population limited how much revenue could be generated by the sites.
---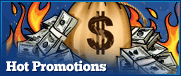 If you're looking for a way to win some big prizes without any risk, you'll want to take part in Carbon Poker's Chip King promotion this month. Every Sunday, there will be a freeroll for players who have opted into the promotion and have earned at least 100 VIP points in the last week. The freerolls start at $1,000 on April 6, but increase every week. The final freeroll on April 27 will have a $5,000 prize pool! In total, $10,000 in prize money will be awarded to players.
---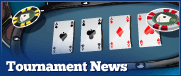 Details for the 2014 WSOP National Championship have been finalized, as the World Series of Poker has announced how the final seats to the unique invitational tournament will be awarded. As usual, two seats will be given out at each WSOP Circuit stop – one to the main event winner, and another to the overall Casino Champion (the points leader for the series). That takes care of 44 seats, while another 50 are awarded based on their total points throughout the WSOP Circuit. That left six seats to be awarded. One each will be given to the winners of freeroll qualifying tournaments at the WSOP online poker sites in Nevada and New Jersey. Each site will also run a "Knockout Series" to award an additional seat. Finally, two seats will be given away in live satellites at Bally's Atlantic City, which will host the National Championship this year. The National Championship will take place from May 22-24, and will feature a $1 million prize pool for the 100 free entrants – plus up to another $1 million depending on how many of the 100 qualified players from the WSOP World Rankings decide to put up a $10,000 entry fee to take part in the event.
---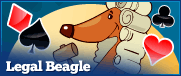 While an online poker bill was introduced to the New York Senate this week, you shouldn't hold your breath waiting for it to pass. State Senator John Bonacic, who introduced the bill, told the Associated Press that he didn't intend to try and pass the bill this year, but was rather interested in starting discussion on the topic. The legislation would authorize ten licenses for online poker, each of which would last ten years and cost $10 million for the firms that received them. The legislation included a bad actor provision that would likely prevent companies that offered online poker in New York after the passage of the UIGEA regulations from participating in the marketplace. New York is currently undergoing a rapid gambling expansion, as the first licenses for commercial casino resorts are expected to be awarded this year.
---
Poker Sites Updates - Latest Poker Promotions March 27, 2014
Online poker sites constantly have new promotions, tournaments and bonuses on offer to their players. At PokerSites.com you will find a wealth of information to help you choose the best poker site to play at. Below is a weekly roundup of the latest news and promotions.
---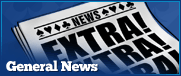 The rate of growth for Native American casinos is increasing. That's according to the annual Indian Gaming Industry Report from Casino City, which says that gambling revenues at Indian casinos were up just two percent in 2012. For the first time in nearly two decades, that's slower growth than enjoyed by commercial casinos, which have increasingly provided significant competition for their Indian counterparts. About two-thirds of all Native American gambling venues saw revenues increase in 2012, while the biggest losses came for the two Indian casinos in Connecticut (Mohegan Sun and Foxwoods). Most of the slowed growth was blamed on increased competition from commercial venues and racinos, though weak economic growth was also cited as a factor.
Morgan Stanley has lowered their projections of the potential U.S. online gambling market, citing early numbers out of states that have regulated Internet gambling on their own. The Wall Street firm had pegged the American market at $5 billion by 2017, but lowered that projection by 30 percent to $3.5 billion. According to Morgan Stanley, estimates have been lowered in large part to larger-than-expected issues with technology and payment processing. However, they are still optimistic about the long-term prospects for online gambling in the country. The firm also lowered their estimates for New Jersey's revenue haul from online gaming this year, down to $203 million from an initial estimate of $541 million.
The California Tribal Business Alliance has pledged to stop PokerStars from entering any upcoming California online gambling marketplace. That pledge comes after PokerStars was said to be negotiating with the Morongo Band of Mission Indians – a tribe that is not part of the CTBA – over the terms of a potential partnership. But the CTBA says they will work to stop any legislation in California that does not have a clause that would keep out firms such as PokerStars that offered online poker in the USA after the passage of the UGIEA regulations.
---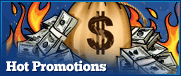 Are you dreaming about playing at this year's World Series of Poker? If so, take a look at 888 Poker, where everyone has a chance to get in on the WSOP action – even if they don't have much of a bankroll. At 888 Poker, they're giving away $14,000 packages that include a paid entry in the WSOP Main Event, along with travel expenses, spending money and more. With qualifiers starting at as low as $0.01 (that's right: just one penny), every poker player has a chance to make their WSOP dream come true!
---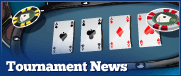 J.C. Tran won the 2014 World Poker Tour Rolling Thunder Main Event in California, becoming the 20th player in history to win multiple WPT titles. Tran finished first among a field of 456 entrants in order to take down the $302,750 first prize. Tran's lifetime earnings from live tournaments now stand at over $11 million. Tran came from behind to win this event, starting the final table with the short stack before ultimately coming out on top. He ultimately defeated Preston Harwell in heads up play, building a massive chip lead before eliminating Harwell on a final hand where both players were all-in preflop. For his runner-up finish, Harwell secured a prize of $200,030.
In other WPT news, amateur poker player Nabil Hirezi won the 2014 WPT Jacksonville bestbet Open. Out of the 258 entries, it was Hirezi, a 59-year-old dentist, who survived to take home the title and the $206,041 first prize. The heads-up battle came down to Hirezi and James Calderaro, who was looking for his second WPT title this year. On the final hand, Hirezi's pocket tens outraced Calderaro's AK to clinch the title. Calderaro took home $133,764 for his runner-up finish.
---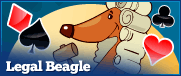 A pair of nearly identical bills have been introduced in Congress, both of which look to amend the Wire Act to make online gambling illegal under federal law. The bills, introduced by Senator Lindsey Graham (R-South Carolina) and Representative Jason Chaffetz (R-Utah), would not provide any sort of protection for the existing online gambling regulations in New Jersey, Nevada and Delaware. The bills were reportedly written largely by Sheldon Adelson's Coalition to Stop Internet Gambling, a group that Adelson has set up and funded to stop the spread of Internet gambling no matter what the cost. Opponents of the bills say that eliminated regulated online gaming will simply push consumers to black market sites with fewer protections.
A New Jersey Senate panel has pushed forward a bill that would allow the state to license foreign operators who wanted to base their companies there. The companies would be allowed to partner with Atlantic City casinos, then offer their services anywhere in the world where online gambling was legal and regulated. The measure is intended to help revitalize Atlantic City's struggling gaming industry alongside the introduction of online gambling last year. If the bill were to go into law, it could be a windfall for the state, as operators would pay a 15 percent tax on revenues from their online gambling operations.
---
Poker Sites Updates - Latest Poker Promotions March 20, 2014
Online poker sites constantly have new promotions, tournaments and bonuses on offer to their players. At PokerSites.com you will find a wealth of information to help you choose the best poker site to play at. Below is a weekly roundup of the latest news and promotions.
---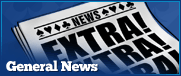 It's March Madness time, which means that people throughout the United States (and more than a few elsewhere in the world) will be filling out their brackets for the NCAA men's basketball tournament. This year's bracket challenge has taken on a higher-profile thanks to a promised $1 billion prize from Quicken Loans, backed by billionaire Warren Buffet. Don't get too excited though: that prize can only be won with a perfect bracket, and assuming you picked at random, your chances are only about one in 9.2 quintillion. That, according to CardPlayer, is worse than your chances of winning the World Series of Poker Main Event three times in a row if you were an average player in the field! Of course, picking winners isn't a random exercise, but your odds still aren't good: one estimate pegs the odds of even an informed player making a perfect bracket at around 1 in 1 in 128 billion.
Social poker games – those free to play games like Zynga Poker that are found on Facebook and mobile devices – have become increasingly popular in recent years. That's not news, but one of the biggest demographics for these games seems to be one that casino poker games have struggled to attract: women. According to a report from International Game Technology, the number of women who play social poker games was up 22 percent in 2013. That means that more than a third of social casino and poker players are now women. Overall, the industry raked in about $2 billion last year, with that number expected to rise to over $4 billion by 2015.
This week, Full Tilt Poker launched a brand new type of online poker tournament: the Flipout Tournament. These new tournaments feature a rather strange way to begin the action: all players are immediately forced all-in on their first hand. That means there will typically only be one survivor per table. After that, the tournament proceeds as normal – but typically, all of the remaining players will already have made the money. For instance, Full Tilt will be offering 81-player sit and go events in which one player from each of nine tables will survive the initial flip, allowing nine players to make the money and the final table instantly.
---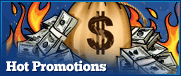 Do you like setting goals for yourself? If so, you'll want to take part in PartyPoker's Points Hunt promotion, where you can win up to $300 simply by setting and meeting a goal for yourself. Simply opt into the promotion and work to reach one of the goals over any four days of a week, starting on Monday and ending on Saturday. To hit the goals, which range from 10 to 150 points each day, you'll just need to play fastforward poker games. Just 10 points a day is worth a $15 reward, while 150 a day can earn you $300!
---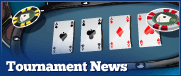 With all due respect to the Main Event, the most anticipated tournament at this year's World Series of Poker may well be The Big One for One Drop. The $1 million buy-in tournament is returning this year, and word has it that there are already 23 players who have confirmed their participation in the richest poker tournament in the world. The first (and only) time the tournament was held, the tournament reached its cap of 48 players, generating an $18.3 million prize for winner Antonio Esfandiari. This year, the cap has been raised slightly to 56 players, which means the eventual winner could win as much as $20 million. It will also be a boon for the One Drop charity, which takes in $111,111 for each entry into the event.
James Carroll topped a field of 718 players to win the $7,500 buy-in 2014 World Poker Tour Bay 101 Shooting Star Main Event. The win was Carroll's first major live tournament victory, and came just a week after he finished first in another similarly-sized field in a $550 buy-in Wynn Classic preliminary tournament. Carroll earned a prize of $1,256,550 for his efforts. At the final table, Carroll knocked out former Bay 101 champion Nam Le in 5th place before defeating Dylan Wilkerson in heads-up play. Wilkerson took home a prize of $728,650 for second place. It was Wilkerson's second WPT second place finish this year, as he was also the runner up at the WPT Fallsview Poker Classic.
---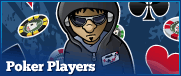 Tennis legend Rafael Nadal is ready to take on the world at poker. On Wednesday evening, Nadal was set to play a series of play money poker hands against players from around the world through PokerStars' play money Facebook app. The "competition" is all in good fun, and is actually meant to benefit charity: Pokerstars is donating $100 per winning hand for the higher scoring side (either Nadal or the world) to Care International. Nadal is playing the hands from Miami, where he is set to be competing as the top seed in the Sony Open this weekend.
---
Poker Sites Updates - Latest Poker Promotions March 13, 2014
Online poker sites constantly have new promotions, tournaments and bonuses on offer to their players. At PokerSites.com you will find a wealth of information to help you choose the best poker site to play at. Below is a weekly roundup of the latest news and promotions.
---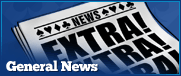 We've all lost a bet at some point in our lives. Some of us have even had to do some silly things because of it. But few measure up to what a New Zealand man was forced to do after losing a poker bet. That man was forced to change his name to the incomprehensible "Full Metal Havok More Sext N Intelligent Than Spock And All The Superheroes Comined With Frostnova," a 99-character mouthful that fits just inside the 100-character limitation for New Zealand's Department of Internal Affairs. The name was chosen by fellow poker players after a lost bet five years ago, but the player only found out the change was accepted when his passport expired recently and he worked to renew it. New Zealand officials say that the name change met legal standards, and that the young man will also have to change his name on all other legal documents going forward – though he also has the option of processing another name change in the future.
---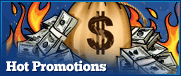 Looking for a way to add a little cash to your bankroll this weekend? Head on over to PartyPoker and give the Cash Booster tournament a try. All players are eligible to compete for a $5,000 purse every week at 12:30 ET, and there are four different ways to take part. If you use the offer code BOOSTER when you make a deposit, you'll automatically get a seat. New players also get one free entry just for joining the site. For established players, earning just one point in a day is enough to join a qualifier, which will allow the top 25 finishers to get a seat in the Cash Booster – while five points during the week will earn you a free seat in the tournament. There's no better way to boost your bankroll in a hurry!
---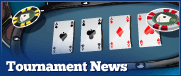 Chris Moorman emerged victorious at the World Poker Tour L.A. Poker Classic main event this week, winning $1,015,460 and his first ever major poker title. While Moorman has always been an online tournament terror, winning over $10 million on the Internet, this marked his first triumph in a brick-and-mortar venue. Moorman won the tournament after surviving a three-way all-in that could have ended the event, then beating Glenn Lafaye in heads-up play to take the title. Lafaye took a prize of $662,840 for his second place finish. A total of 534 players put up $10,000 to participate in the WPT event.
There may seem to be a lot of scandals related to tournament chips in major poker events lately, but top tournament directors say players shouldn't be worried. That's the word from a recent CardPlayer story in which three top tournament directors – Jack Effel, Matt Savage, and Steve Zolotow – gave their opinions on the recent incidents at the Borgata in Atlantic City and the WSOP Circuit event in Florida. Effel pointed out that the fact that the players who attempted these schemes were caught shows that the security procedures are working. Savage called the events isolated incidents, but said that casinos could reduce the possibility of fraud by lowering the number of chips in play – switching to more high denomination chips rather than creating the photo-friendly massive stacks seen in some venues. Zolotow added that players are a big part of the policing process, since the games are played between players – not against the casino.
---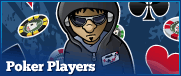 Poker pro Garrett Adelstein may be a winner at the cash game tables, but he was less successful in his attempt to become a reality show star. Adelstein became the second player to be voted off of the current edition of Survivor, which is taking place in the Philippines. Adelstein lost out after being surprised to find that he was being voted off – even when he had an immunity idol that could have protected him from the vote. But Adelstein failed to bring it to the "tribal council," not even considering the possibility that the vote could turn against him. He said he was frustrated with himself, but tweeted that the support of friends and fans helped mitigate the embarrassment about the early exit.
Filippo Candio, a member of the 2010 November Nine at the World Series of Poker, has announced that he'll be leaving the world of professional poker in the near future. According to his social media posts, Candio is tired of reading rumors about himself, particularly one about supposed tax offenses he has committed – something he says is false. Candio is best known for his fourth place finish in the 2010 WSOP Main Event, and in particularly for a memorable hand where his 75 suited managed to outdraw Joseph Cheong's pocket aces – though Cheong would still go on to finish 3rd that year.
---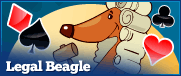 Two Native American tribes in Oklahoma have abandoned their efforts to seek the right to run an online poker site. The Cheyenne and Arapaho tribes had been engaged in a lawsuit with the federal government over the potential site, but appear to have decided to abandon both that suit and the plans for the site itself. The lawsuit wasn't over the existence of the site, but rather over whether the revenue sharing deal in place was fair for both the tribes under current federal regulations regarding compacts between states and Native American groups. Had the site – which was known as PokerTribes.com – gone live, it would have offered poker games to foreign jurisdictions where such games were legal.
---