July 2016
Oklahoma Online Poker Sites in 2016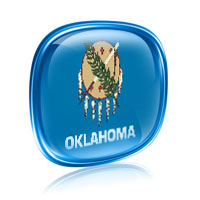 Online poker players in Oklahoma will likely need to move to another state in order to play, as Oklahoma does not seem willing to examine the benefits of legal online gaming or poker in any way.
Gambling was popular in Oklahoma from the time of Indian tribe settlements on through the newer settlers in the 1800s. From games like poker to horse racing, people enjoyed the freedom to gambling with their money. But the growing sentiment in the late 1800s and early 1900s was that gambling houses were infiltrated by unsavory characters, and there needed to be regulation. Conservatives views took over, and laws were passed to restrict gambling. Law enforcement was happy to oblige in the crackdowns that ensued.

Oklahoma FAQ and Quick Facts
Does Oklahoma have land-based gambling?
Yes
Are there any specific laws against online poker?
No
Is it true that no one has ever been arrested in OK for playing poker online
No
State Facts:
Nickname:
The Sooner State
Gambling Age:
18
State Motto:
Labor conquers all things.
Online Poker Sites Accepting Oklahoma Players
It was in the late 1900s that pari-mutuel betting was legalized for horse racing, and Indian tribes used the authority of the federal Indian Gaming Regulatory Act to pursue their hopes of building casinos from which to generate revenue. Though they were first restricted to bingo only, the tribes' casinos grew to include pull-tab games, slot machines, and then table games, as well as roulette and other options. The casinos then grew over the next decades into the biggest casino draws for the region, as players came from other states to gamble. While the tribes were given a lot of leeway in their establishments, Oklahoma drew the line in the sand there.
Oklahoma currently does not allow or regulate online poker.
Indian-run casinos are the only gambling options besides racetracks.
Crackdowns on home poker games indicate Oklahoma's distaste for gambling.
Outside of Indian casinos, poker games like Texas Hold'em are not allowed in Oklahoma, even in charity gambling. Poker is considered a game of chance under the law, and home games have been raided in the past few years. Players and organizers have been charged and prosecuted for running games of chance for real money. Though this is not overwhelmingly prevalent, and players in small home games shouldn't be afraid, it is indicative of the current thought process when it comes to Texas Hold'em and other poker games.
Poker online is not a likely subject of discussion for lawmakers in Oklahoma. Despite the great success of land-based casinos, neither Indian tribes nor members of the state's legislature are keen on Internet gambling. Even Internet poker is seen as a threat to the casinos, and tribes have been unwilling to see any benefits from offering online gambling. There are very few people with power in Oklahoma who can, or are willing to, fight for online poker.
Oklahoma Poker FAQ
How do players from Oklahoma deposit and withdraw funds from online poker sites?
Players in Oklahoma have several options when transferring funds to real money international poker websites. They can use any of the site's suggested third-party payment processors, which often include various types of transactions with bank accounts, as well as eChecks and prepaid bank cards. Most major credit cards and banks, however, will not process requests for deposits or withdrawals..
Are there online poker sites available to players in Oklahoma?
There are some international sites available to Oklahoma residents, though the options do not include the biggest names in the business. Those companies chose to withdraw from the US as a whole after the 2006 Unlawful Internet Gambling Enforcement Act and subsequent prosecutions under that law. Those companies still willing to operate poker websites in the US should be vetted for proper licensing and security, and players should check to make sure that player withdrawals are processed in a timely manner.
Is Oklahoma likely to pass online poker legislation?
No. It seems that Oklahoma's conservative lawmakers are not in favor of sanctioning any type of study to examine the benefits of Internet poker or gaming for their state. The casinos operated by Indian tribes are the farthest that the state wants to go with regard to any gambling, and the idea of transferring games to the Internet is not an appealing one.
How will Oklahoma deal with possible federal legislation?
There is little chance that Oklahoma will decide to participate in any type of federally legislated online poker or gaming program unless the Indian tribes with casinos agree to it. Online poker is more likely than a broader gaming regimen to appeal to tribes, but there is a solid chance that Oklahoma would choose to opt out of any federal program.
Other State Pages:
Site information
PokerSites.com is the only dedicated review site selected as a member of the Interactive Gaming Council.