July 2016
New Hampshire Online Poker Sites in 2016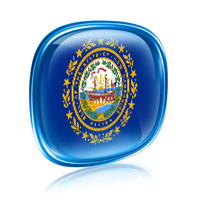 Gambling has never been truly embraced by the lawmakers of New Hampshire. And despite the pro-gambling ways of neighboring states, New Hampshire prefers to stay out of the fray when it comes to online poker and betting.
Anti-gambling laws were in place from the 1800s in New Hampshire. When the people of the state built a thoroughbred race track in 1906, law enforcement shut it down three days later. It wasn't until 1933 that pari-mutuel betting was legalized and bettors could return to the reopened track.
The state then instituted a sweepstakes-style lottery in 1964, the first state to do so, but that was to be the extent of the Granite State's leadership in the gaming arena.

New Hampshire FAQ and Quick Facts
Does New Hampshire have land-based gambling?
Yes
Are there any specific laws against online poker?
No
Is it true that no one has ever been arrested in NH for playing poker online
yes, that's true!
State Facts:
Nickname:
The Granite State
Gambling Age:
21
State Motto:
Live free or die
Online Poker Sites Accepting New Hampshire Players
Residents of the state wanted other forms of betting, such as jai alai and casinos, and even though a commission was established to study those games and the potential revenue in 1982, lawmakers in New Hampshire shot it down. A 1992 attempt to legalize riverboat gambling was defeated in the state legislature as well. Video lottery terminals were refused by lawmakers in later years. Poker rooms were legalized in 2006, though 35% of their profits were required to be donated to charity. The government does make a profit from the lottery and those charity games, which also include casino-style games and bingo, but it is difficult to make a profit when revenue goes to the state and charity.
New Hampshire currently does not allow or regulate online poker.
Lawmakers consistently vote down any attempts to expand Internet gambling.
Neighbors New Jersey and Delaware may influence future Internet poker decisions.
The governor of New Hampshire in 2010 stated that gambling online could benefit the state's coffers in tough economic times, though he continued to rally against land-based gambling. And Governor Lynch never mentioned it again, nor did lawmakers pursue the idea whatsoever. Even any attempts to bring lottery games to the Internet were dismissed without a popular vote.
The only true way to the state's heart regarding online poker is through the potential of revenue, and states that have legalized the games - New Jersey, Delaware, and Nevada - are going to have to prove that it is a profitable venture first. Should fellow East Coast states approach New Hampshire with an interstate compact deal, lawmakers could give the idea some serious consideration, but it seems they will not broach the subject without a push from others.
New Hampshire Poker FAQ
How do players from New Hampshire deposit and withdraw funds from online poker sites?
Texas Hold'em players and gamblers living in the Granite State can deposit and withdraw funds from Internet sites via several options, such as eChecks, wire transfers, and prepaid bank cards. The online poker sites enlist the help of third-party payment processors to provide many ways to transfer funds, and players can then choose the one with which they are most comfortable.
Are there poker sites available to players in New Hampshire?
While many of the international online poker sites have departed the United States market in the years following the passage of the Unlawful Internet Gambling Enforcement Act of 2006, there are some companies that have yet to follow that lead. They do still offer games online to players in New Hampshire, though customers are advised to conduct some research when choosing a site to ensure that funds are safe, licensing is in place, and players are being paid.
Is New Hampshire likely to pass online poker legislation?
This remains to be seen. While current legislators do not seem to favor getting involved in the online poker business, they are sitting back as neighbors like Delaware and New Jersey regulate the Internet games and proceed to reap the benefits. If New Hampshire can be inspired by fellow states on the East Coast to pursue the issue, there is a chance that it could happen.
How will New Hampshire deal with possible federal legislation?
It is possible that the state could decide that regulation of poker online on the federal level would be acceptable. The state could participate in the program and collect revenue without having to establish the program, regulate, or license. However, if lawmakers continue their refusal to consider gaming expansion of any kind, they will have the choice to opt out.
Other State Pages:
Site information
PokerSites.com is the only dedicated review site selected as a member of the Interactive Gaming Council.