July 2016
Idaho Online Poker Sites in 2016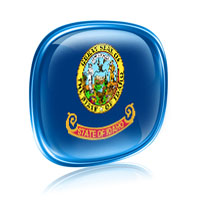 Despite Idaho's long history with gambling, today's lawmakers want little to do with legalization of most forms of betting, including online poker. Antiquated laws are not likely to be changed in the near future.
Idaho in the 1800s boasted of casinos in many towns. The law stated that gambling was allowed as long as the locals approved, and establishments were common, even home to a Harrah's Casino in the early 1900s. Towns like Ketchum and others attracted gamblers from all over Idaho, even as far away as Hollywood. But the tide turned in the middle part of the century, as table games like blackjack were made illegal in 1949 and slot machines, along with other forms of gambling, followed in 1953. Pari-mutuel wagering on horse races, however, was legalized 10 years later, and about a quarter century later, the lottery was instituted. 

Idaho FAQ and Quick Facts
Does Idaho have land-based gambling?
Yes
Are there any specific laws against online poker?
No
Is it true that no one has ever been arrested in ID for playing poker online
yes, that's true!
State Facts:
Nickname:
The Gem State
Gambling Age:
18
State Motto:
Let it be perpetual.
Online Poker Sites Accepting Idaho Players
The poker and casino industry within the borders of Idaho is relegated to Indian tribes, though they are only allowed to offer bingo and pull-tab games. Poker games, such as Texas Hold'em, are not legal, and are considered games of chance, not skill. The state's constitution even specifically forbids electronic devices to be used for any form of casino gambling. Altogether, the current status and outlook are not good for poker online in Idaho. Even social games have been prosecuted, though the law was amended so local prosecutors could decide whether or not to pursue the cases. 
Idaho currently does not allow or regulate online poker.
Poker is considered a game of chance in Idaho.
Idaho legislators have demonstrated no interest in studying Internet poker.
Online poker came to the attention of Idaho lawmakers in 2011, when the US Department of Justice declared the Wire Act inapplicable to online gambling. The director of Idaho's lottery took that opportunity to if they were to pursue any gambling, it would be land-based, and there were no plans to look into online poker or Internet casino games. That definitive statement mostly sums up the feelings of Idaho legislators regarding the issue of Internet real money gambling.
Even the Indian tribes in Idaho had to fight for their right to offer pull-tab games in addition to bingo, and they have failed to gain permission for table games, slots, or other types of gambling. This puts Internet poker on the back burner, if it is even on the radar of the state at all. It is actually more likely that lawmakers in Idaho would specifically outlaw online poker sites before legalizing it for state-wide regulation.
Idaho Poker FAQ
How do players from Idaho deposit and withdraw funds from online poker sites?
Texas Hold'em players from Idaho do have access to international poker sites and Internet casinos, and those sites offer many options for financial transactions. Third-party payment processors are set up to meet the needs of customers, since the UIGEA largely discouraged most US banks and credit card companies from processing any such transactions. Players can deposit and withdrawal using overseas services, as well as eChecks and prepaid bank cards.
Are there Internet poker sites available to players in Idaho?
While most of the large international online poker sites have officially left the US market since the implementation and enforcement of the Unlawful Internet Gambling Enforcement Act of 2006, there are some sites that remain available to USA players, including those living in Idaho. However, players should be careful and verify the license and safety procedures of the sites they choose, as well as familiarising themselves with the legislation that affects players in their state
Is Idaho likely to pass online poker legislation?
No. The most likely legislation to come from Idaho lawmakers in the next few years will be to outlaw any type of Internet gambling rather than legalize it. Between the lawmakers, voters, and lottery officials, there is little to no support for legal poker online in Idaho.
How will Idaho deal with possible federal legislation?
Should any type of federal online gambling or poker legislation pass through Congress, there will probably be an opt-out function for states with serious objections. Idaho will likely be in that category and do anything to withdraw from that type of activity.
Other State Pages:
Site information
PokerSites.com is the only dedicated review site selected as a member of the Interactive Gaming Council.