November 2015
Australian Poker Sites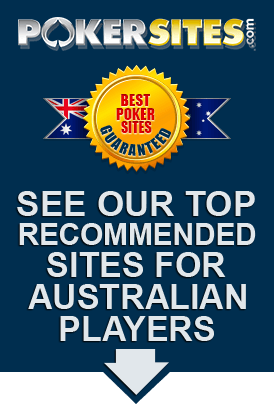 Are you ready to play some poker? Online poker in Australia is bigger than Ayers Rock and is getting bigger all the time. The only thing you have to do to get started is find the best Australia poker sites on the Internet and sign up. Now, that's probably easier said than done. There are a lot of things to consider before jumping into online poker in Australia.
To help guide you, we have compiled a list of the best sites that:
Have excellent sign up bonuses to welcome Australian poker players.
Offer safe, fast and secure deposits and payouts, with many options.
Provide juicy Australian poker action 24/7 to ensure you always find easy-to-win games.
So stop beating around the bush! You have found exactly what you were looking for. Just visit one of our top rated sites for Australian players below and start winning big today!
Finding The Best Australia Online Poker Sites
These are some of the best Australian-friendly poker sites available on the web. People often ask us what is the best online poker site and we feel comfortable giving them the answers. Visiting each site provides a much more dimensional experience and allows potential Australian players to understand the unique advantages of each one The most popular sites in Australia like 888 Poker provide players with helpful aspects, which will appeal to anyone, regardless of experience and level of skill. For even more information about these, please refer to the full reviews.
Australian online poker players can also take advantage of favourable tax laws
Australian sites such as 888 Poker are under a very  tricky legal structure that makes online poker play for real money both legal and illegal. While it is entirely legal for residents of Australia to make wagers when playing poker online, sites cannot legally accept wagers from Australian citizens. However, most real money poker sites tend to ignore Australian law as it does not apply in other countries. For this reason, some of the best online options are available to players from Australia and finding the best online poker sites for Australians is an easy task.
No online poker sites can operate within the borders of Australia and the last Australian one to be grandfathered in after the 2001 Interactive Gambling Act closed when the UIGEA of 2006 took away its substantial US player base - Lasseters Online. It was reopened later under new governmental jurisdiction but only as an online casino.
The future for Australian online poker looks to be strong, as there has been no serious effort to criminalize playing online. Australia may be in the middle of a battle over poker machine reform, but online poker in Australia appears to be far removed from that fight. It is likely that foreign online poker sites will continue to operate freely in Australia for the foreseeable future.
Australian online poker players can also take advantage of favorable tax laws. In almost all cases, players who win money online can keep all of their winnings tax free, even if they play poker professionally.
Many poker sites accept the Australian Dollar (AUD) as a currency from players in Australia to avoid currency conversions that may come with a fee.
In addition, Australian poker sites should offer their software and customer service in the primary language of Australia - English. Some of the best sites online in 2015 also offer special promotions and tournaments specifically for Australian players. Online poker can then be played with other Australian residents without competition from other countries around the world.
Frequently Asked Questions
Is it legal to play online poker in Australia?
The good news for you as an Australian poker player is that you can play legally from anywhere in the country. The existing restrictions on online poker have only had repercussions for operators, rather than players, and Aussies continue to enjoy the fruits of a wealth of real money online poker sites.
Nevertheless, certain politicians across Australia have been vocal in their opposition to online gambling games (they tend to have more of a problem with online pokies as opposed to poker games against other players) so it is worth checking back here from time to time to ensure things are still the same.
What specific Aussie gambling laws do I need to know about?
The most important piece of legislation for Australian poker players is the Interactive Gambling Act (IGA), passed in 2001 which has been subject to various amendments since. The IGA was introduced as a public protection measure first and foremost, and targets those offering online gambling games to Australian players.
However it does not prosecute players themselves for accessing online poker sites (or other online gambling games, like pokies and blackjack), so you can continue to play to your heart's content.
Do I have to pay taxes on my winnings?
Unlike other countries where 'professional poker player' is regarded as a job title, Australian law views online poker earnings as gambling winnings, essentially good fortune, and as such not subject to tax. This goes for professional and recreational players alike, meaning even some of the most talented Australian online poker pros have been able to enjoy untaxed earnings for years.
Are Australian poker sites reliable?
Australian online poker players have access to the worldwide player pool for online players, meaning a lot of the sites they play on will be licensed overseas in places like Gibraltar or the Isle of Man. These territories subject online poker sites to considerable scrutiny before awarding them a licence, but occasionally even licensed sites may run into difficulties.
For this reason we advise you to check out our reviews section and only play on recommended online poker sites so as to avoid any nasty surprises.
Is it safe to deposit money with a credit card?
Aussie banks and credit cards are suitable deposit methods at a large number of online poker sites, and it is one of the safer methods by which you can deposit funds at a trusted poker room. You can often withdraw to the same card with which you made your original deposit, meaning it is easy to cash out some of your profits after a big win.
Can I use any other deposit methods?
A growing number of Australian online poker players are choosing to deposit using e-wallets like Skrill or Neteller, due to the high levels of encryption involved. This means you do not have to give your card details directly to an online poker site (though there is nothing to worry about in this regard aside from personal preference), and you can use e-wallet funds for other purchases online.
Another popular banking method for Australians in particular is POLi, an online system accepted by many Aussie poker sites. You can check the cashier section of your preferred online poker site to see if it accepts POLi deposits.
What kinds of online poker games are available?
All the most popular online poker variants like Texas Hold'em, Pot Limit Omaha and Omaha Hi-Lo will be available at most sites, while different Aussie online poker rooms will offer some other more obscure variants. Australian poker sites offer both tournaments and cash games for real money across a number of variants, and for a variety of stakes.
How long do Aussie poker sites take to pay out my winnings?
It is not like the old days where you have to wait days for a paper cheque, as most electronic withdrawal methods will process in less than 24 hours. Often your winnings will hit your bank account or e-wallet almost instantly after you cash out, such is the beauty of online transactions.
Our Top Recommended Sites
Site information
PokerSites.com is the only dedicated review site selected as a member of the Interactive Gaming Council.